Rendering ease, flexibility & scalability to the users is the motto of every business. When your user is convinced with your service or product & experiencing ease in getting the same, the success is not so far. Achieving the desired service with ease is all customers require while shop and online shopping have accelerated businesses' accelerated path. This was the basic need of the business success, but the Global pandemic has accelerated the demand for online shopping and on-demand services. This is when marketplace app development for businesses is the prime need of every business because customers are approaching online mediums to purchase their desired services/products.
As the global pandemic has made people inclined more towards online shopping, 40% of consumers purchase online more than they had done before.
"Right now, it is a great time to build a marketplace app."
Putting some light on the Online marketplace- the best thing about the marketplace platform is that anyone can enter the market, sell items and become prosperous because an online marketplace platform is the online market where the consumer can purchase from multiple shops, industries, and interest. Building an online marketplace platform, you don't need to own any goods. Instead, you offer other people's goods to users and simplify the purchasing and transaction process.
What is Marketplace?
A marketplace is an independent platform that operates online; its motto is to connect various buyers & sellers directly. No existing warehouses are required to store items because the database contains descriptions & photos of items & goods. To become a top leader in the market, your platform needs to be more secure for e-commerce and exciting features.
What Is the Potential of a Marketplace Idea?
E-commerce is one of the most approached ways to shop. The Global retail e-commerce sales are forecasted to grow to 5.4 trillion US dollars in 2022, with marketplaces taking a tidbit of these extra sales.
Have a look over the stats:

The global marketplace market size was valued at $3.67 trillion by the end of 2020 & forecasted to expand at a compound annual growth of 9.7% from 2021 to 2028.
The world-leading online marketplaces have sold $2.67 trillion in 2020.
Sales on P2P marketplace platforms like eBay, Amazon, Airbnb accounted for 62% of overall online sales in 2020. They're expected to make over $7 trillion by 2024, accounting for 90% of global web sales.
What are significant factors that are responsible for online marketplace rise?
Various significant factors have made online marketplace platform popular ones.
The expanded amount of online buyers
Ease of availability of items on mobile devices.
Inclination towards online shopping due to pandemic
Increment of AI implementation
Considering all the above-mentioned rising factors, various business people and entrepreneurs have leveraged massive benefits after considering the online marketplaces platform to streamline their online sales, accelerate their expansion, raise product range & reduce costs.
Competitors Analysis: Usage, Popularity & Market Worth
Statista has colossal increments noticed in online shoppers, i.e., 2.1 billion this year. Before diving down in collecting the information regarding building your online marketplace app or website, you first need to know more about your competitors and their market worth because this segment has attracted various users and accelerated this segment growth for decades.
Here, find the quick recap of the top market players of 2021: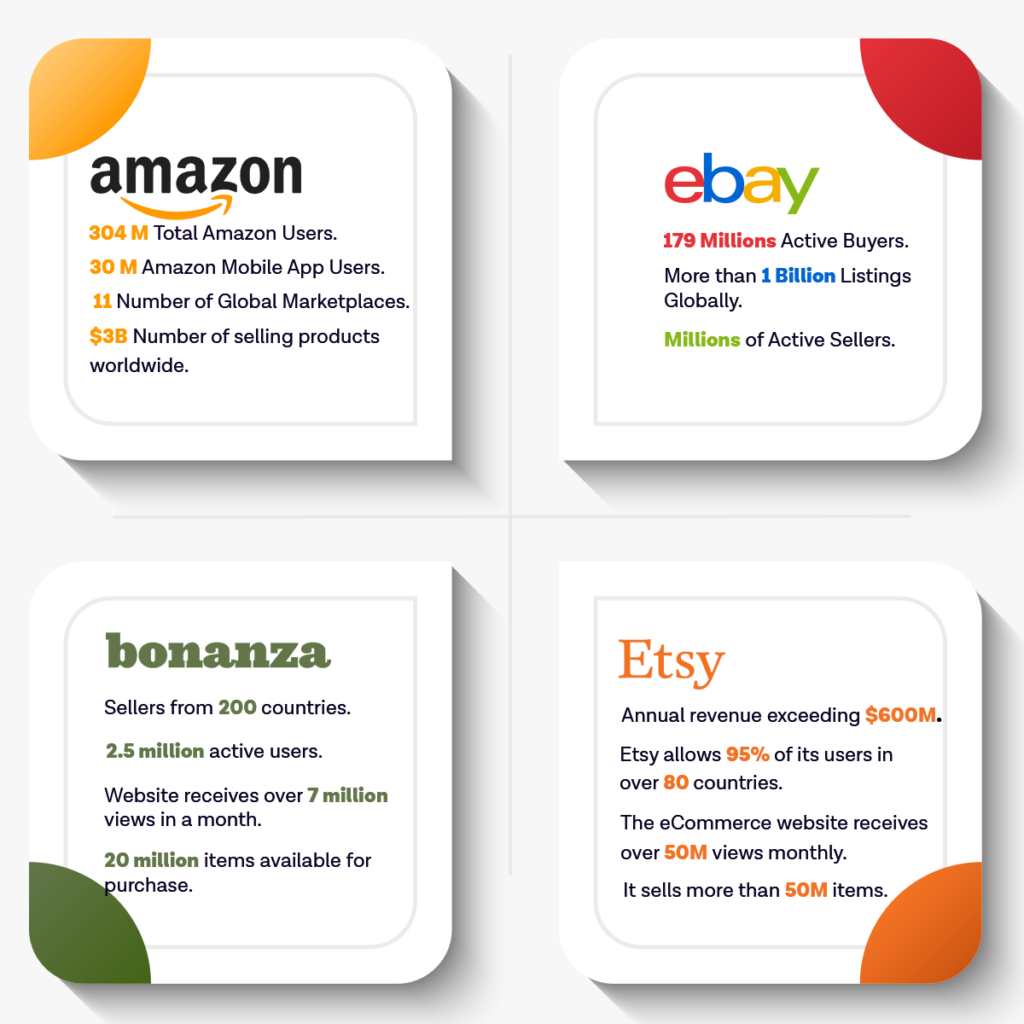 Amazon:
304 M Total Amazon Users
30 M Amazon Mobile App Users
11 Number of Global Marketplaces
$3B Number of selling products worldwide
eBay:
179 Million Active Buyers
More than 1 Billion Listings Globally
Millions of Active Sellers
Bonanza:
Sellers from 200 countries
2.5 million active users
The website receives over 7 million views in a month
20 million items available for purchase
Etsy:
Annual revenue exceeding $600 million
Etsy allows 95% of its users in over 80 countries
The eCommerce website receives around 50 million views monthly
It sells more than 50 million items
Let's dive down into the process of marketplace app development:
Starting with uncovering the fundamental part of marketplace app development, there are three major blocks that marketplace app development depends upon.
Fundamental part of marketplace app development
Your marketplace app development consists of three blocks:
Marketplace Backend
Well, the backend of your marketplace app development is the prime area to focus upon. All the data and information related to your users are stored here, and all the transactions are performed here only.
Admin UI
Admin UI is the connection between the marketplace backend & your user interface. It records or reports all your marketplace activity & lets you manage the users, notifications, transactions, reviews.
The admin features need to be built in the backend, and they'll need a graphical user interface, too.
The User Interface
The beautifully & creative UI of the mobile app is all required to make your users attracted to your app. In addition, there is various features needed from the sellers & customers side like listings page, profiles of users, content pages.
What are the top features that your marketplace app needs?
To get a fully functioning marketplace app, you need to enlist various useful yet essential features to your app. The vital components will decide the uniqueness of your product in the market. Here find the central & essential features that your marketplace app need to be integrated with:
Account & User Profile Management in Marketplace App
Login signup, profile creation & account management comes to both seller & purchaser. Hence, creating a feasible login/signup & profile creation is a must for both the segment- Sellers and Purchasers.
Sign in
Login
Email integration
Verify email
Forgot password
Change email
Ban account
Delete account
GDPR-compliance
Social logins (Facebook, Google, Twitter, LinkedIn, Github, etc.)
User profiles (First name, last name, bio)
Additional profile information
Upload profile picture
Listing Management in Marketplace app
Listing is the main focusing element that needs to be performed exclusively. The listing must be descriptive, exclusive, appealing & attractive so that it can give users a clear picture of products and services that your users need to buy or sell.
Update and delete listings
Close listings
Draft listings
Listing approval
Upload listing images
Listing geolocation
Pricing information
Listing variations
Search & Discoverability in your marketplace app
Your app should have the precise placement of search & discoverability to get the proper access to authentic products and services. The main features that need to be included are:
Map
Location search
Location auto-complete
Listing categories
Filtered search
Keyword search
Availability search
Transactions Related Features in your marketplace app
Designing the secure & flexible transaction process is the mandatory requirement of marketplace app development. Rather than embedding one transaction gateway, there should be multiple transaction medium implementation to provide the multi-channel of payment to the users.
Along with the multi transaction channels, there should be the precise implementation of the transaction process.
Notifications
Pricing options
Cancellation policies
Automatic expiration
Charging a commission
Delayed payouts and refund management
Invoicing
Reviews after transaction
Taxes
PDF receipts
Payment Integration in your marketplace app
If we talk about the payment- there are paying and payouts. Ecommerce sites have one entity that receives a payout, and that is the shop owner. But in the marketplace, all the sellers can receive payouts as payouts are always harder than paying because payouts come with various security factors.

Here uncover the major payment features:
Geographic/area wise payment gateways
Seller-onboarding flow that fulfills (KYC) requirements
Authorize and capture payments
Handle 3D Security / Strong Customer Authentication
Refund
Delayed payout
Split payment between the seller and the marketplace
Availability & Booking Management in your marketplace app:
The marketplace with advanced features and eases to proceed mediums is considered the best marketplace among the users.
Booking/availability management calendars for sellers/buyers
Stock Management
Search/filter for finding availability
Admin side features in your marketplace app:
To give a best-in-class marketplace app, your admin panel should have apparent implementations like the app. Here find the significant features that should be there in your marketplace app.
Intuitive Admin UI
User search
User account status
User management
Managing products or services that are being sold
Access to all user-generated content
Access to messages
Ability to manage transactions
Notification management
"Invest your time on crafting an astonishing UI, building custom features, or acquiring users."
How to develop a marketplace app from scratch?
Marketplace app development is the top-approached & most brilliant step to go with the market trend. To develop a fully-functioning marketplace app, there should be proper placement of designing, development, and other element placements. Here find an idea to get the clear picture of marketplace app development.
Choose your market segment
To develop your marketplace app, you need to decide the market segment first. There are three major types of marketplaces- B2B, B2C, and P2P. Keep few things on the focus to select your market segment, and that is your domain expertise, interests, experiences, and team available.
This segment will decide the type of app you will build, the networking you should do, the associated marketing & promotional strategies & business models.
Integration of Core Features
Various core features are mentioned above need to be integrated into your marketplace app. These features make your app more attractive & feature-rich, giving users a vast place to operate a vast marketplace. There should be three significant panels that need to be developed- Admin, customer & seller.
Besides creating these panels, your marketplace app needs to be indulged with technical concepts like AI, Machine Learning for personalization, recommendations engine, and analytics, etc.
Indulgence of voice search should be there to give a straightforward and intelligent approach to buy the products.
Include in-app messaging to give a transparent and flexible way to sellers and buyers so that they can chat about their queries.
Building UI/UX
Marketplace centers are advantageous platforms, of course. Be that as it may, not all platforms figure out how to convey accommodation to their users. One of the significant perspectives they bungle is on fostering a decent UI for their visitors. Many organizations have an incredible lineup of products, services and limits, fulfillment strategies, and more however wind up doing no business given their flawed UI and UX.
To stay away from such occurrences, keep your app minimal and smooth as could be expected. Try not to mess and overpower your visitors with data. One of the main things you should allow them to do is look for their favored product and services.
Most visitors are on your foundation for a particular explanation, and your foundation should allow them to achieve their business first. Up-selling and product proposals ought to follow and not be number-one needs.
Along these lines, foster a proper model and wireframe that allows your visitors to explore unreservedly and shop like they would on an actual complex. Foster an MVP if you need to and test it out. Approve results and continue to improve your marketplace app development plan for visitors' maintenance and fulfillment.
Picking Ideal Businesses Model
As we referenced, there are multiple approaches to adapt to your marketplace. How about we investigate what they are.
Commissions Model
This is the most famous marketplace plan of action, where platform owners accept a cut as commission for each product or service sold on their gateway.
Premium Listings
If you've utilized a marketplace app, you would realize that it lists products from various brands. To assist organizations with getting footing, you could present a top-notch postings alternative, where brands can pay to keep steady over-indexed lists. Thus, when visitors see a list of products, they would naturally tap on the brand's main query output and shop.
Sponsored Promotions
Other than posting brands and companies, you could likewise offer land on your entrance to intrigued brands. For example, you could allow them to run an undeniable ad like a pennant advertisement, a video, or something more intelligent on your foundation for an expense.
Brand Collaborations
This is an intriguing method to produce more income for your marketplace. For example, you could organize and work together with nearby brands and organizations to have them as accomplices or restrictive merchants of their products. Along these lines, when guests are searching for their effects on the web, they would think that its just on your marketplace. Such joint efforts offer advantages for both the gatherings in question.
The Development End
Marketplace app development is more perplexing than your mobile application development process. There are more modules to carry out and more features to fuse. Also, your marketplace app ought to be worked to be steady consistently and oversee substantial traffic during deal days too. That is why you ought to collect the expert mobile app development team for your marketplace app development.
The right group will realize the tech stack to execute, the programming language to utilize, and the correct database to deploy.
What amount does it cost to develop a marketplace app?
The expense for building marketplace apps relies upon an assortment of variables and features that you need to consolidate in your app. Assuming you need to develop a mobile application, it will require a couple of months to make it.
Time, yet you need to invest in a ton of efforts and assets & selection of the right mobile app development company during the development session. Best of all, everything can be overseen easily if you go the correct way.
If you don't know about the budget plan, you can take the assistance of an expert to get a thought, and afterward, you can choose when and how to begin with your project.
Conclusion
The above guide on marketplace application development will help you launch an effective and productive marketplace mobile app. This will permit you to seek after your inclinations further and make progress in your project.
In any case, the main important task is, to begin with doing appropriate statistical market research and knowing every one of the necessary insights regarding launching and running your app in the marketplace app. To effectively satisfy your project objectives and leave an imprint in this developing industry, a strong recommendation is to join a team of experts and professionals who have experience & expertise in building productive marketplace apps.
Ensure you contact them to get your ideal outcomes and develop a marketplace application that can associate with your users well and offer them what they need.
FAQs
Q1: For what reason do I have to build a marketplace app?
You might need to think about building a marketplace to expand your income, draw in more users, discover new business partners, and get an adaptable and robotized all-day, every-day plan of action.
Q2: What are the sorts of marketplaces?
By target audience, they are separated into three classes —  Peer-to-Peer (P2P), Business-to-Customer (B2C), and Business-to-Business (B2B). By focus, there are just two approaches —  Vertical and Horizontal.
Q3: How might the marketplace stage give secure exchanges to the two buyers and sellers?
The general purpose of the marketplace app, a stage that interfaces sellers and purchasers, is to offer the most practical and secure experience conceivable. A marketplace gives secure exchanges by doing everything to ensure payments, refunds, quick payments cancellation.
Q4: What is the ideal approach to build a marketplace app?
It relies upon your specific case. For example, if you have a practical budget plan and time,  writing code from scratch is most likely the ideal approach. However, in different circumstances, alternatives such as building a marketplace utilizing the best open-source software, choosing a site builder, using a no-code online marketplace builder, building with a bunch of no-code tools, or creating on top of an API-based commercial center SaaS tool might be better.
Q5: What is the marketplace app development cost, and what amount of time will it require to assemble one?
To get a clear understanding of marketplace app development costs, you should book consultation from the top app development company. They'll assist you with the best price along with the proper selection of technology, app development languages, features, and add-ons. Just have a productive conversation with the company. Connect with us to discuss your Project.
Contact Us