Clubhouse-like app development? Let's have exclusivity over this…
Audio social media app development? Isn't sounds a much-needed step for your business in the current scenario? Audio social media app development is going to be a much prolific move for every business, startup & enterprise as well.
This is not only the saying, but the world is experiencing a huge demand & need such kind of app to be developed. As, last two years have been tough for every business, company, industry, and process, but the world has been continually fought because we were backed up with technical innovation support.
Various mobile apps and software have helped companies, small businesses, and industries make their processes operable. While some had found it crucial to surviving but many have fought & served well because of digital products.
While we all were locked up inside our houses, social media apps have made our lives easy and helped us to operate our company's meetings, group discussions, conferences, and even though our communication between our loved ones. Recently, the social networking industry got a new digital treat i.e, Clubhouse App- a live-streaming audio-chat app.
Introducing it- Clubhouse is a live-streaming audio-chat app. Users can either start their conference or listen to the discussions of others on the app.
Let's have some Lights on the Popularity & Market Potential of Clubhouse App
Within less than a year after launch in April 2020, Clubhouse has crossed around 11 million downloads globally.
Latest stats of Chubhouse downloads: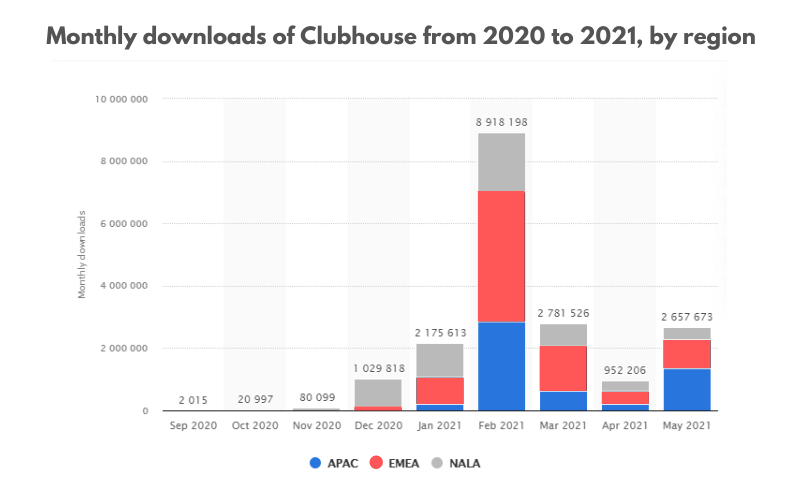 Elon Musk and Mark Zuckerberg admitted to using Clubhouse and also engaged with other users on the platform.
Clubhouse attracted millions of users and turned out as the most-buzzed app of 2020-21.
Release in April 2020 to February 2021, the community of Clubhouse users has grown to 12.7 million.
The clubhouse was valued at $1 billion, and the number has undoubtedly gone up since then.


Major Media Houses are Recognizing Clubhouse as a Market-sensation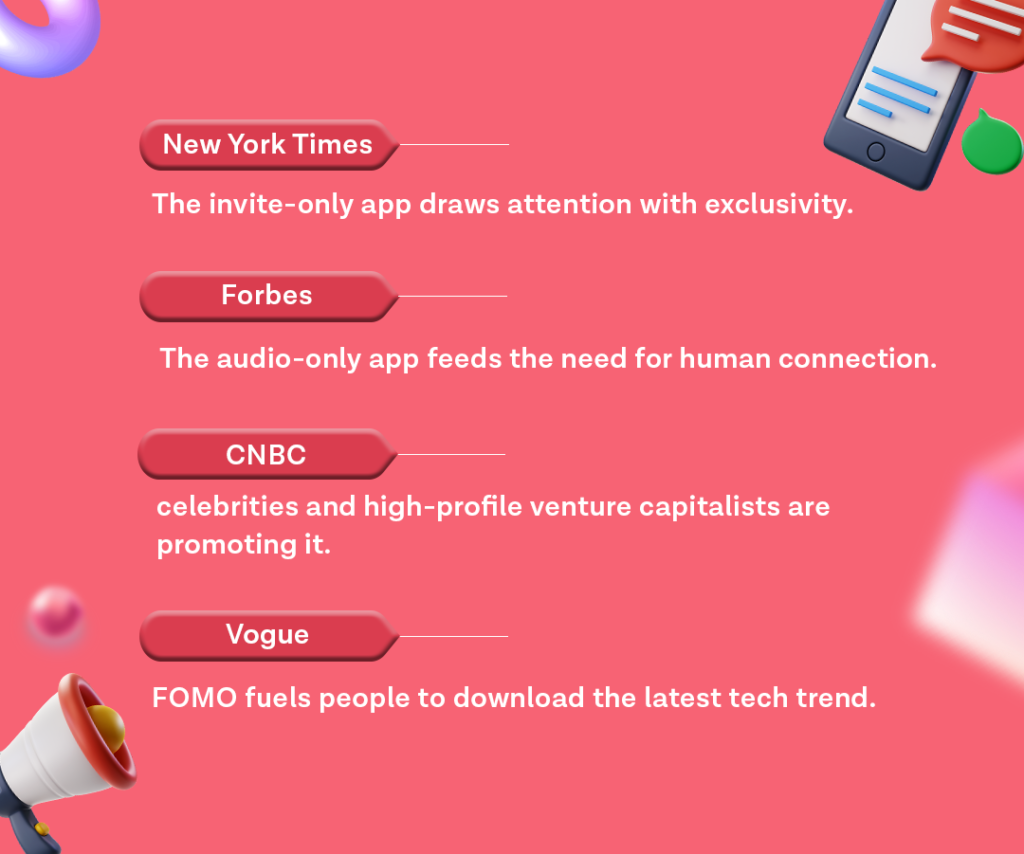 Introducing Clubhouse App & its Working
The world is highly attracted to using social media, networking applications; Clubhouse- a live-streaming audio-chat app, is a new market sensation that is catching millions of eyes & stealing billions of hearts. 
This mind-blowing conceptualized app is one of the aroused audio-only social media app developed by Paul Davison and Rohan Seth.
So, no more need to generate text, image, or video content to stay relevant. Just talk your heart out on things that matter to you on this audio chatting and podcasting platform.
The clubhouse does not provide to a particular age group. There is much more inside the app, i.e., conversations on nearly any topic, from mental health and writing inspiration to feminism, learning new languages, and pop culture. There are even rooms that stream music 24/7.
Let's Understands its Working Phenomena:
Speaking of its working, Clubhouse is a social media app that works as a live post-casting app. One of the peculiarities of this app is that you cannot download it to your phone & start operating it, but it requires an invitation from the existing user & an iPhone to become a member of the "Club" community.
Initially app was available only for iOS but, currently one can get it on iOS & Android both. If you wanted to know about the development process & needs of the Clubhouse-like app, consultations from a well-versed & expert social media app development company should be a smart move.
Having resister once at Clubhouse, users can opt for any topics they are willing to & jump into dedicated rooms to listen to others talking on the same topic. On the allowance of room owners, one can join as a speaker also.
What makes this Social App- Clubhouse, Unique among the Rest?
Here, find the major attraction areas that the app-like clubhouse exclusively offers to the world…
Its Invite-only exclusive feature: 
App provides the invite-only feature to give everyone an exclusive feel.
Its Hands-free experience: 
The app caters to Audio-based unscripted and unrecorded conversations, where the app provides no-audio & live-only conversations to provide a hands-free experience. 
No-limitations to choose rooms: 
The app eliminates the restrictions to choose rooms as one is free to choose rooms while joining the conversations.
Profile Optimization: 
On can get their interest-related feeds, whether it is about mental health, technical, or industry-wise conversations. 
Let's dig out some major benefits the app, like Clubhouse, cater to businesses.
Major Benefits of the App like Clubhouse cater to Businesses
So, here we discussed the uniqueness, popularity, market potential, working of Clubhouse; let understand how businesses can leverage the advantages of Clubhouse and apps with similar features & functionalities.
Have a glance at some major benefits:
Uplift your Business growth:
Clubhouse and Clubhouse-like other voice chat apps allow you to build a special audience of people who can be potential customers of your business as the app is coming up with the UNIQUE features stack.
With the app, businesses can attract the audience with enough content related to their industry, and once they get to know about your leadership in the market, they'll opt for you to run their businesses.
Cater a meeting space for a wide audience
Compared to Zoom with 100 users & Google meet with 1000, Clubhouse arrived with a user limit of 5000 that looks like a major up-gradation.
App provides you a larger space to broadcast your ideas to a huge audience. Developing an app-like clubhouse can provide you a wider scope to collect more users to your bag.
Industry-specific, connect with people who love the same niche:
A wide variety of topics are discussed on the app daily, where users can meet the endless range of experts. Thus you can find the right one for any situation.
Being a company & business owner, whether you are searching for an employee, a partner, or someone to get associated with your business/project, Clubhouse-like apps provide you with many benefits.
We have discussed Clubhouse's various aspects, making it popular and the solid reason to opt for an app like Clubhouse. Let's dive down and understand its features' list development process, technology stack, & other important aspects.
What are the Notable Features of Clubhouse-like Apps?
App's popularity is based upon its exclusivity & simplicity.
The major features of Clubhouse make this application an organized app. Understanding these features makes you clear in developing the Clubhouse-like social media app.
Here are some major features that you can have in similar apps like Clubhouse.
So, to develop an app like Clubhouse, you should note down these mentioned features:
(1) On-boarding
Developers have made this app a simple user-interface carrying app. 
Profile Creation
Interest selection
Clubhouse notification 
A simplified profile creation process consists of simple areas to perform- once you access the app, enter your name, upload a picture to your account.
Once the profile is successfully created, the user will select their interest, and they can choose a room of interest there. By default, all new users are muted, but you can unmute yourself any time.
While onboarding app includes a feature that is asking your permission for notifications when something interesting comes up.
(2) Clubhouse Invitation Feature:
Choosing an invite-based system for a new app can be a double-edged sword. On the one hand, it will add more content; it can impact somewhere.
But,
The most limelight carrying feature of Clubhouse- its INVITE feature solves the glitches. While developing the app- getting a clear understanding of these features is the exclusive thing you need to know.
There are three steps of getting invites:
Register
Get a clubhouse invite
Buy an Invite
(3) Clubhouse Feed
This feature of the clubhouse- feed consists of the events hosted by people and clubs you follow.
Once the user opens the feed, they'll find various discussions known as "Rooms."
Users can see the name and details of each room.
The clubhouse was originally positioned as social media for the elite, so most of the conversations here are about business, politics, and networking.
(4) Clubhouse-Room
There are types of rooms-Open, Social & Closed based on the user's interest are designed.
Because, in a voice-chat app, communication cannot just take place in an open area, as it needs some privacy.
That is why various Rooms are designed based on the area of interest, industry, and the specific topic so that the discussion cannot be lost in a never-ending stream of information.
List of speakers participating in the room
Possibility to search inside a room
"Raise hand" button
"Leave quietly" button
(5) Clubhouse's Users Profiles
Want to build a Clubhouse-like app? Offer simple yet engaging in creating profiles of users like it does.
Create profiles via filling the forms where a picture, name, and short description are needed.
Furthermore, a user can add links to their Instagram and Twitter as asked.
When you're in a room, you can check out the speaker's account and see the clubs to which a user belongs and their invites to discussions, and when.
It is almost the same as in other social media, where you can see that person's followers/following numbers on their profile.
(6) Clubhouse's CLUBs
Just like the Facebook groups, there is presenting Clubhouse's 'Club' feature.
Users can join clubs that they are interested in and easily find people with the same interests.
In these clubs, users can view, add members, and suggest conversational topics.
New users are not immediately able to create clubs.
Only those who have organized a conversation in the rooms three times get the opportunity to register their club.
But the club will have to go through moderation, and its approval is not guaranteed.
(7) Clubhouse's Search
While developing a Clubhouse-like app- paying attention to the search feature.
Search is a useful feature for any app. In Clubhouse, you can search for chat topics and people you want to follow.
(8) Clubhouse's Up-comings
This feature makes users up-to-date with the up comings in the app.
In this section, users can view upcoming discussions.
Schedule of events, with names of conversations, start times, speakers, and short topic descriptions are all in the up-comings.
Events can be planned and added to the Calendar. A lot of content is produced at the same time, and you can only choose one.
How to Build an App like Clubhouse- Its Process
Well, currently, when we've curated out the app's includes, we should outline what we need to create an app like Clubhouse. There are a few stages to perform before the development process begins.
Step 1:
If you choose to enter the market with an unconstrained voice-chat app, you ought to comprehend that creating it's difficult.
Above all else, you should filter out and choose which proficient app development companies or app developers will go further.
We suggest recruiting experts who will build your answer without any preparation, guide you through all development lifecycle beginning with the discovery phase, and end with delivering and launching your app to the business sectors.
Step 2:
One of the most imperative steps is the Discovery phase.
We generally propose our customer start from this part. Since the information got during this stage will help decide the extent of work, period, and plan to execute assignments for the task.
It will likewise help guarantee that the customers get quality development needs that meet the foreordained prerequisites.
During the Discovery phase, our specialists discover the customer's desires.
Then, at that point, the market investigation is completed, and the project scope is formed. This methodology limits the number of changes during the development engagement.
The project scope is resolved alongside other crucial factors, for example, the solutions required, features and functionalities, the ideal platform to utilize, the lead time, and the budget plan.
Step 3.
Make MVP, choose designs, pick marketing system and incorporate input channel toward the end.
The MVP adaptation of another app incorporates the most fundamental usefulness. However, it can exclude a portion of the pleasant to-have features for fast and cost-effective app development. Then, at that point, as you carry out the app, you can choose which features to add straightaway.
As the MVP is done, jump to its next phase; a clear, smoothed-out UI/UX is an important feature. However, it can add to the fulfillment clients feel from using your application. It's a given that bugs and crashes ought to be tended to right away. When the designing has done, legitimized the promoting system because,
Regardless, you can work with influencers by making them early adopters of your product and getting the words out about it to their adherents.
App Store Optimization, or ASO, is also a compelling solution.
Launching a blog on your website designated for a particular audience can be another fantastic method to promote your app.
How Much does it Cost to Build Like Clubhouse-like App?
The essential Clubhouse-like app may cost on different angles, and this cost may fluctuate contingent upon how best in class you need your app to be. To make everything somewhat understood and give you major factors. 
We have arranged a few factors here…
Size and Location of app development companies
You may decide to hire an IT group in-house or move to a developer, consultant, or mobile app development company. The most unequivocally prescribed choice is to employ an IT re-appropriating group that provides mobile app development services.
Features and functionalities
The more features you incorporate, the higher cost you'll get.
Back-ends and APIs:
If your app should handle bunches of information (newsfeed, likes, and shares, notifications), the back-end infrastructure ought to be a plan as needs be and guarantee speedy scalability.
UX/UI factors:
The cost will rely upon the number of screens, special elements, number of custom illustrations, activity, and so on.
Development approach and platforms:
The expense relies upon whether you need a native or hybrid app and the number of platforms you mean to target (Android, iOS)
Considering Making your Audio Social Media App like Clubhouse?
The clubhouse is as yet in beta and restricted to iOS only. This shows an astounding undiscovered potential for new players to infiltrate this industry specialty in social media and get the lion's offer.
The audio-social media platform thought is digging in for the long haul and thrive, and you can either remain on the walkway watching or get in the race and rushed to win.
You can see the usability that this thought brings; individuals can talk about anything they need and been through the application's content without taking a gander at it. They can use the Clubhouse app while working, eating, driving, or doing nearly anything.
It's the ideal door to enter one of the greatest business verticals in the world. RipenApps can help you make that stride with our digital solution. 
We should speak more about this app idea and features for your business potential.
Connect us at [email protected]. Connect with us to discuss your Project.
Contact Us