Not complying with HIPAA (Health Insurance Portability and Accountability Act) can be a serious issue for companies building their healthcare apps!
With the surge of mobile apps in the healthcare industry, privacy, and security threats have become a major risk. Entrepreneurs want to protect the health information data of their users. However, if you are not focusing on the security of the users then it is time to rethink because HIPAA organizations can send you penalties.
So, if you are targeting to build an app in health tech, one of the leading industries, you must align it with the HIPAA guidelines. Here is a comprehensive entrepreneur's guide to HIPAA app development that will not only make your app security and privacy rich but also deliver you the trust level you thrive for.
What is the HIPAA Act with Respect to App Development?
The HIPAA Act was designed to ensure the privacy of health information. Since 1996, when the HIPAA Act was created, it evolved as technology evolved with time. Today there are multiple standards that HIPAA has derived for multiple entities involved in the business of healthcare.
Since the focus is on the electronic healthcare industry, mobile apps in the healthcare industry have to prepare a process aligning specifically with the HIPAA compliance application development process. So, when you are building your app you have to focus on HIPPA guidelines which you will learn about in the coming sections.
What if Your App Fails the Guidelines of HIPAA?
The Department of civil rights issues penalties in case of HIPAA violations which are in the form of financial penalties. The department also sends you the measures to take in correcting your action plans and procedures up to the standards. These violations are categorized into 4 tiers: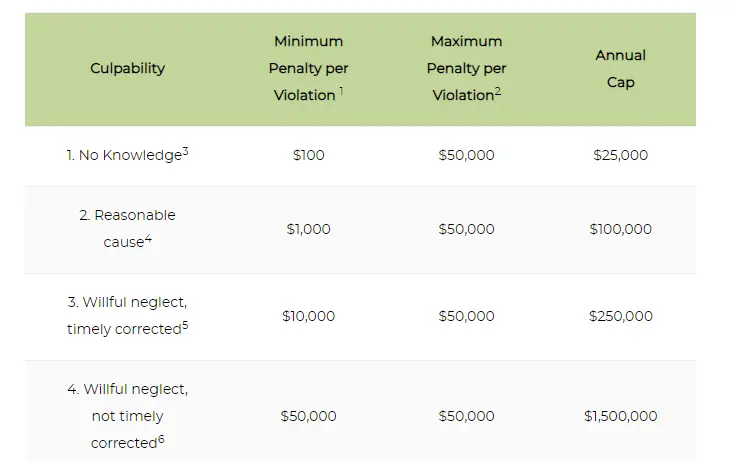 Tier 1: Covered entity was unaware of the risk.
Tier 2: Covered entity could be aware of but ignore the risk.
Tier 3: Covered entity wilfully neglects the rules and risk.
Tier 4: Wilful neglect; the department sent the notice but made no attempt to correct the violation within 30 days.
What Entities Must Follow the HIPAA Rules?
HIPAA rules apply to covered entities and business associates. And all the entities falling in the category defined by HIPAA have to follow its rules.
Covered Entities Involve: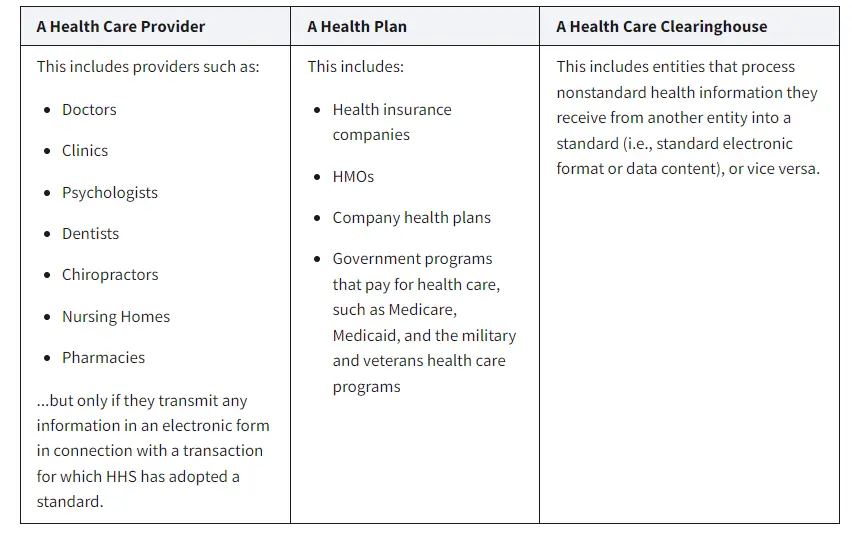 Business Associates Involve:
A business associate is a person or entity who is involved with a covered entity in any activity that utilizes health information.
HIPAA Compliance Rules You Must Know Before Building Your App
There are certain rules laid down by the HIPAA that are important to fulfill if you are targeting HIPAA compliance application development. The main rules are divided into three sections; Privacy rule, Security rule, and Breach notification.
The Privacy Rule
The privacy rule aims to protect individual medical records and any other identifiable health information. This rule also applies to health plans, healthcare clearinghouses, and healthcare providers conducting healthcare transactions using electronic devices. Hence, the disclosure of any health record must be made after authorization from the individual.
The Security Rule
Covered entities who maintain, receive, and create any personal health information have to protect the individual's data. They must follow appropriate security measures in applications or electronic devices they use. Confidentiality, integrity, and security shall be a priority for all the covered entities.
The Breach Notification Rule
A breach is a disclosure of protected health information due to the shortfalls of security measures from covered entities and business entities. In the case of a breach, the entities must send a breach notification to the owners of the health information. The notices can be sent to individuals, through the media, or to the secretary.
How to Get HIPAA-Compliant Mobile App Certification?
If you deal with health information and fall under the covered entities and business associates' categories defined by HIPAA, you must be wondering about the process of obtaining HIPAA certification.
Well, there is no certification for making your application HIPAA compliant. You just have to follow the rules and procedures defined by HIPAA in your business operations. Frequent audits will give you a competitive edge in keeping the badge of HIPAA-compliant apps.
Key Practices to Take Care of HIPAA-Compliant App Development
Building a HIPAA-compliant app requires you to research rules that you must take care of. Below are the key practices that you must take care of while building an app that complies with HIPAA.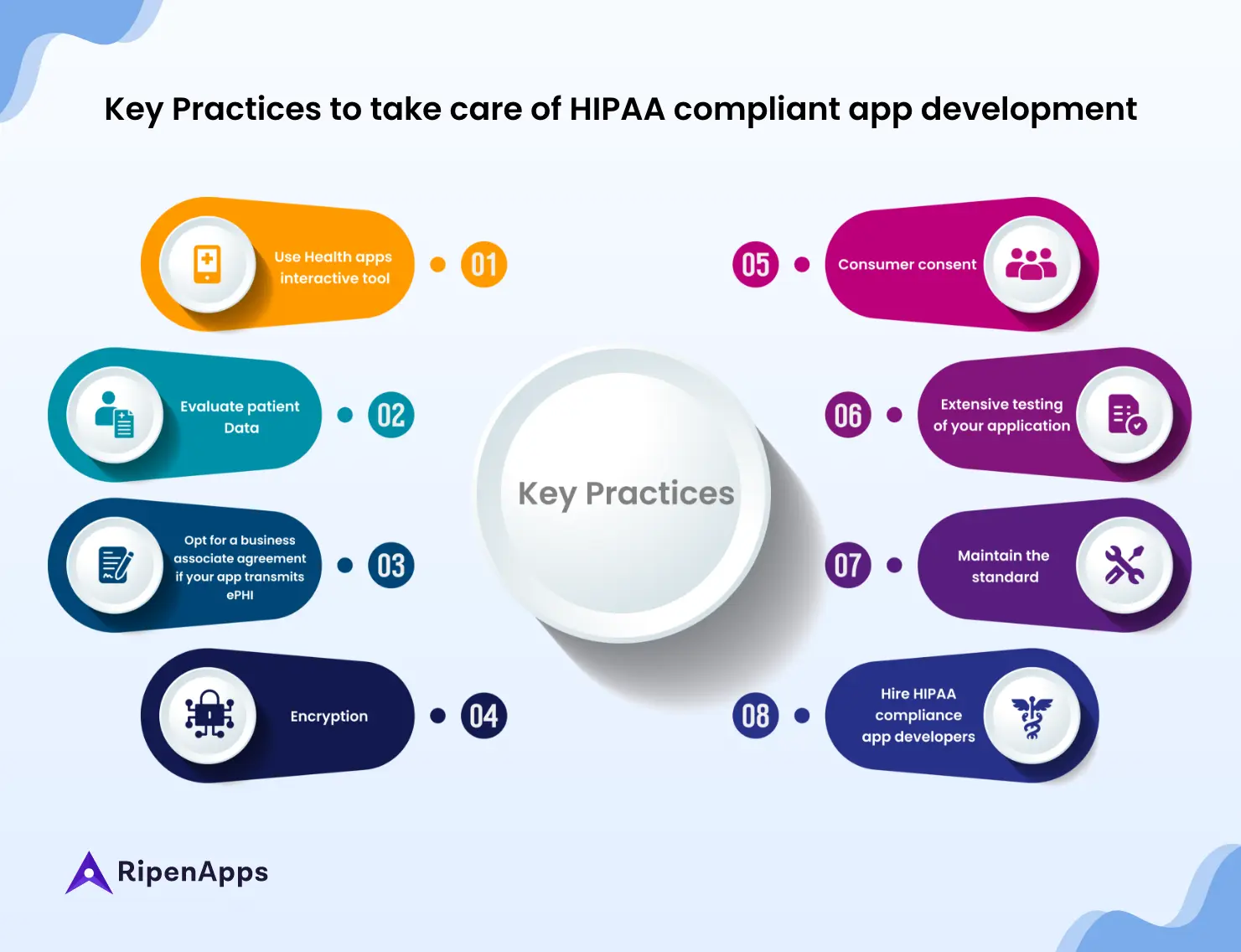 Use Health Apps Interactive Tool
If your application accesses, collects, shares, uses, and maintains the health information of consumers, then you must use this tool. A tool is a form of guidance that asks several questions from developers to ensure the HIPAA rules. You can also explore multiple Health app use scenarios for detailed guidance beyond the tool.
Evaluate Patient Data
You must know what data is highly sensitive and what data is of the least importance. The data which is highly sensitive can contain email, medicine records, bills, and more which shall be of high priority. Even the email ids and phone numbers of the users must be included in your priority list. Hence, analyze and evaluate the patient's data carefully.
Opt for a Business Associate Agreement if your App Transmits ePHI
In case your business aligns with the business associate entities, then you must align with the business associate agreement. This will ensure a smooth HIPAA compliance app development process for your business, leading to better customer privacy regulation in your organization.
Encryption
Encrypt the information of your consumers. All the sensitive data of your consumers shall not be compromised at any cost. Not even in the possible breaches. Use several layers of encryption so that it becomes nearly impossible to crack your security level.
Consumer Consent
HIPAA clearly mentions not taking the data without the consent of the customers. You must showcase why, how, and what you will do with the data of consumers. Apple app store guidelines adhere to HIPAA compliance. So, if you practice HIPAA complaints, you are also satisfying multiple checks for the app store markets. Do not perform any action without the consent of the consumer.
Extensive Testing of Your Application
To ensure HIPAA compliance, testing your application is the key practice. The more you test it, the more you are able to figure out the possible security loopholes of your application.
Maintain the Standard
Applications are not one-time investments. You don't have to forget your application once it is made live. To keep your application in compliance with HIPAA, you have to keep maintaining and updating it. It is because HIPAA keeps on adding new guidelines.
Hire HIPAA Compliance App Developers
HIPAA compliance app development is complex and requires the utmost concentration over multiple factors. It is a best practice to hire dedicated app developers for your project if you want your app to comply with HIPAA. These experts have years of experience in building HIPAA compliance applications, ensuring your app highly aligns with HIPAA guidelines.
Key Features and Tips to Keep in Mind for Your HIPAA-Compliant Application
When you are building an app that stays in compliance with HIPAA, then are the key features that you must ensure.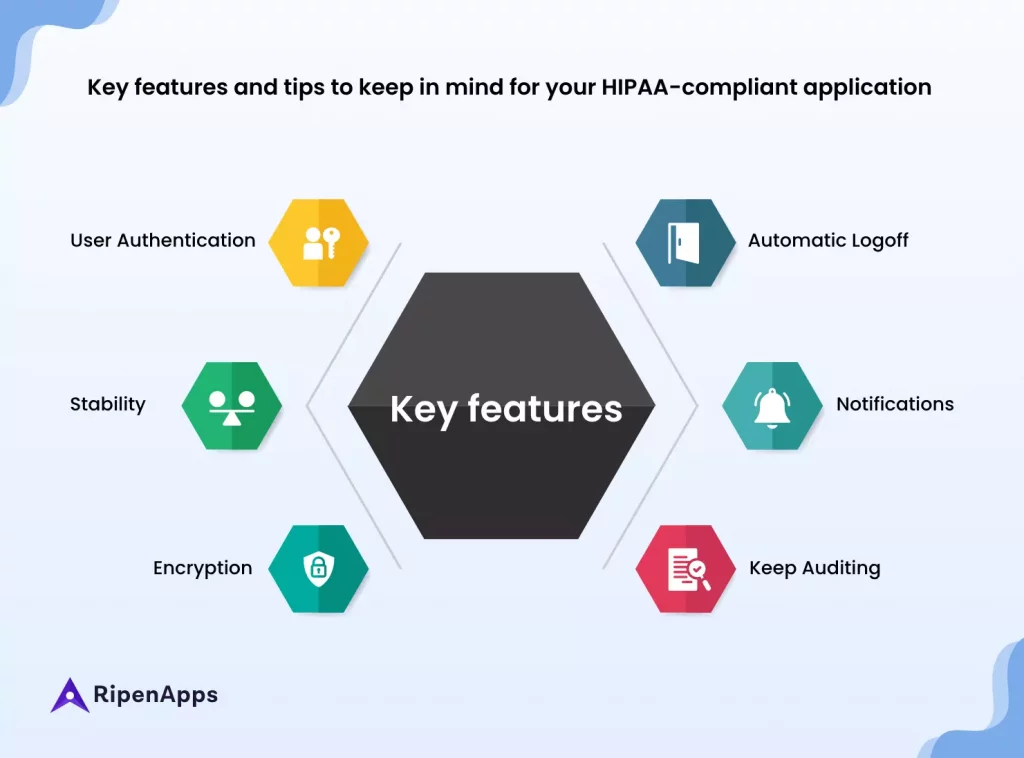 User Authentication: Integrate the best possible security for the user, be it in password, pin, or biometrics format. Your users shall have the highest security level possible in their healthcare app.
Stability: Most of healthcare apps run using the internet on smartphones. And there are times when the internet is unstable, causing possible threats to personal information. Your app must address that carefully.
Encryption: Keep the user's data encrypted. For example, messages sent on WhatsApp are not viewable even to what's app because of their encryption format.
Automatic Logoff: Session timeout is critical in healthcare apps, just like banking applications follow it to keep the security measures strong.
Notifications: Push notifications should be sensitive in nature and not show any personal information of patients.
Keep Auditing: Follow a standard auditing process regularly so that your app stays in compliance with HIPAA.
What is the Cost of HIPAA Compliance App Development?
The cost of every application you build depends upon multiple factors. If you hire a company located in the USA with a US workforce, then your HIPAA compliance app development cost will vary as compared to India.
Similarly, the choice of hiring in-house developers, outsourcing your project, or hiring dedicated developers, affects your costing model.
Hence, it is highly suggested that you consult a top healthcare app development company having years of experience in building high-quality HIPAA-compliant applications.
How do we Ensure HIPAA Compliant Application Development?
We value your customer's data as much as you do. With years of experience in building the healthcare industry, we have integrated high-quality security measures into applications. Our experts thoroughly follow the guidelines mentioned by HIPAA and ensure to meet them at every phase of HIPAA compliance app development.
From automatic logoff, robust encryption algorithms, and security access points to stable user authentication and extensive security testing of your app, we carefully design and build your application that highly complies with HIPAA guidelines.

FAQs
Q1. What makes an app HIPAA Compliant?
An app becomes HIPAA compliant when app developers follow HIPAA-prescribed guidelines while building the application.
Q2. Is it necessary to make my app HIPAA-Compliant?
Yes, making your app HIPAA compliant is necessary if you are building a healthcare application. Any form of compromise in the privacy and Security of users will lead to violations, and HIPAA will send you penalties.
Q3. What happens if I do not follow HIPPA rules in my App?
If you do not follow HIPAA rules and regulations in your application, then HIPAA will send you penalties and a scope of improvement.
Q4. What are the 3 important rules of HIPAA Compliance?
3 important HIPAA compliance rules consist of the privacy, Security, and breach notification rules that are mandatory to follow for all healthcare applications. Connect with us to discuss your Project.
Contact Us