Mobile apps are today's most powerful way for businesses to connect with consumers. With just a few clicks, customers can instantly access any online services or products offered by companies and businesses around the world. The current global human population is 8 billion, and out of that, 6.92 billion are smartphone users, which is 86.29% of the total world population.
Therefore, the demand for mobile app development solutions is acquiring a fast pace than ever. Especially in Dubai, the mobile app development industry is set to reach the next level. Sheikh Hamdan, Crown Prince of Dubai launches Create Apps in Dubai initiative as the city aims to be the leading app development hub. Dubai, a global technology-driven city, is becoming a favorite spot for app development for startups and business ventures based in Dubai & UAE.
So, if you are searching for a mobile app development company or agency in Dubai for building your app, here we have shared the list of the top 10 mobile app development agencies in Dubai.
Current State of Mobile App Development
As consumers are adopting apps in their daily activities, the demand for more feature-rich and business-oriented apps is growing. Thus, this increased demand has pushed the mobile application development industry significantly in the past years. By looking at the latest market statistics, you will realize how fast and big the mobile app development sector is expanding and why businesses are investing in this domain.
Mobile apps are projected to generate more than $935 Billion in revenue in 2023.
On average, 2,150 apps are released from Google Play Store and approx 1600 apps from Apple App Store every day. Source
70% of the entire digital media time comes from mobile applications in the USA.
21% of millennials open a mobile app around 50 times a day.
The global mobile app market is forecast to reach $407.31 Billion by 2026 at a CAGR of 18.4%.
Around 53.96% of web traffic comes from mobile devices and smartphones.
UAE has acquired 60% of the mobile app and smartphone market of the whole Middle East.
List Of The Top 10 Mobile App Development Agency in Dubai
1. RipenApps Technologies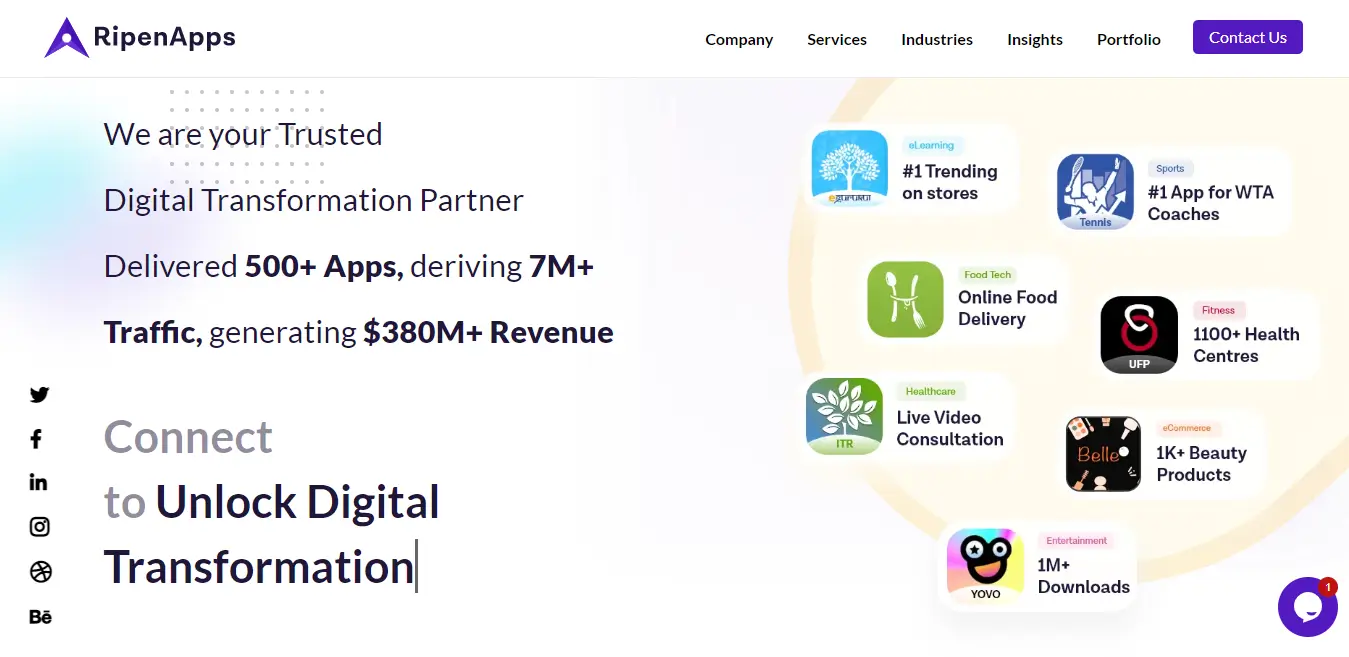 RipenApps is a leading mobile app development agency in Dubai. This company has over 7 years of proven experience in delivering world-class web and mobile application development services for different businesses worldwide. RipenApps is reputed for having the industry's most qualified and talented team of mobile app developers, UI/UX designers, software engineers, QAs, and business analysts.
For delivering the most successful range of mobile apps, it has been recognized as the best mobile app development agency in Dubai for startups and entrepreneurs. The company is highly expert in providing state-of-the-art product solutions at the most cost-efficient price range. As a result, it has an excellent portfolio of delivering high-valued and result-driven app projects in Dubai and the UAE.
Apart from Dubai, RipenApps also holds the top rank in the list of top 10 mobile app development companies in India.
Founded: 2017
Dubai Office: 302, Fikree Building Bur Dubai 31219, UAE
Contact Details: [email protected]
Employee Size: 150-250
Number of Clients: 500+
Delivered Projects: 900+
Clutch Rating: 4.7
Esteemed Clients: Swish Fintech, BelleXD, Blog Buster
2. Branex LLC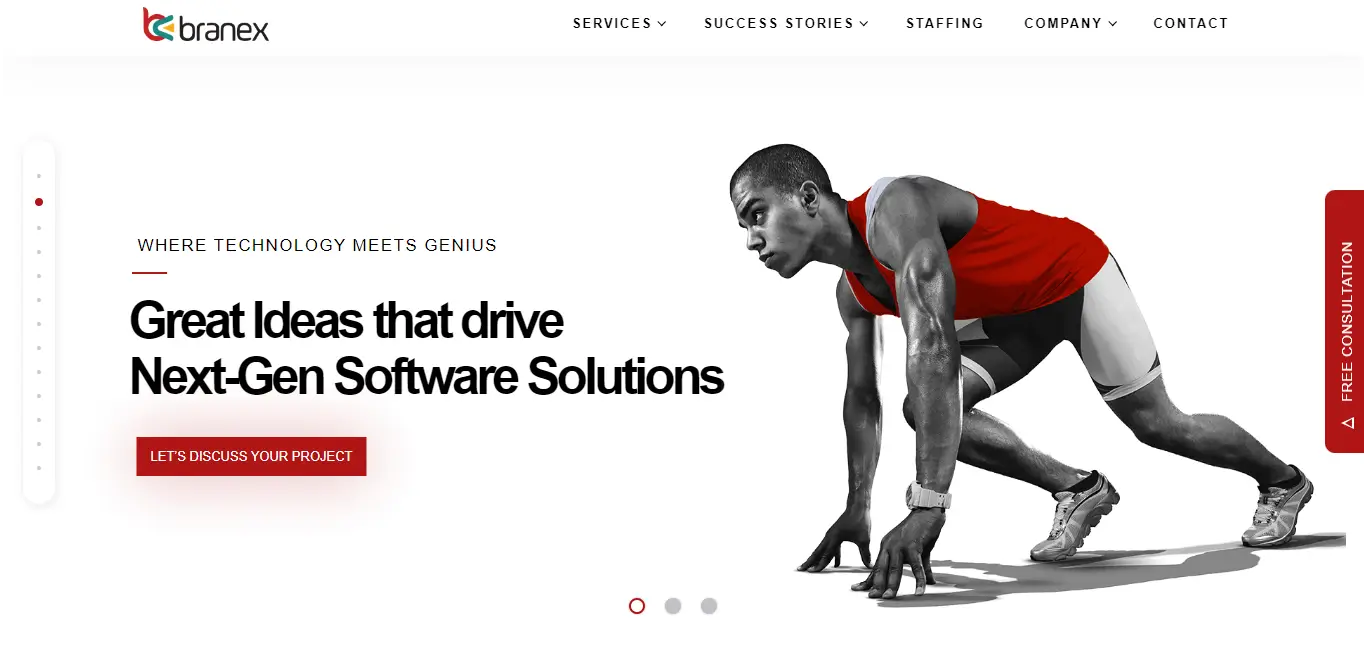 Branex LLC is the top custom software and mobile app development agency in Dubai. They are the leading digital transformation company in the industry with over 1.5 decades of experience. Branex is widely renowned for building high-standard business-orientated software and mobile app solutions for various businesses. They work with startups, brands, and enterprises in product discovery, app ideation, and developing innovative digital product solutions. Branex has a big team of professionals who are proficient in utilizing the latest technology and bringing out-of-the-box solutions.
Dubai Office: 2602, 26th Floor, Mazaya Business Avenue, BB2, Jumeirah Lakes Towers, Dubai, UAE.
Contact details: +971 4 247 2977
Employee Size: 50 – 249
Clutch rating: 4.8
3. Blink22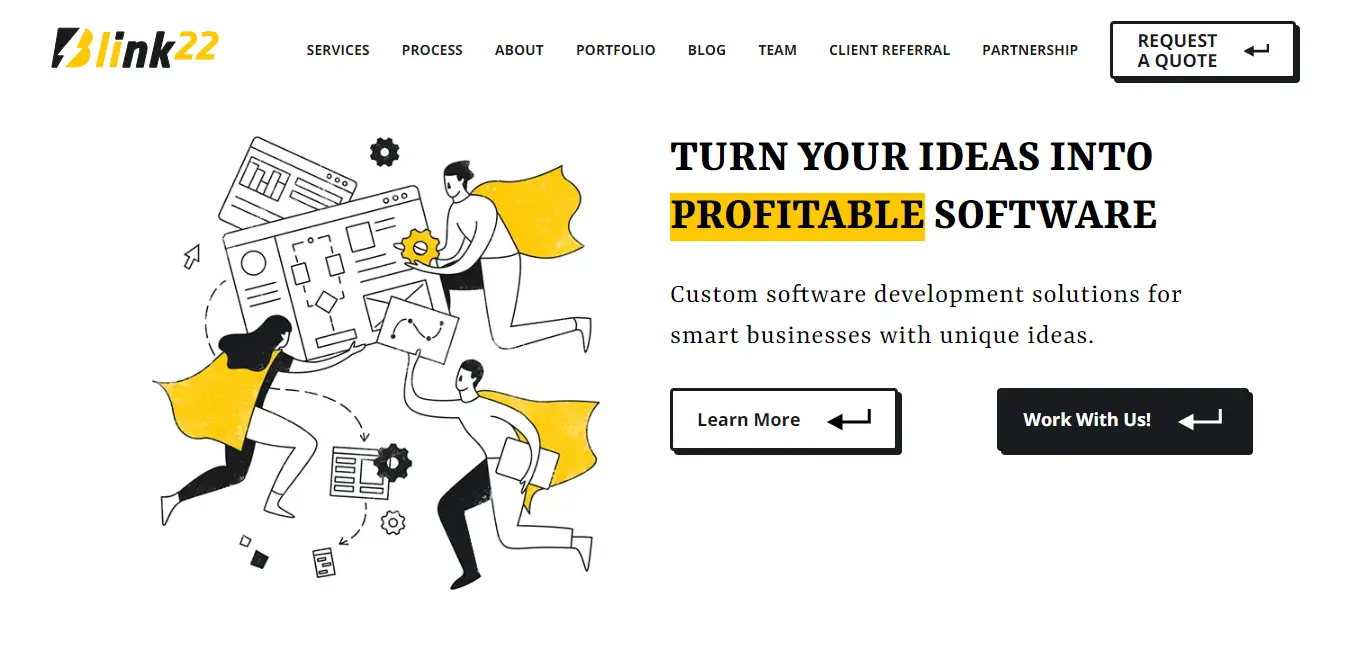 Blink22 is a leading web and mobile app development company in Dubai that has a team of over 100 skilled developers and technology experts for producing quality digital product solutions. They provide custom and business-oriented web development and mobile app development services for different business sizes. Blink22 claims to be proficient in building innovative web and mobile apps while leveraging emerging technologies like AI, ML, AR/VR, IoT, and more. They have a good number of clients spanning across Dubai and UAE.
Dubai Office: Parklane Tower, Business Bay, Dubai, UAE
Contact details: +971547650545
Employee Size: 50 – 249
Clutch rating: 4.9
4. Emirates Graphic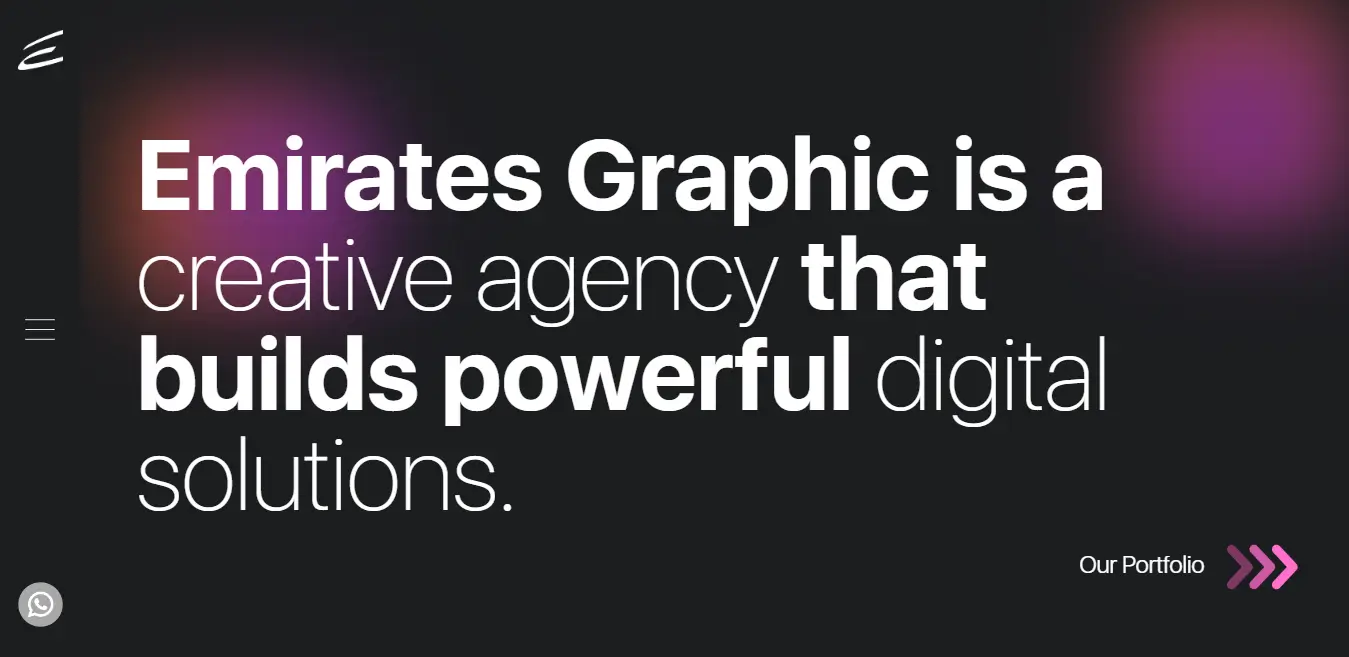 Emirates Graphic is a popular digital agency based in Dubai. They specialize in offering best-in-class digital and creative solutions for web and mobile. Emirates Graphic provides expert consultation on app development, crafting marketing strategies, and enhancing online brand visibility. The team at Emirates Graphic is highly skilled in designing and creating beautiful UIs and developing high-performance applications for Android and iOS devices. They are also counted as one of the top mobile app development agencies in Dubai, UAE, and Saudi Arabia for providing business-driven and affordable solutions to startups, and SMBs.
Dubai Office: Tiffany Tower, Cluster W, Dubai, UAE
Contact details: +971 50 912 4567
Employee Size: 10 – 49
Clutch rating: 4.9
5. Black Ink Agency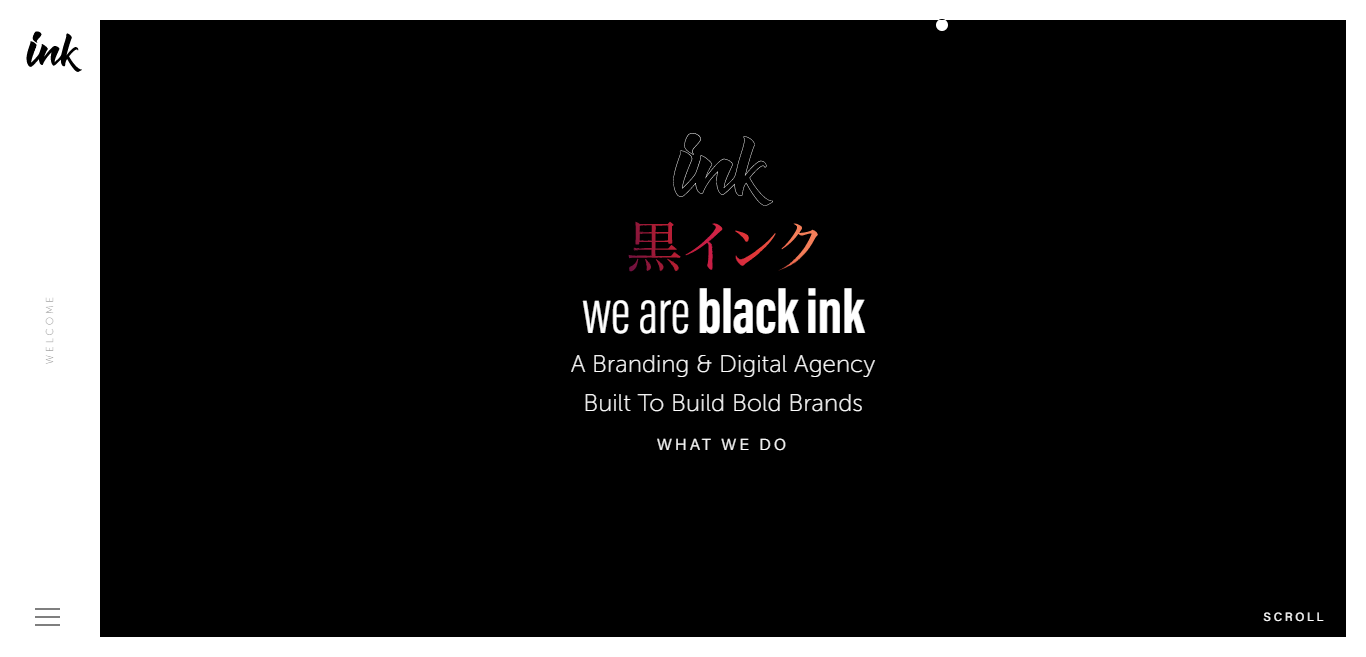 Black Ink Agency is one of the top mobile app development agencies in Dubai and UAE. The company marks its presence by delivering state-of-the-art and innovative digital and software solutions and helping brands leverage modern technologies. Black Ink Agency offers a wide range of services related to UI/UX design, website and web app development, creative design, and Android and iOS app development. The team at Black Ink Agency is driven by passion and dedication to making a difference by solving complex project requirements and giving complete customer satisfaction.
Dubai Office: Dubai South St. D53, Dubai, UAE
Contact details: +971551445716
Employee Size: 10 – 49
Clutch rating: 4.9
6. TekRevol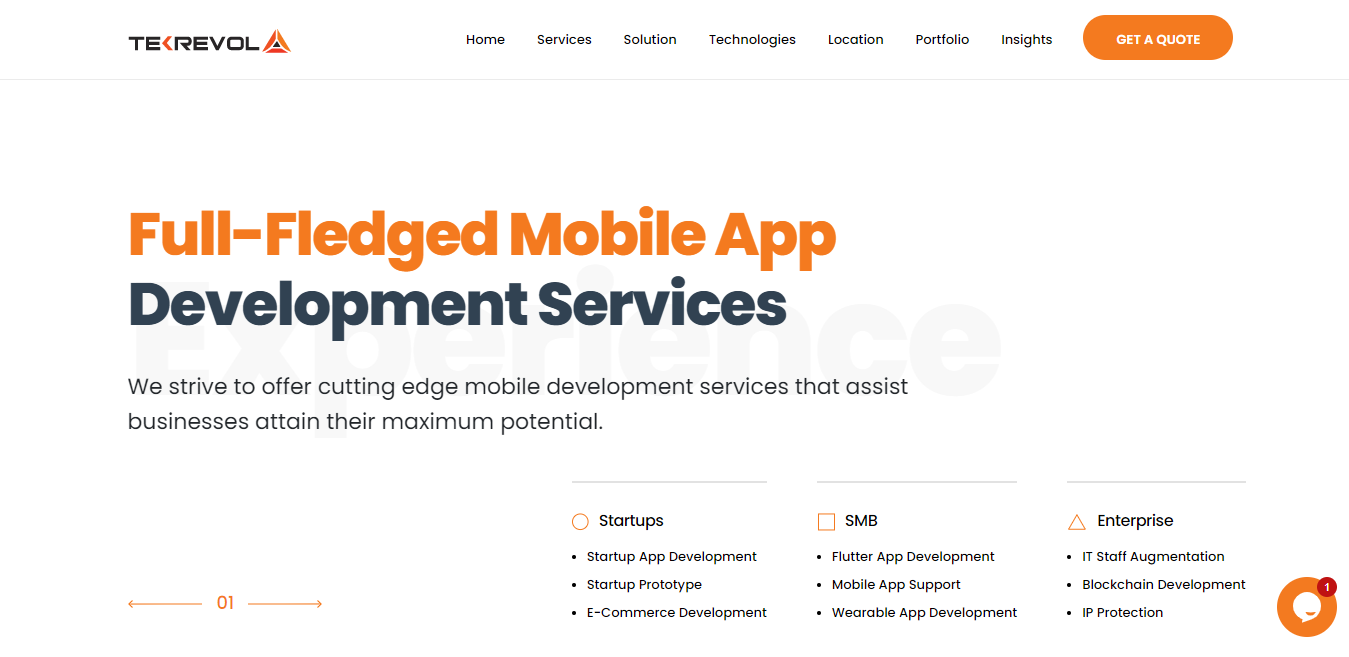 TekRevol is a digital transformation company that provides full-stack web and mobile app development services for entrepreneurs, startups, SMEs, and enterprises. They have received various rewards for building some of the most successful mobile apps in the UAE market. TekRevol has a large team of over 200 different professionals and tech specialists who work collaboratively to craft top-standard business solutions. Besides having offices in Dubai and UAE, TekRevol also has footprints in the GCC region and the USA. They also provide consultation and help business people to plan budgets while developing a mobile app.
Dubai Office: 1901, AA1, Mazaya Business Avenue, Jumeirah Lake Towers
Contact details: +97145616845
Employee Size: 250 – 999
Clutch rating: 4.8
7. Wisoft Solutions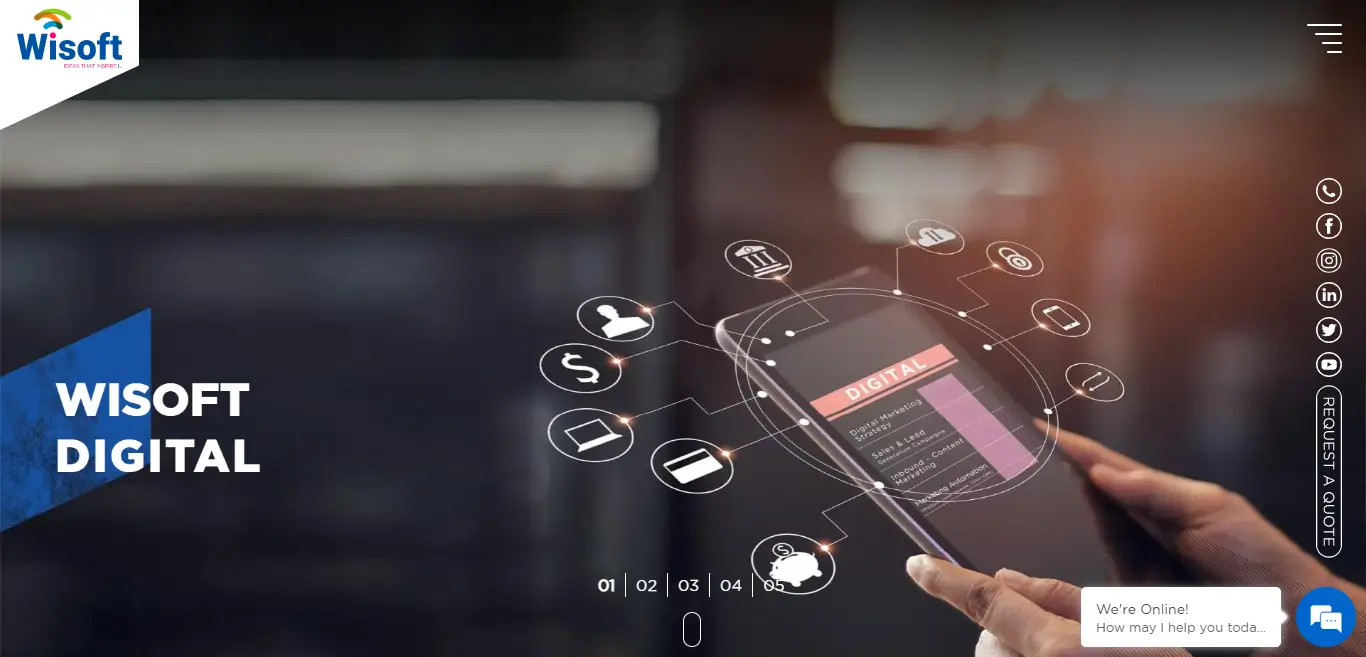 Wisoft Solutions is a recognized digital marketing company that gives full-stack services across Dubai and UAE. They have over a decade of experience in digital marketing and creating software applications for web and mobile platforms. Wisoft Solutions has an experienced team of experts with years of hands-on experience in building creative, advanced, and result-oriented solutions. In mobile app development, they hold great portfolios with impressive success track records. Thus, if are looking for a mobile app development agency that can assist you in developing innovative applications on a cost-efficient budget, Wisoft Solutions stands out as the best option.
Dubai Office: P.O Box: 237159, Office M-38, Curve Building, Sheikh Zayed Road, Dubai, UAE

Contact details: +97143210710

Employee Size: 10 – 49

Clutch rating: 0.0
8. Appikr Labs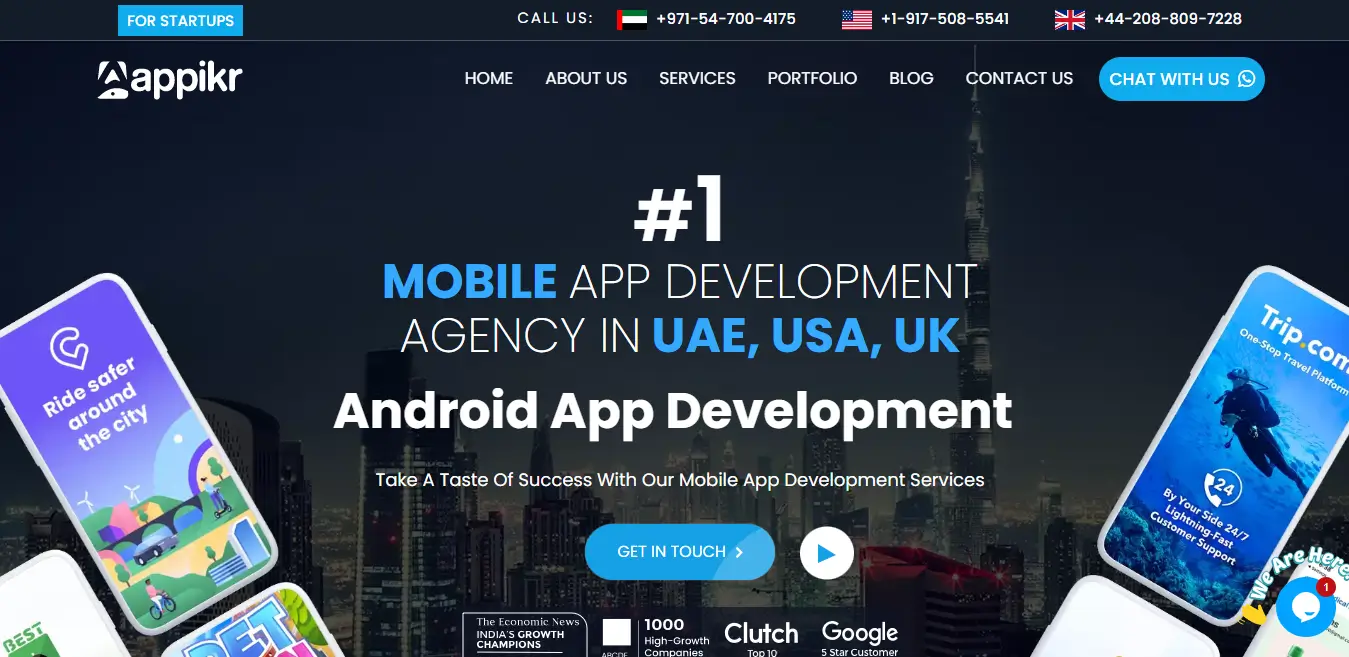 Appikr Labs delivers high-class mobile app solutions for brands and enterprises. They are popular for providing top-grossing mobile applications for business. Some of their apps have gained over one million app downloads and helped their client achieve better results quickly. Appikr Labs's services involve iOS and Android app development, Flutter app development, AR/VR app development, and integration of innovative technologies in mobile apps. They have over 8 years of experience in developing apps for a diverse range of industries like real estate, on-demand services, e-commerce, automotive, travel, social media, education, and more.
Dubai Office: 104, Yes Business Tower, Al Barsha-1, Dubai, UAE
Contact details: +971547004175
Employee Size: 50 – 249
Clutch rating: 5.0

9. Silicon Graphics
Silicon Graphics is among the best mobile app development agency in Dubai and UAE. The company is widely reputed for its excellence in providing cutting-edge software and mobile app solutions. Silicon Graphics works with startups, brands, and enterprises in creativity, digital product development, growth hacking, crowdfunding, and app development. They have delivered a large number of projects and enabled their clients to succeed efficiently in the market. Silicon Graphics has more than a decade of industry experience and holds a successful track record in their portfolios.
Dubai Office: Office # 1904 19th floor The Metropolis Tower Business Bay, Dubai, UAE
Contact details: +971 58612 494
Employee Size: 10 – 49
Clutch rating: 4.8
10. Diginix AI IT Solutions Dubai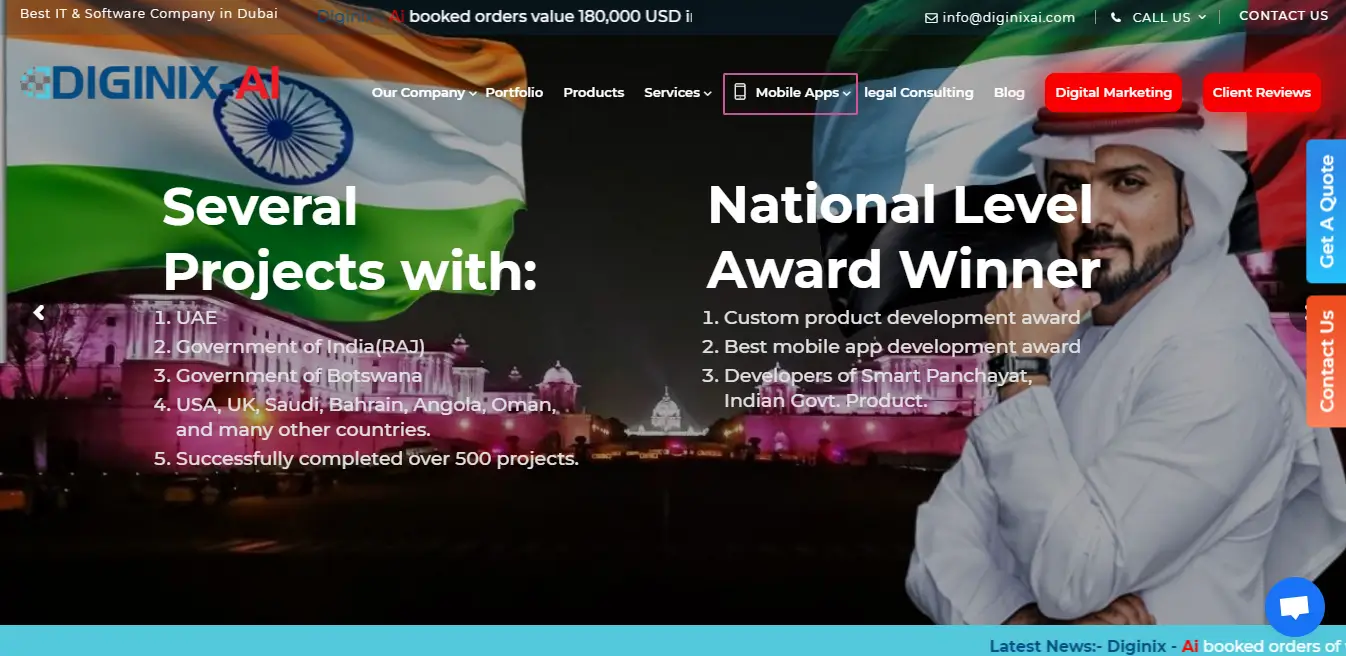 Founded in 2013, Diginix AI is a leading mobile app developer in Dubai. It has an experienced team of 70 professionals who have great skills in creating customer-centric and business-driven mobile app solutions. Diginix AI follows agile methodology in its mobile app development process and allocates dedicated resources to every project. The agency has assisted many startups and business ventures in building business-transforming mobile apps for a variety of industry verticals,
Their services include web development, UI/UX design, MVP development, mobile app development for Android and iOS, and app marketing strategies. Diginix AI is also among the most experienced app development companies in Dubai and has a good range of success portfolios for multiple clients apart from UAE as well.
Dubai Office: Marina Pinnacle 2109, (Tiger Tower, Dubai Marina), Dubai, UAE
Contact details: +971563988134
Employee Size: 50 – 249
Clutch rating: 5.0
Wrapping Up
Dubai is emerging as the prominent hub for mobile app development. With the increasing growth and investment in digital transformation, the mobile app market is rising to higher levels. As a result, this growth is pushing the need for more mobile app development companies.
For business owners, it might be a difficult task to choose the right mobile app development agency. But by considering some essential factors and analyzing their experience, you can select the perfect company for your project. And the above list contains the leading companies which have established their reputation in Dubai by providing high-quality app solutions.

FAQs
What is the cost of app development in Dubai?
There is no certain estimation since app development cost depends on several factors. However, the overall cost of mobile app development in Dubai might vary from $30,000-$250,000.
How to choose the best app development company?
To choose the best app development company, you have to consider some important factors like qualification and experience, number of clients and successful portfolios, previous clients' reviews, employee size, and cost of their services. The best company doesn't have necessarily to be on the top but should fit your needs.
Why work with a mobile app developer in Dubai?
Dubai is one of the fastest-emerging destinations for mobile app development in the world. The government here also provides extensive support for businesses and companies to create apps with great benefits. Connect with us to discuss your Project.
Contact Us