Google- its success doesn't need any introduction as the name 'Google' is on every mouth of the world. Millions admire Google's services in the world. Google is pacing the technical market at its best.
Speaking of technology, invention always mesmerizes us. If we look back in the past, technology has made the lives more accessible, as everything we wish, we get on taps. Engineers have always surprised the world with their mind-blowing inventions & discoveries.
Talking about today's world- smartphones & applications are the hottest inventions of engineers that make our lives easier. Developing mobile applications for almost every industry, developers have handed us a new & convenient life to live where we can accomplish our tasks on taps & clicks.
Mobile app development is the word that is almost leading the technical market nowadays. App development trends and mobile app user's behavior have transformed a lot in the past years. Increment in the number of developed apps has given a ray to make this trend a hotter one & Google Play Store is the place with most of the discoveries and trends in the form of Apps.
Android market is known as Google Play Store, where digital services get distributed. Since, inception, Google Play Store counting the vast number of Android app submissions through various android app developers and development companies.
Our article is about Google Play Store Statistic in 2021 and what is projected for 2022. Read the mentioned stats that will give you the latest picture of the latest stats and the projected stats.
Google Play Store Statistics you must consider before building your app

.
 Google Play Store is catering to almost every industry with innovative digital products in mobile applications, but here uncover some significant facts & stats of 2021 & 2022 that you should see if you are thinking to build your next android application.
1.

How many apps are available on Google Play Store till 2021 & projected to be in 2022?
Due to the popularity and buzz, Google Play Store is millions of users' most trusted and used platform. Considering the love of users towards Google Play Store, android app developers and various businesses consider this platform for submission of their products. This resulted that the platform is exploded with a massive number of apps. Curious to know about the recent & projected number of apps on Google Play Store?
According to the latest report by Statista– the number of available apps in the Google Play store in the first quarter of 2021 is over 3.48 million mobile apps and projected to grow more in 2022 and later.
2. Google Play Store Statistics:

How many app releases are on a daily, weekly & monthly basis?
The huge inclination towards using smartphones and applications has accelerated the growth in mobile app releases number. As per a report or App Brain, 3499 applications are added to the Google Play Store every day. The number can be small, but it's for the latest of September 2021 and are projected to grow in 2022.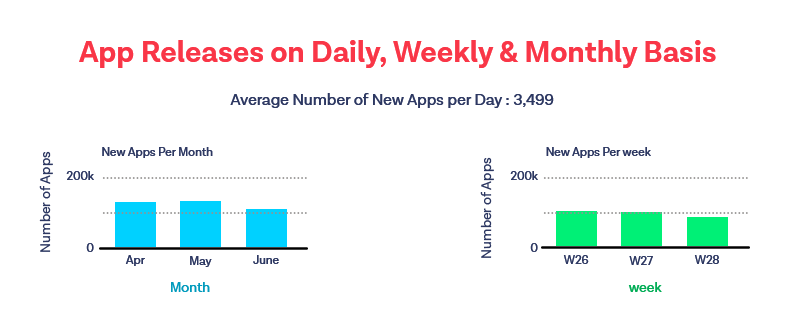 3.

How many app downloads are recorded in 2021 & projected to download in 2022?
As, android is a market ruling platform, 80% of users are using android devices and android apps; thus, it complements the popularity of Google Play Store. Due to the broader market coverage of Android, the number of total app downloads from Google Play Store is increasing day by day. As per Statista report- App downloads worldwide from 2018 to 2025, by Google Play Store is given as- till September 2021; there have been 119 Billion apps are downloaded from Google Play Store and projected to grow 133 billion in 2022, 187 billion in 2025. The popular apps downloaded by a large number of users and hold a big part in the total number of downloads include Facebook, WhatsApp, and Messenger.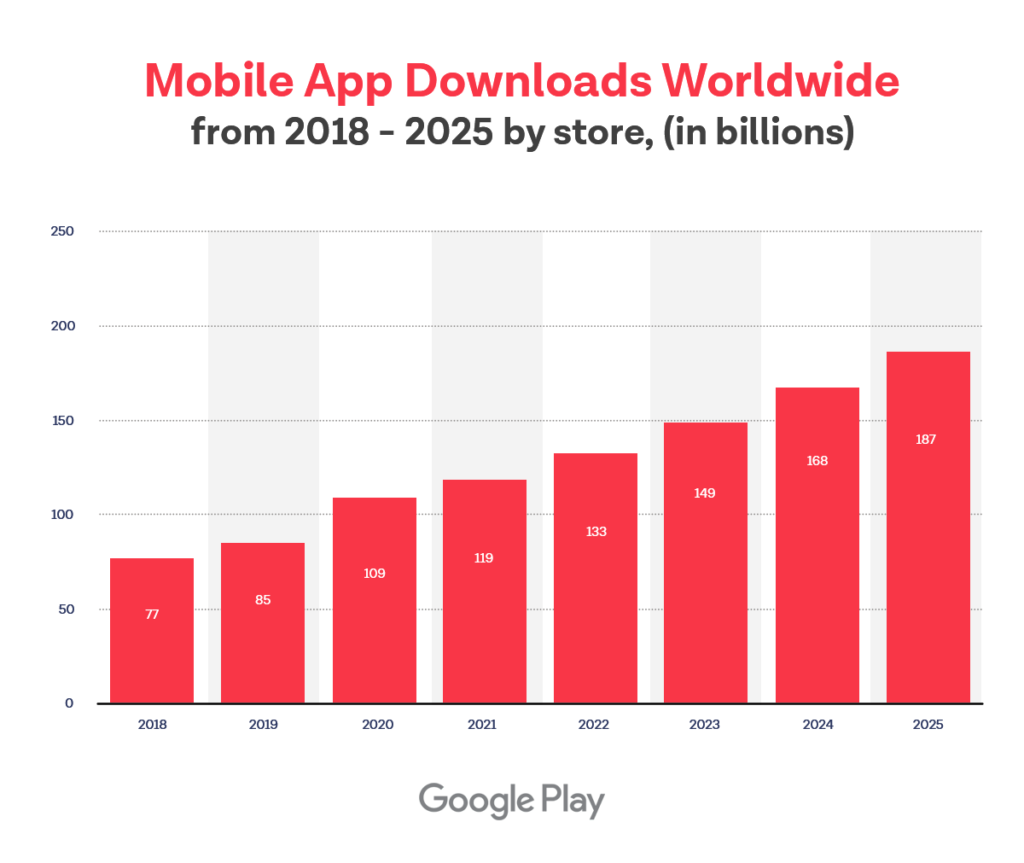 4. Google Play Store Statistics:

Google Play Store Total App Ratings
Ratings and reviews invoke trust among users, as it is human nature that people are always inclined towards stars ratings. So most of the mobile applications on Google Play Store have higher ratings that build the users' trust and give your business app trust in the market.
As per research from AppBrain, the graph mentioned above represents the ratings or user nature of the apps.
Read Also:  How "5 Star Ratings" on Mobile Apps Catches Users' Eye?
This amazing feature gives users a place to speak about the app's experience and allows mobile app developers to enhance their apps based on reviews and feedback. Thus, this will give your business app extra tweaks.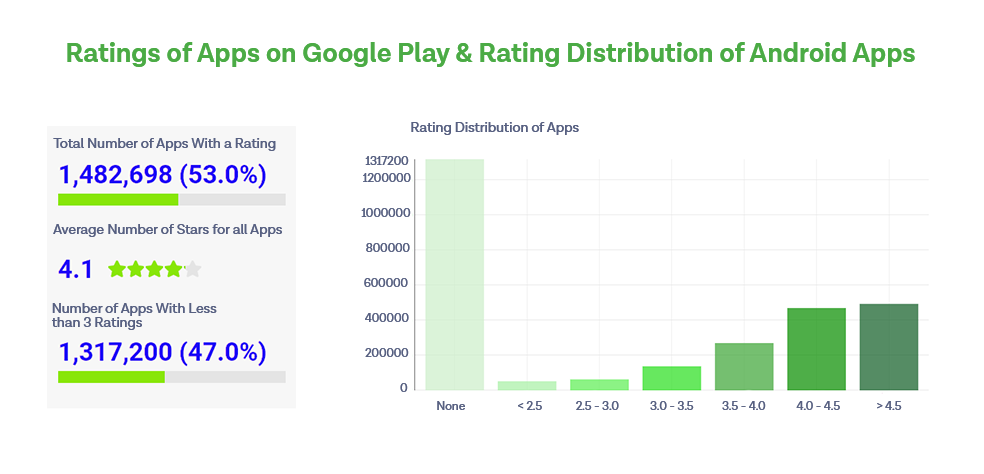 5.

Comparison: Google Play Store vs. App Store 
The popularity of Google Play is quite noticeable, as it has witnessed a massive hike since its inception. If we compare Google Play Store & App Store, Google Play Store is quite evident as it carries a vast audience and applications. Have a look at the graph containing Google Play Store stats in comparison with App Store.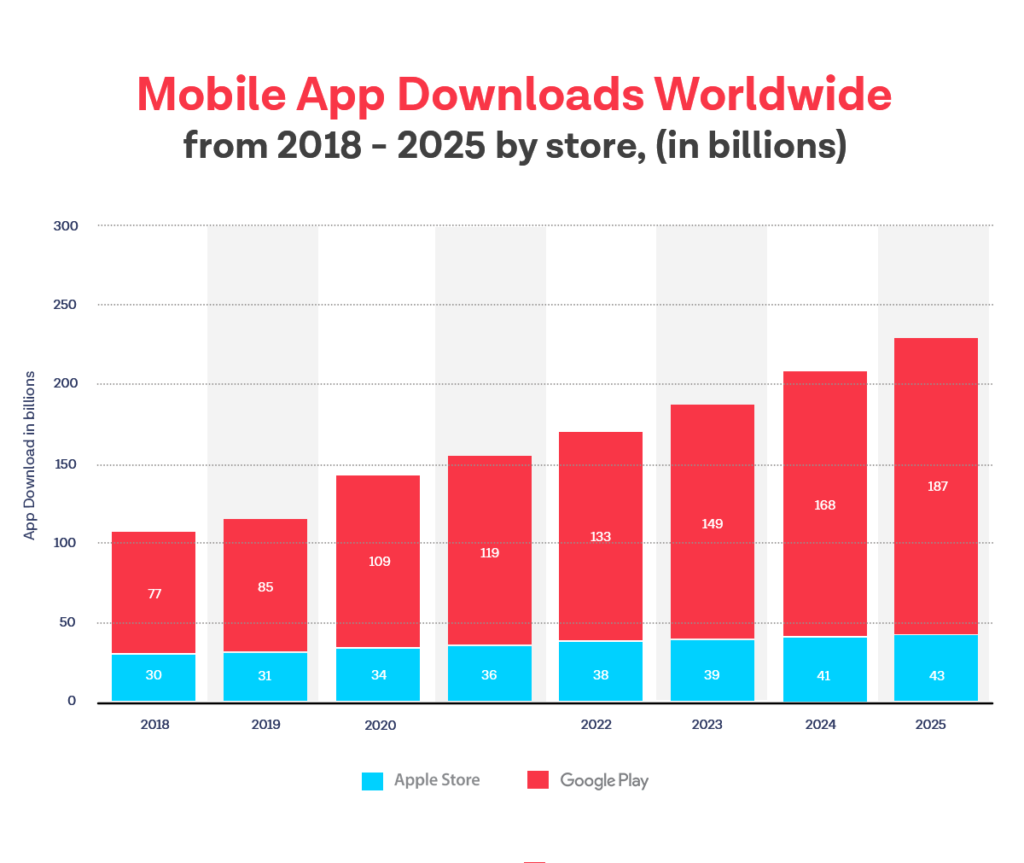 6. Google Play Store Statistics:

Free App & Paid App Downloads
Apps are of both types- free & paid. Both are available on the Google Play Store. As per the latest research report from AppBrain, here we have mentioned a graph that contains the download distribution of Android apps by price category, which will give you a clear picture of free and paid apps on Google Play Store. Some free apps contain few paid and are termed an in-app purchase, which helps mobile app developers generate some revenue.
7.

Android Apps with In-app Billing 
This is partially true that only paid apps help generate revenues, but the free app downloaded more can cause considerable revenue. Therefore, mobile app developers prefer to build Android apps free for users as they want to get the maximum user base.
The current number of the app with in-app billing is
Current number of Android apps with in-app billing: 301,455

New in-app billing apps launched in the last week: 531
8. Google Play Store Statistics:

Most Popular Google Play Store Categories 
As of the first quarter of 2021, gaming apps were the most popular app category in the Google Play store, accounting for 13.72 percent of available apps worldwide. Education apps were ranked second with a 9.31 percent share. 
9.

Google Play Store Stats for Mobile App Usage 
Millennials are fond of technology as it is technology dependent generation, mobile apps particular. As per an evolution, 21% of millennials open apps 50+ times a day and 49% of the smartphone demographic.
App Usage by Age:

A study directed by the US showed that Millennials (18-34 years of age) open applications most of the time with a normal of 10.5 times each day while adolescents do it 9.4 times each day. Boomers stand rearward in the rundown with a normal of 5.5 times each day.

Usage by Devices:

Presently, that one isn't bound to any one gadget to get to the web; individuals utilize various Android devices like Tablets, Smartphones, Laptops, etc. Notwithstanding, some investigation shows that some particular app classifications have a high use rate in Smartphones. Those apps incorporate Maps, Instant couriers, Music, Games, photographs, climate, and so on

While, if that we talk about Desktops, their inclination rate is as yet kept up with. It is presumably the consequence of their mind-boggling points of interest that demonstrate ideal for specific purposes.

Usage by Country:

Like almost all the other things, the area changes the conduct that changes the measurements and state of things. This equivalent idea can be applied to app use.

How about we investigate the top Google Play Store statistics 2021 and examine how individuals in various regions like to use mobile apps. Google Pay app developers can utilize this data to find out about the audience they expect to target and potential business sectors, which can be advantageous while arranging the app limitation techniques.
10. Google Play Store App Revenue Statistics
We all know that the total revenue results from the combination of all the revenues generated by various apps lying under different categories. 
Distribution of worldwide mobile app revenues in the Google Play Store from 2019 to 2025, by category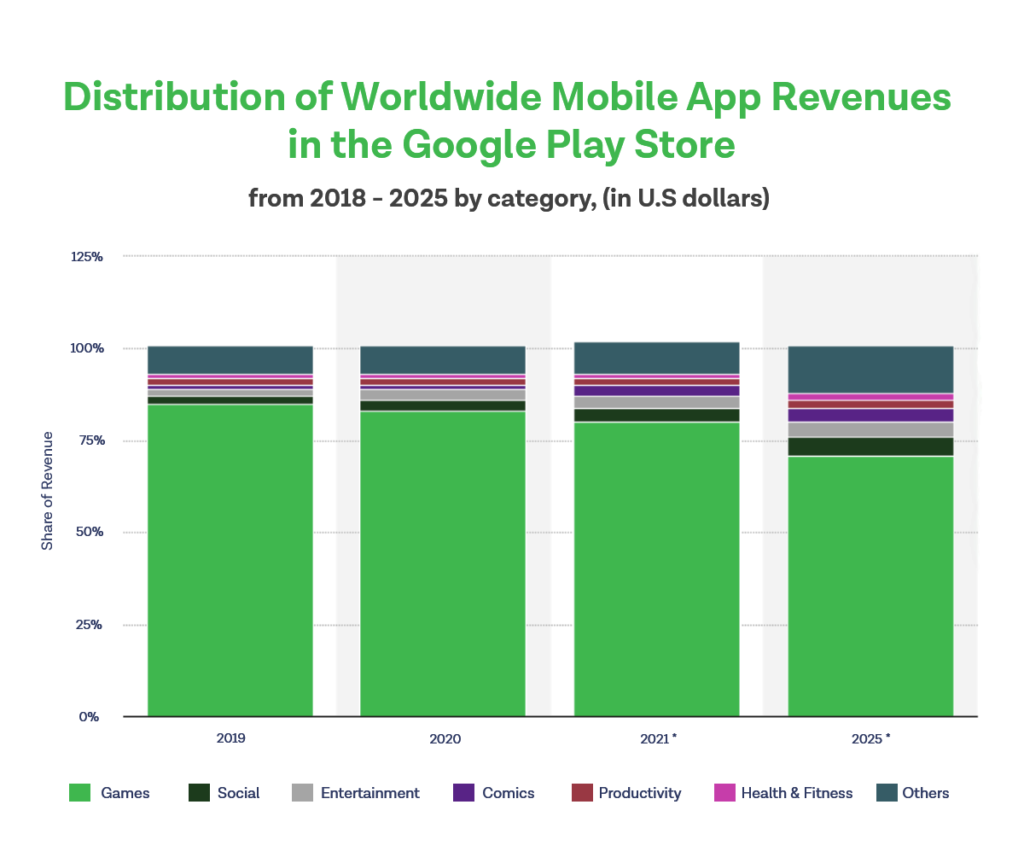 Conclusion

:
Google Play Store is brimming with mobile apps, and with countless apps, the opposition gets harder. These were a portion of the variables and insights that should be remembered and seen a long time before building your app as it can unfurl stowed away advantages.
RipenApps, a leading mobile app development company, conveys excellent mobile applications for all platforms and frameworks. Contact our specialists currently to take your business to a higher level.
FAQs
What amount does it cost to put an app on the Play Store?
Approx, it can cost you about $25, which Google charges as a one-time registration expense.
Is it paid or allowed to put an app on the Play Store for free?
One-time charges of $25 by which a developer can open a record stacked with capacities and control highlights. In the wake of paying this one-time cost, you can transfer Google Store Play apps free of charge. However, when you present your record, it will take up to 48 hours to get supported.
How to distribute an Android application in the Google Play Store?
One can follow these means for something very similar:
• Go to your Play Console.
• Select All applications. > Create app.
• Select a default language and enter a title for your app. The name you register as a title will show up on Google Play.
• Create a store posting for your application and take the content rating survey.
• Finally, set up estimating and conveyance.
How to Feature my app on the Google Play Store?
Here are a few proposals that can help in feature an application on the Google Play Store.
• Make sure to follow Google's Launch Checklist
• Build a basic yet powerful application
• UI and UX should be tastefully satisfying
• Implement Google Product Initiatives
• Release your application before the press
• Focus on more considerable market influences
What amount does an app make with 1 million downloads?
Getting 1 million downloads is certifiably not a simple business by any stretch of the imagination. Be that as it may, if you're adequately fortunate to accomplish it, you can acquire between $10000 to $15000 per month.
What age groups use apps the most?
A review led by the US showed that Millennials (18-34 years of age) open apps most habitually with a normal of 10.5 times per day while adolescents do it 9.4 times each day. Boomers stand rearward in the list with a normal of 5.5 times per day.
Which level of apps are successful?
It's anything but a simple task to be a mobile app developer as the opposition is excessively high, and the odds of making an effective app are pitiful. A Gartner report cited that less than 0.01% of all mobile apps become monetarily effective. Connect with us to discuss your Project.
Contact Us