Social Media has become a part of our daily lives. Whether it is about posting a life moment or randomly sharing our opinions, we use social media for ample reasons. Today, there are billions of active social media accounts on multiple platforms. All social media companies associated with these accounts generate massive revenue, either through paid advertisements or premium subscriptions like Snapchat +.
For the evidence, take a look at the multiple types of revenue social media apps are generating.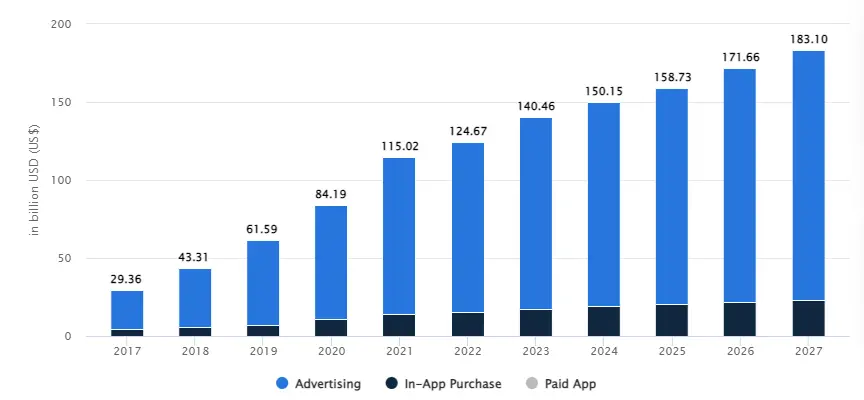 The above demonstrated significant growth of social media apps is the reason why more entrepreneurs are looking forward to building their own social media applications. If you are also one of them researching brief info about Social Media App Development, this social media app development Guide is for you. Let us explore the dynamics associated with building a social media application.
What different types of social media applications can you build?
The types of Social Media networks are not fixed to a specific genre. There are ample social media network types you can build. Here are the different types.
Media Sharing Networks
Media-sharing networks focus more on videos, photos, and live videos. The textual format is minimal on these platforms. These types of social media apps are the most popular ones in the current times.
Media sharing networks examples:
Instagram
Snapchat
Pinterest
Youtube
Social Networks
With social networks, we mean real social media apps where users can post images, text, links, and videos and go live. All the forms of content are included on these networks.
Facebook is still winning this type of social media genre. On Facebook, you also have the feature of groups where users can post queries or be a part of active discussions. The main purpose of Social networks is to connect with people.
Social Networks Examples:
Facebook
LinkedIn
Twitter
Discussion Networks
Discussion networks prioritize question-and-answer forms. People from worldwide join discussion communities and share their opinions on the specific topics asked by other users. The main form of content on discussion networks is in textual format.
Discussion Networks examples:
Quora
Reddit
Facebook groups
Blogging networks
People who love writing are available on blogging networks. Although this form of social media app is becoming less popular among users. However, there are millions of users who are still a part of blogging social networks. On Blogging networks, people can follow other blogs, create their own blogs and communicate with other bloggers.
Blogging network examples:
Tumblr
Wattpad
WordPress
Medium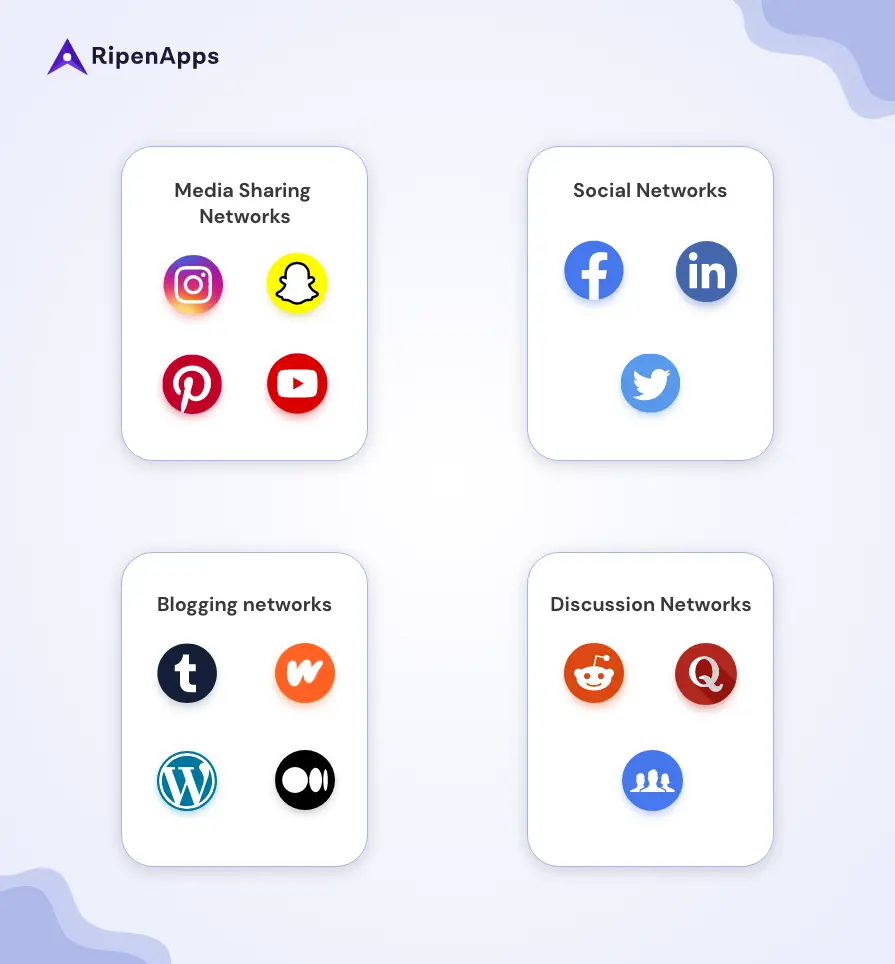 What are the essential features you must add to your Social Media app?
A successful social media application has a few key features to be available in the app. These features ensure a successful social media app. We have divided the features into basic and advanced categories.
Basic Features to add
Every social network application has the below basic features. If you are planning to build your social media app, you must ensure that you add these basic features. We will cover advanced features for your app in the next heading below the basic features.
Sign up: Every social media network welcomes users with sign-in/sign-up options if they have just installed the app.
User Profile: An option to let users manage their information is necessary.
Search bar: Users want to search for their friends, content, and multiple brands.
Post: Let users easily share opinions, pictures, and videos.
Messaging: Communicating with the network is what every user wants.
Notifications: Users do not want to miss important updates on their social media profiles.
Newsfeed: The pool of resources shall be easily accessible, letting users see updates from all around the world.
Engagement: Reacting and commenting on posts is a key part of social media networks.
Advanced features to explore
Once you have ensured basic features in your social media application, it is time to explore advanced features. These features are what make your application intelligent and unique from the competition. Although there are no limits to the advanced features, here are some of the advanced features your social media can embed.
Analytics for users
If you have used Twitter, you can see an analytics icon on the posts. The same is on Instagram, where users can gain detailed insights about how their content is performing. Hence you can use big data analytics and intelligent algorithms to let users ensure content campaigns. However, you will need an expert social media development company to embed advanced data analytics features in your social media app.

Gamification in your app
Gamification is the answer if you want to explore how to deliver an engaging user experience. Take the example of Facebook. The Social Media app gives a top fan badge to the users who engage more with a specific page. Snapchat, on the other hand, gamified its app with streaks. Gamification unlocks a new dynamic of user engagement for your application.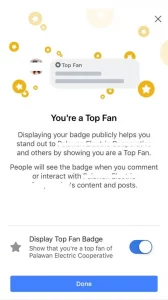 AR rich filters
Augmented reality is taking the media-sharing platforms. With Snapchat launching multiple AR filters for users, now Instagram and Facebook both have integrated the same. AR camera filters have become a trend, and if your application has the option to post directly from the camera app, then you must explore AR filters in your social media app.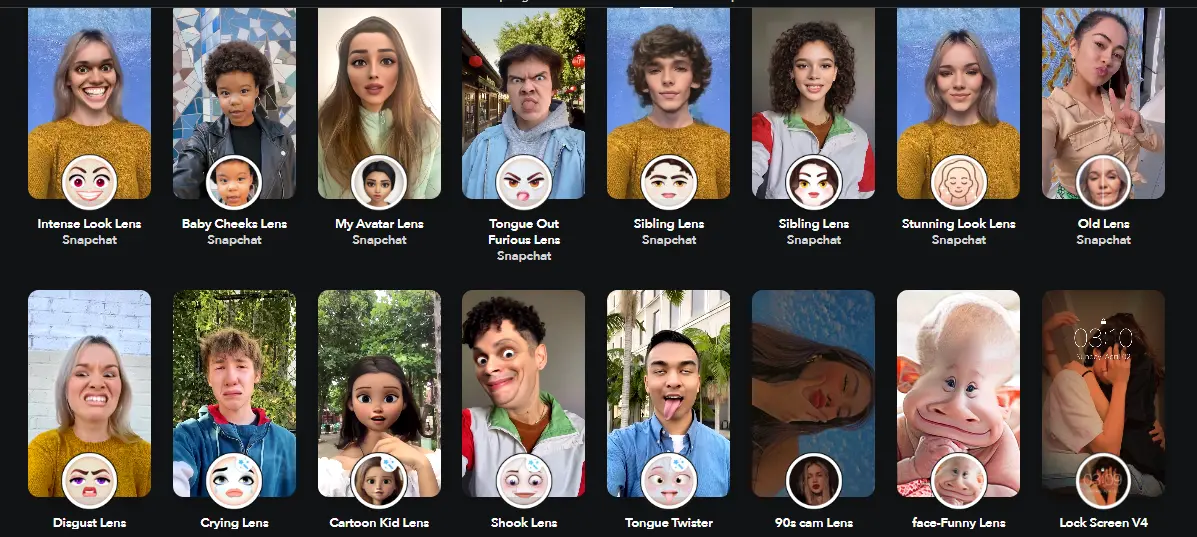 Photo editing feature
Sometimes users want to crop images before posting. Or they want to add text to the images. In such cases, photo editing features become necessary for social media apps. Letting users upload images is a basic feature of social media applications. However, if you offer photo editing features, you go a little advanced in your features offerings.
What is the team structure you require for the social networking app development process?
Creating a social media app will not be a one-person work. There will be a number of experts involved from multiple departments in your social media app development process. You can find the below team members in the leading social networking app development agencies.
Business Analysts
Project manager
UI/UX designers
Android/iOS/Cross-platform app developers
Back end developers
Quality assurance engineers
Server maintenance engineers
The above resources would be deployed by your social media app development agency onto your project.
How to build a social Networking application? Steps by step process
Now that you have enough knowledge about the types of social media apps you can build. And you also have learned about the basic and advanced features of your app. It is time to actually learn about the social media app development phase. Here is the step-by-step process.
Step 1: Building the strategy
The very first step of every mobile app development process is building the strategy. When you have spent ample time planning, you will see a smooth action phase. Here you have to determine the mission and vision of your social media app. Further, the features andb functionalities of your applications are also planned in this phase. Competitors analysis plays a key role in building a unique and creative vision of your app.
Step 2: Designing your Application
Designing your application contains a number of integral steps. Before actually designing your app, you have to plan the looks and feel of it on paper. Sketch your application with a number of screens and interactions. This sketch will then be communicated with the wireframing team of designers. Later you get the prototype of your application to collect your feedback. Finally, your application will lend itself to the final app design phase.
Step 3: Development phase
This is the actual coding phase, where your app gets all the desired features and functionalities. The design of the app does not have anything on the back end. This means if you press a button, the app will not do anything. All the functionalities are added in this phase. From front end to back end, the development phase ensures that your app transforms just a dummy structure into a working product. In case you want to circulate your app in the market, you can opt for MVP development and then modify your app according to the user's feedback before the final product is deployed.
Step 4: Assuring the quality of your app
The QA team will test your social media app in extreme use cases to find out any possible bugs. They also identify performance issues and other important issues in your app. In case there is a bug in your app, it will be sent back to the developers to rectify the bugs and errors. The process keeps on repeating until the Testing team assures that the quality of the app is bug and error-free.
Step 5: Deployment and marketing
Now, your app will be deployed to the app markets. In case your app is an iOS app, it is made live in the App Store. If it's an Android app, it will be uploaded to Google's play store. The application must satisfy the prescribed guidelines from Apple and Google for app store and playstore, respectively.
Once your app is live, it is time to market your app. Hiring a digital marketing team is always advisable if you want to ensure the long-term success of your app.
What is the popular Technology stack to build social media apps?
Deciding on an appropriate tech stack is important to stay ahead of the competition. Here is the popular tech stack you can use for multiple segments.
Front-end development: Angular, React
Backend Development: Laravel, CakePHP, Codeigniter
Database: MongoDB, MySQL
Social Media: App Development GuideFlutter, Kotlin, and Java
Programming language for iOS: Swift, Objective C
What are the available revenue models for Social Media apps?
Now that you have detailed information about the Social Media App development process. You might also be curious about available revenue models for your social media app. Here are the three most popular ones:
Premium Features: You can shortlist some of the most  premium and unique features of your app in the paid form. Snapchat + is a great example of the same.
Advertisements: A popular way to earn money for all the social media apps. Popular pages advertise their services and products in exchange for fees you have decided for them.
In-App purchases: A paid sticker store or live video chat coins fall under this type of in-App purchase. Reddit in-app purchase for editing your avatar is another example.
What is the cost of creating a social media application?
Finally, you must be curious about knowing the cost of creating a social media app. We have kept this portion in the end because there is no fixed answer for the cost of creating a social media application. Why? Because the cost factor depends on certain factors.
Location of your social media app development partner.
Number of resources deployed on your project
Timeframe of your project
Your requirements for features and functionalities
The above factors determine the cost of creating a social media application. Hence, there cannot be a fixed cost. Yet, on average, social media app development might cost you from $10,000 to $80,000.

Closing words
So, here is the complete, in-depth social media app development guide for you. If you are an entrepreneur, the above guide ensures most of the info you will require before kickstarting your social media app development process. Make sure that you put a special focus on the security measures for your application because data is important to protecting social media apps.So, what are you waiting for? It's the right to convert your social media app idea into a product. Connect with us to discuss your Project.
Contact Us