AI in mobile apps has become an emerging technology trend. Businesses are integrating artificial intelligence in mobile apps to create unique features, interactive design, and offer personalized user experience.
Whether it is voice assistant, face editing, e-learning, image editing, predictive analytics, or automation, AI empowers mobile apps with advanced capabilities to offer what today's users look for. For businesses, artificial intelligence stands out as the powerful technology that empowers mobile apps to do advanced things and satisfy current user needs.
However, using AI in developing mobile apps requires great knowledge and expertise since it is a complex and advanced-scale technology. So if you are planning to build AI-powered mobile apps, here we will explain all the important aspects of using artificial intelligence in mobile app development.
This guide will help you better understand the scope of AI in app development and how it benefits overall.
So let's get started
What is Artificial Intelligence?
Artificial intelligence is a technology that simulates the human intelligence processes in software allocations or computer systems to perform tasks. AI enables machines or software applications to learn from experience while adjusting to new inputs and doing human-like tasks.
It has various capabilities like natural language processing, speech recognition, predictive analysis, and machine vision. Artificial intelligence is the combination of deep learning, computer vision, and machine learning that give a system with automated and self decision-making abilities.
What is Meant by AI in Mobile App Development?
AI in mobile app development is the process of using artificial intelligence capabilities to build mobile apps. It involves conceptualization, design, programming, and developing AI and ML-powered features that are not possible with existing or traditional technologies.
By implementing AI algorithms developers build intelligent functionality and innovative features in mobile apps. AI-powered mobile apps have advanced capabilities that allow them to make decisions using real-time data and adapt to different requirements.
These capabilities not only make mobile apps intelligent and high-performing but also leverage other emerging technologies effectively like IoT, wearable, blockchain, AR/VR, etc. Therefore, AI has emerged as one of the top mobile app development trends in 2023 due to its expanding usage across the industry.
Famous examples of AI apps
Alexa
Cortana
Facetune
Lensa
Edison Assistant
Elsa
Google Allo
Google Assistant
Youper
Replika
Robin
Siftr Magic
Socratic
Current State of AI in Mobile App Development Industry
Artificial intelligence is a new-age technology that comes with next-generation features and capabilities. It works out as a boon for mobile app developers and businesses that want to build innovative apps fully powered with modern features. AI enables developers and app development companies to build high-performance mobile apps.
At present, companies and startups integrate AI in mobile app development to build intelligent solutions and provide an enhanced user experience. From large enterprises to small businesses and startups, every business entity is leveraging AI in mobile app development and driving impressive outcomes.
If you see the latest market statistics, you would find how fast and significantly the implementation of artificial intelligence in mobile app development is increasing.
How AI Helps In Mobile App Development?
1. Natural Language Processing
Artificial intelligence enables a mobile application to leverage NLP (Natural Language Processing) abilities. It allows applications to understand human language both in text and audio and generate desired outputs. This is very helpful in developing features for various purposes like customer service, product search, shopping, etc.
NLP-based applications are very useful for online education and e-learning app development. Developers use AI & ML models in e-learning apps for enabling various capabilities. For instance, sentiment analysis, text classification, auto-correction, speech recognition, and more.
2. Machine Learning
Machine learning is one of the primary branches of artificial intelligence. It enables a system of software applications to forecast outputs based on collected data. An ML-based application gets a self-learning ability that allows it to capture data and analytics for forecasting and generating desired results. So AI allows leverage machine learning in mobile app development and take better advantage of AI & ML together.
3. Emotion Recognition
Artificial intelligence has the potential to read or capture human emotions from the face. Its emotion recognition capability empowers mobile apps to understand human emotions using tone of voice and facial expressions, and image processing. As a result, this technology helps mobile apps in detecting emotional patterns and serve better preferences and offers.
4. Chatbots
Chatbot development is also among the top trends in the mobile app development industry. Businesses and companies use AI Chatbots in customer service, data collection, and so on. Many AI chatbot applications now come with advanced conversational UI features. These chatbots are equipped with AI technology which allows them to perform complex tasks in a few seconds.

Top Benefits of Using AI in Mobile App Development
Mobile apps are getting better and more advanced with the growing adoption of AI. Today, there is a huge demand for AI-powered mobile apps that allow users to do exciting things like face editing, voice assistance, language learning, and more. Google Assistant, Amazon Alexa, Replika, FaceApp, ELSA, SnapChat, Socratic, Duolingo, and Lensa are the popular AI-based mobile apps in the current market that offer plenty of innovative features to users.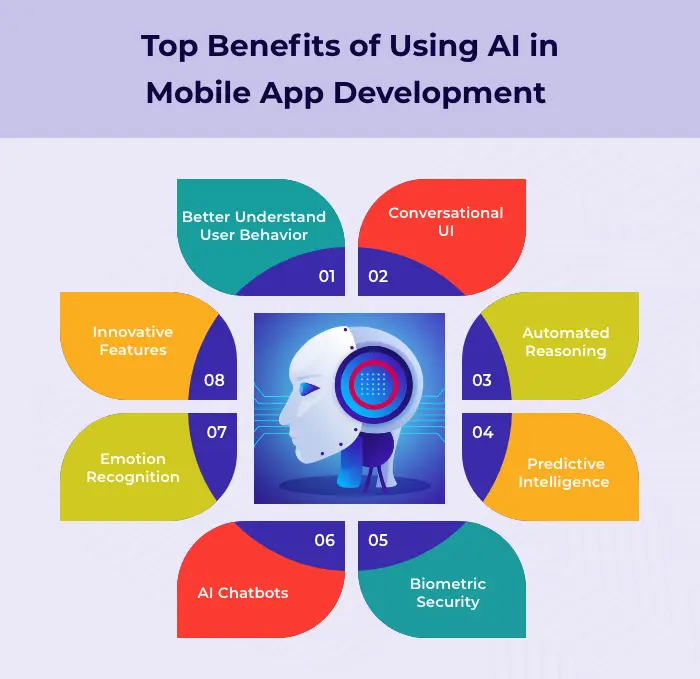 Many companies and business organizations have employed artificial intelligence in their applications to automate various processes. As a result, they have achieved great improvements in their efficiency and performance. Startups today look to work with top mobile app development company to build business-oriented AI-powered mobile applications. So why the usage of AI in mobile app development is increasing? Here are the reasons:
1. Better Understand The Behaviour Patterns of Users
For businesses, understanding user behavior plays a very decisive role in crafting an effective marketing strategy. Unless a mobile app is capable of learning the behavior patterns of users, it can provide useful data analytics. But with AI-powered mobile apps can accurately capture the behavior patterns of users.
It uses a combination of ML algorithms and NLP to track the activities done by users within the app. Based on this data, app owners can get a better overview of their customers or users and give them personalized experiences. For example, the Netflix app uses AI algorithms to collect data about the preferences and interests of users and recommend options when users perform searches. Hence, artificial intelligence helps in enhancing app personalization impressively.
2. Conversational UI
It is one of the top benefits of using AI in mobile app development. Modern users love mobile apps that have interactive features. Duolingo, Google Assistant, Alexa, and many other AI apps have conversational UI which offer a human-like conversation experience. This feature empowers mobile apps to easily and effectively engage users and thus offer an interactive user experience.
Many companies and enterprises use AI-based conversational UI in their chatbots for providing better online customer service. And interestingly, AI Chatbots have helped companies improve their service dramatically. According to a report released by Com100, AI chatbots with conversational UI abilities help in increasing conversions with 69% engagement rate. Source
3. Automated Reasoning
Conventional mobile apps require tons of coding and programming efforts to create complex in-app functionalities. Developers often have to use various tools & SDKs for integrating intelligent or advanced-scale reasoning abilities in mobile apps. But with the help of artificial intelligence, developers can create smart and automated reasoning.
This enables mobile apps to perform actions quickly and accurately. For instance, AI is used in cab booking apps like Uber to set routes. This action is performed in a few seconds due to AI & ML algorithms.
4. Predictive Intelligence
Predictive analytics is one of the top abilities of AI & ML. It enables mobile applications to intelligently collect user data and give personalized or customized offers. By using AI in app development, mobile apps get enhanced ability to closely observe customer behavior patterns and offer them in which they are most interested. As a result, it helps mobile apps to engage users and thus improve conversion rates.
5. High-End Security
Data security and user privacy are the top concerns in today's digital age. As consumers increasingly adopt mobile apps, securing user data is becoming a great challenge. There are many data regulations and laws which mobile apps have to comply with. Artificial intelligence here helps mobile apps with high-end security features.
AI provides facility for employing a biometric authentication process for verifying user identity and granting permission for data accessibility. AI-powered mobile apps are equipped with advanced security functions such as sensory recognition, gesture control, facial recognition, and voice recognition. These features strengthen the data fully secured from hacking and any sort of external cyber threats.
Conclusion
Artificial intelligence is a transformative and super-intelligent technology. It comes with a broad range of advanced features and capabilities that empower a system or application to do next-level things. Using AI in mobile app development solves various problems and helps developers and businesses build feature-rich and high-performance mobile applications.
As a result, the demand for integrating AI in mobile app development is growing at a fast pace. However, for startups and entrepreneurs, developing AI-powered apps could be a challenging task since it requires great expertise. Therefore, it is wise to take assistance from a leading mobile app development company that can help you build an AI-powered mobile app for your business model.


FAQs
Q1: What is the cost of integrating AI in mobile app development?
There is no exact answer to the cost of integrating artificial intelligence in mobile app development. It is because the cost involves various factors such as tools & technologies used, the number of developers, and so on. The best way would be to get a quote from a mobile app development company.
Q2: How can AI be used to enhance the security of mobile apps?
AI enables mobile apps to utilize its advanced capabilities like speech recognition, face identification, biometric identification, and image processing. All these features assist in strengthening security standards in mobile apps.
Q3: What are some challenges associated with AI in mobile app development?
Artificial intelligence is complex-level computer programming. It consists of machine learning and deep learning which require immense expertise to accurately implement in software applications. So when integrating AI in mobile app development some challenges might come in the form of inefficient computing, high-level programming, and knowledge of the latest AI SDKs. Connect with us to discuss your Project.
Contact Us