Writing is the healthiest alcove for the mind. Writing down the thoughts that bothering you without having fear to get judged by someone is the best way to boost mental health. Whenever you feel exhausted, writing down the things helps you to frame your thoughts & bring peace to mind.
Diary writing was the most approached concept to structure the thoughts in traditional times. Probably we all have stopped writing a diary but the concept & its advantages still applicable and that is known as Journaling.
Many physiatrics & therapists recommend investing time in writing every day to improve your mental wellbeing. Maintaining a diary is a bit unmanageable these days, hence technology is bringing a Digital Space for those who love to pen down their thoughts to gain peace of mind.
Introducing the mind-blowing combination of technology & psychology- Mind Alcove Mobile Application.
Build your Emotional Fitness with Mind Alcove App
Mind Alcove is a personal digital diary that is ready to be your partner in sharing your thoughts. It is a comfortable, friendly, and private space for your mind. You can write everything about your life in this one space, for your unique journaling needs. The app allows you to measure your mental health through a brilliantly embedded feature- Mood-o-meter. App also extends an in-app anonymous community platform for you to get an environment where you can share your thoughts with other community persons and also can care about their thoughts.
App offers some of the interesting customized journals to give you the right corner to pen down your thoughts.
Gratitude Journal-Your gratitude list and affirmations
Learning Journal-Your daily learning and insights
Dream Journal-Record your dreams and interpret them in your words.
One Line a Day-Capture your thoughts in just one line
Explore the key features of Mind Alcove
Being your diary, journal, and mood tracker Mind Alcove gives amazing features & functionalities to help you write your thoughts, store your memories in writing or keep track of your mental health.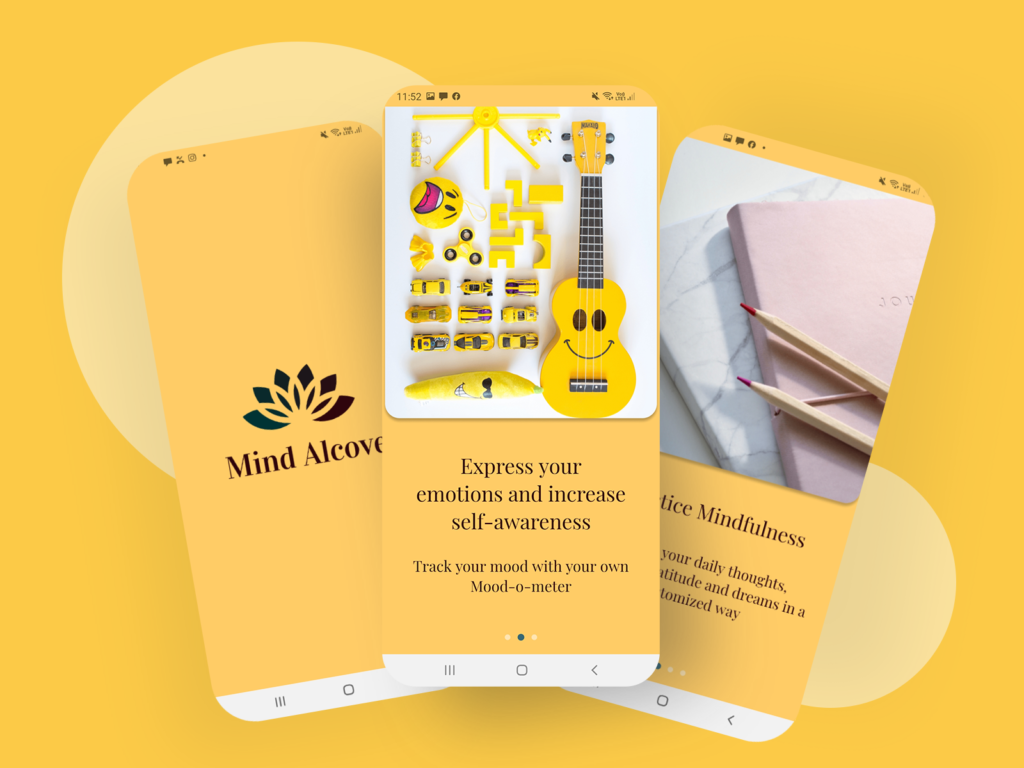 Access Customized Diaries:
App included five customized diaries I.e, Daily Journal, Gratitude Journal, Learning Journal, One line a day Journal, and Dream Journal where users can opt for their right writing corner and can structure their thoughts as per their mood.
Media & Audio usage:
Users can make their diary more way smarter via including pictures and voice notes. Users can add pictures and voice notes in their journals to adorn them. Rather than writing users can record their thoughts and can save their voice in their journal.
Access Daily Journal Prompts:
App offers an exclusively designed Journal prompt to offer users daily new journal prompts from an application's unlimited prompt library and can activate their thoughts, dive deeper into their thoughts lake & evaluate themselves.
Turn to Throwback:
Through this amazing feature- "Down the memory lane", user can revisit their old memories and can get their old-time back in thoughts. Users can also switch off this feature as per their requirements.
Add to Favourites Feature:
Add to favourites features allows users to mark entries as their favorite ones so that they can never miss any of the great moments.
Access Stats & Insights: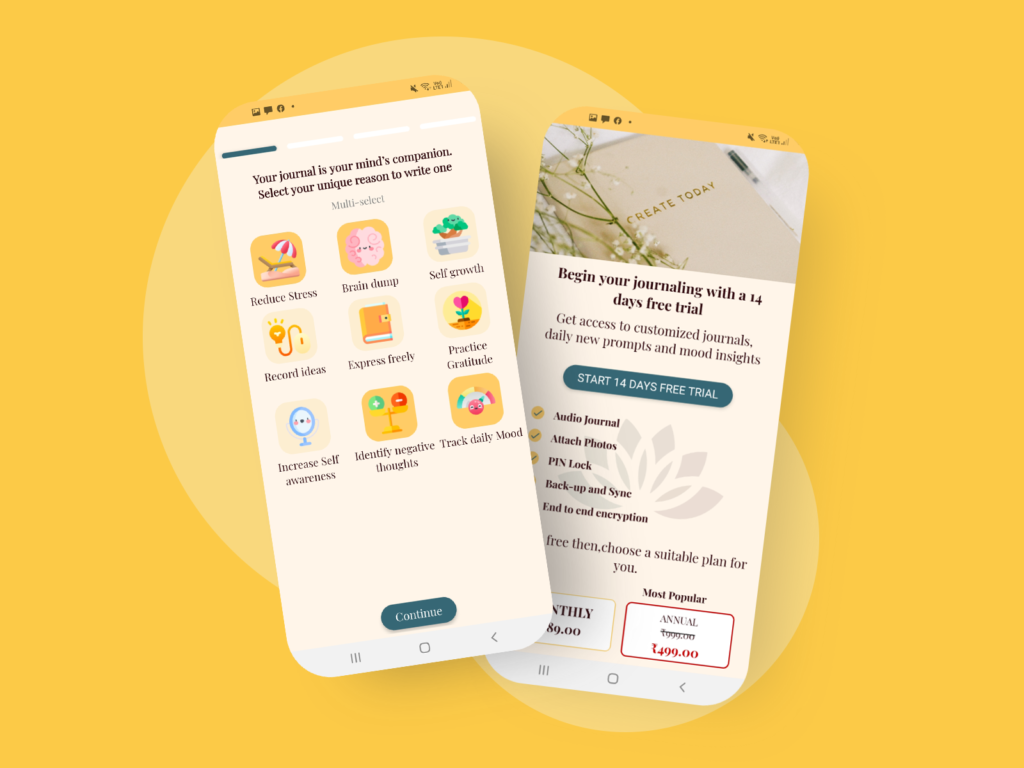 Users can receive weekly, monthly, quarterly stats and insights of your mood and get an analysis of your mind based on positive & negative word usage during journaling.
Security & Privacy:
App offers full-ranged security to your thoughts and assures you that your personal data is only yours. App offers PIN Lock & Biometrics to keep your diary safe & secure.
Access Website of App:
Mind Alcove offers you both the interfaces App or web to write your heart out with mindfulness and comfort.
Add free:
To let the user hassle-free & obstruct less journaling, the app comes up with no add space.
RipenApps is Mind Alcove's Technology Partner
Technically contributing to the process of mental wellbeing was a great opportunity for RipenApps. Creating digital space for users who love to do journaling is like a paving path for those who are looking to share their thoughts and carry their heart out to keep their mental health good.

RipenApps feels grateful to become the mobile app development partner of Mind Alcove. Being a leading news & media app development company we shook hands with the Client. This mind-blowing concept came to us with the requirements to streamline journaling habits with the awesomeness of technology. We studied the concept and deployed a team of tech-nerds. The app came into production, and after implementing logic and emotions we were able to launch this amazing application- Mind Alcove.
Download the application and start journaling freely: AppStore & PlayStore
See the beautiful UI/UX of Mind Alcove at our designing platforms: Behance & Dribbble