High internet penetration and living standards in the developed areas act as a catalyst for the new food & restaurant apps. The audience is always excited about the new features and approaches that entrepreneurs bring to enjoy a convenient and simplified way of ordering Food.
Where all the Food & Delivery apps are focused on the online food ordering module, RipenApps has contributed to the industry with a unique approach. Keeva brings a whole new dimension to the Food & restaurant market, packing remarkable features like splitting the bills with your friends, booking a food pick-up slot physically from the restaurant, and letting you book your table in advance at your favorite restaurants with desired food items, and much more.
Let us take a deep dive into how RipenApps is ready to set new trends and revolutionize the Food Delivery & Restaurant industry.
What Keeva Targets?
Keeva is a Food & restaurant app with a vision to bring revolution to the industry. Keeva—— believes that an option to order food and get it delivered to the doorstep has become a traditional approach. Food order and delivery are just one of the components of Keeva from a range of robust components that it provides to the customers.
The app has two panels with separate apps for each panel. One is a customer-centric panel, and the other is a business-centric panel. Business-centric app/panel focuses on letting various businesses (hotels, cinemas, sports, and restaurants) list their business category. Once the business category is listed, they can view their table/room/seat status when the user books them *correct this line. With the status of tables, they can also view the food items that a customer has demanded on their table. A customer-centric panel or model is available for customers who can choose from the broad categories and book food in the cinema, hotel rooms, and sports venues like stadiums and restaurants.
The business model of Keeva focuses both on the online and offline dining experience, promoting the primary function of online food orders & delivery and a highly digital dining experience.
RipenApps have outshined in providing a new approach to Keeva. We learned that below are some of the commonly used features in Food & restaurant apps, and we bear to deliver something unique to the market.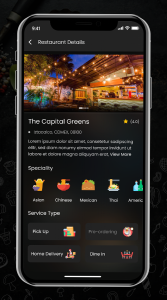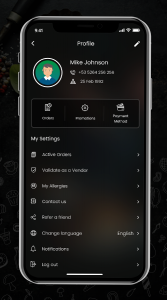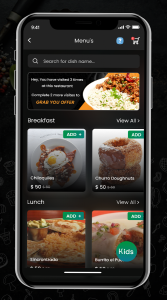 Online Ordering
It is the essential feature in online food ordering apps where users can order their favorite Food right from anywhere.
Home Delivery
Customers get their favorite Food directly delivered to their doorsteps once they have made the online order.
Payment Integration
A flawless and flexible payment integration is required so that users can pay directly after placing an order with a smooth experience.
Food & restaurant apps have the above basic features where users can order their favorite food from several restaurants. But, RipenApps have innovated to bring a new set of features to amplify the dine-out experience other than just providing online Food and delivery apps.
How Keeva Amplifies the Dine-out Experience?
Keeva is promising in providing a unique dining experience to the customers. In general, a digital dine-out experience in the present time starts when users arrive at the dining places and scan the QR codes, which brings the menu directly to their smartphones. But, Keeva has bought digital menus and bookings directly at the user's smartphones. Let us take a brief look at the unique features provided in the Keeva app.
Food Pickup
Keeva brings a food pickup option where customers can book their food items, and once Food is ready, they can pick it up directly from the restaurants according to the scheduled time slot.
Diverse Business Categories
Keeva supports multiple business models like hotels, sports, cinemas, and restaurants. The businesses providing food services at their premises will allow users to book their tables and seats with the desired food items that users have added from the vendor's menu remotely.
Reserving tables, seats, and getting Food in hotel rooms: Keeva has implemented the table reservation feature with a unique concept. The app integrates different business categories letting users reserve the tables in restaurants and deliver Food in hotel rooms or stadium/cinema seats according to the demand from users. The system is very flexible, allowing users to have a rich dining experience.
Split Bills with Your Friends
It is common to split bills between friends, but Keeva has bought the functionality right in their app. Users require the Keeva app installed on their phones, and the primary user can split the bill with their friends by sending the link, and all of them can pay together for the dining experience they had. In case of a refund, all users will get the money in their wallet or mentioned source.
Business Panel
As discussed above, Keeva provides for admin panel to the businesses with their separate app, Keeva Business. As a user reserves tables, seats, and rooms with businesses, the business gets notifications, and their available table, seats, and rooms show a booked status with table numbers. Further, the business can view their employment status if they are equipped with some job, directly providing a detailed record of daily activities to the business heads.
We believe in Ripening Ideas, thus Ripen KEEVA
The majority of the apps focus on ordering the food online and delivering it to doorsteps. Providing unique features and technology is our goal at RipenApps. With Keva, RipenApps has revolutionized the dining experience, filling it with expert digital solutions. Ripening ideas is not possible until you implement a unique approach to the concept. We have approached the industry with add-on features ready to set market trends and ripen revolutionary transformations worldwide.
To see this beautiful application, you can hit the link mentioned.
Download the app, and experience the latest and novel shopping world around you.
For User : AppStore
For Vendors : AppStore , Google PlayStore
Website: http://keeva.tech/ Connect with us to discuss your Project.
Contact Us