The pandemic has made drastic destruction last year. This year again people are facing the same situation as the pandemic is hitting again drastically. Pandemic has led to a dramatic shift in customer behaviour all around the world, as customers who once preferred to carry out the payment transactions in branches rather than using mobile application suddenly shifted to mobile apps for the money transaction process and that is a very smart choice.
Although, the need for different strategies around innovation & digital banking was evident well before the pandemic attack. As per the regular technology evolution, there has been an immense increment in customer expectations of banking.
FinTech has marked majorly that all the banks need a digital solution as an incredible hike has been seen in the number of FinTech app users worldwide around 72%.
The average sessions in investment apps surged 88%, while payment and banking app sessions increased by 49% and 26%, respectively, during the COVID-19 pandemic, the latest report on global FinTech app usage showed
There are major three reasons why consumers turn to banking app users- 72% low cost, 68% ease of use, 54% faster service.
Digital Movement will last forever?
As recorded, it has been an incredible revolution as banks have adopted digital mediums. It has been recorded that the people who have been forced to use digital payment options and digital banking due to the pandemic hit, have started liking this online payment and banking option and will continue to use the same.

Customers find online banking and transactions through apps more convenient than before. In the pandemic, banking apps are not only providing safety but also providing ease to the users so they are finding it more convenient.
These stats are defining the importance of mobile banking in UK
 65% of over 65-year-olds stating that the biggest advantages of online banking and mobile payment solutions are that they're simple to use while 61% say they save them time and 30% believe they're a safer way to transact.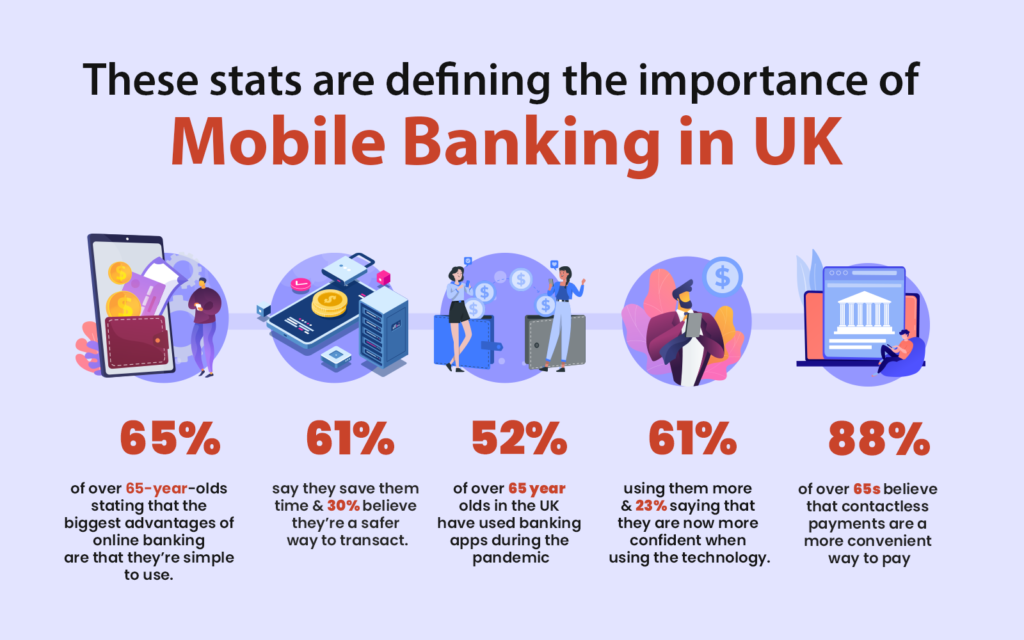 52% of over 65-year-olds in the UK have used banking apps during the pandemic, with 21% using them more and 23% saying that they are now more confident when using the technology.
88% of over 65s believe that contactless payments are a more convenient way to pay
Four key reasons for using banking apps, adopting digitalization & marking success
Numerous banks had effectively begun including a few or the entirety of the beneath, however pandemic has clarified how key these four areas are to making digital work for clients and banks.
Redefining customer experience:
Putting customers and their necessities to the cutting edge to assemble services with backbone. Banks should see co-making with customers often and regularly in a recommendation lifecycle.
Adopting a mobile-first view:
From contactless banking to account access, customers expect product and service availability from mobile apps, immediately.
Building up a data strategy for personalization:
Building solutions implies understanding what data you have, what data you need, what addresses you need to request from that data, and how to decipher the appropriate responses. Unifying existing datasets is vital.
Choosing the correct technology platforms:
When incorporating new services into activities with extensive legacy cycles and resources, and subject to undeniable degrees of administrative examination as banking, picking which platform to utilize and how to utilize them is fundamental.
How Banking apps are new digital warriors during the COVID-19 Pandemic?
Easy & safe to access:
There is a major benefit of money transfer as digital banking skips the problem of giving demand drafts or checks. One can essentially transfer cash from one account to the next without visiting a bank from the security of their homes. This guarantees a generally safe contact of contamination and the freedom of transaction whenever and anyplace. A couple of outstanding choices for online cash moves are IMPS (Immediate Payment Service), RTGS (Real-Time Gross Settlement), and NEFT (National Electronic Fund Transfer).
Easy to access the documents
Aside from this, one has the advantage of downloading e-bank statements anytime. These bank statements can be saved on smartphones and can be gotten to without any problem. This prevents the need to visit banks and take printed copies of statements, along these lines preventing undesirable contact during a pandemic.
Strong network connectivity
The ascent in smartphone use and the accessibility of solid network connectivity have cleared the route for mobile banking systems. Since everybody these days has a smartphone, one can download applications for exchange purposes. Google Pay, Apple Pay, BHIM, SBI's Yono, Payzapp, and a lot more are acquiring prominence amid flare-ups.
Provides facility to perform diverse baking activities
Assuming at all you need to stop a check interaction, essentially sign in to your account and snap-on update check measure. Besides, one can follow the credits and charges of the account as banks send SMS or messages of exchanges. These notices help in preventing cheats and one should report them as fast as conceivable to the bank specialists.
Conclusion:
Pandemic has accelerated digitization of banking as customer expectations also have changed.
This potential digital change adopting of mobile banking apps, brought forward by pandemic, will also help banks cope with the tougher operating environment the pandemic has brought.
The current situation is witnessing the rising demand for mobile banking application development for banks and financial institutions.
RipenApps is the top banking & financial app development that has marked excellence in developing banking apps and has already aided various financial institutions with the power of mobile apps.