The fan base in the sports industry is continuously growing due to the availability of smartphones in every hand. The audience relies on mobile apps for sports news, watching live sports matches, fantasy gameplays, and more, which brings the sports industry into a trend. The Play Store and App Store are highly flooded with sports apps. Entrepreneurs are continuously showing their willingness to understand the latest app trends, top ideas, and key features to embed in their sports apps and capture the attention of sports enthusiasts. New startups are continuously exploring new ideas to build an efficient app that deliberately stands out from the competition. The below article will guide you in understanding important trends in sports apps, the best ideas for sports app development, and key features that your sports mobile app must have to ensure massive growth and win in the sports market.
Before diving deep into the Mobile App Development For the Sports Industry, let us understand the statistics attached to sports enthusiasts using sports apps.
Statistics in the Sports App Market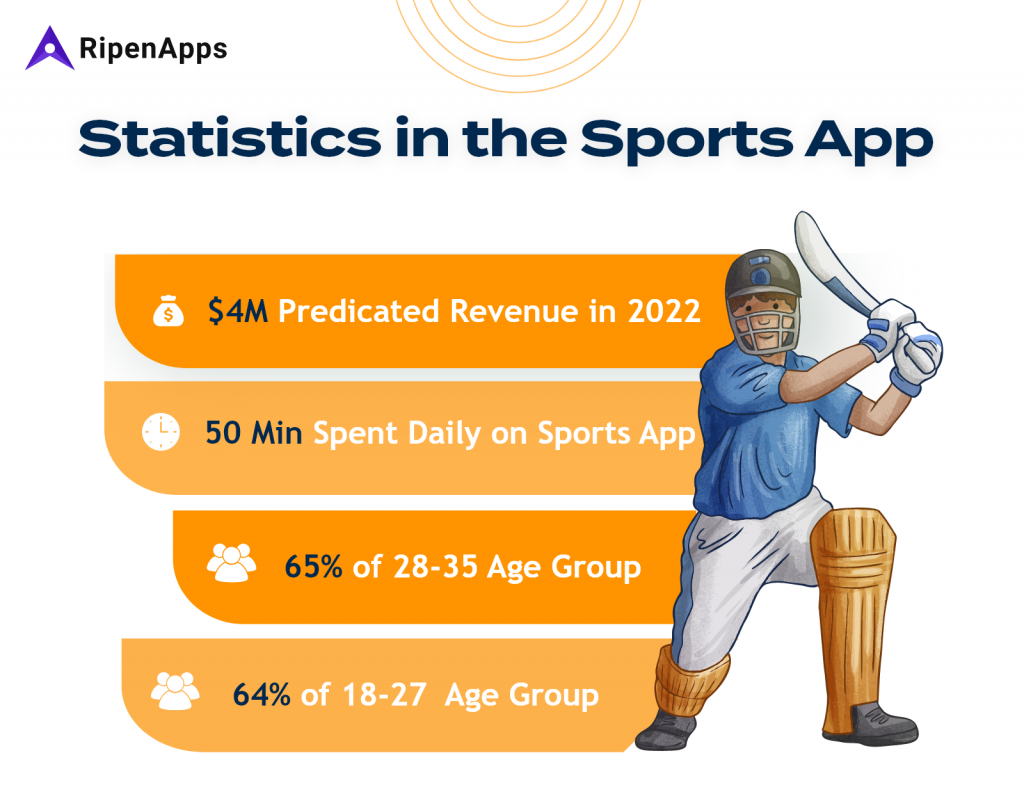 Users spend approximately an hour every day on the sports app, which is a good amount of time they give from their regular day (Source: Think with Google).
According to data from Statista, 31% of users in the age group of 18–24 consumed live sports content through streaming on mobile apps. 30% of users aged 25–34 enjoyed live sports content on their smartphones through apps. And 27% of users in the age group of 35–44 relied on sports apps to update themselves with live sports streaming. It suggests that when you target the sports industry, you ultimately target a large audience base of 18–43.
The average revenue will reach US$3,959 million in 2022, proving that a sports app will promise massive growth in terms of revenue.
According to the above statistics, targeting sports app development is undoubtedly an intelligent choice in 2022 because of consistent growth and a stable future. Now, the question strikes: "What are the current trends and app ideas in the sports app development industry" that you must be aware of or provide in your app to deliver the best sports mobile app?
Latest Trends and App Ideas in the Sports Industry
The below trends will assist entrepreneurs or the general public in understanding what the sports mobile app industry demands. By reading these trends, you can understand the sports market better and integrate some or all of the trends to deliver a fantastic sports app to your audience.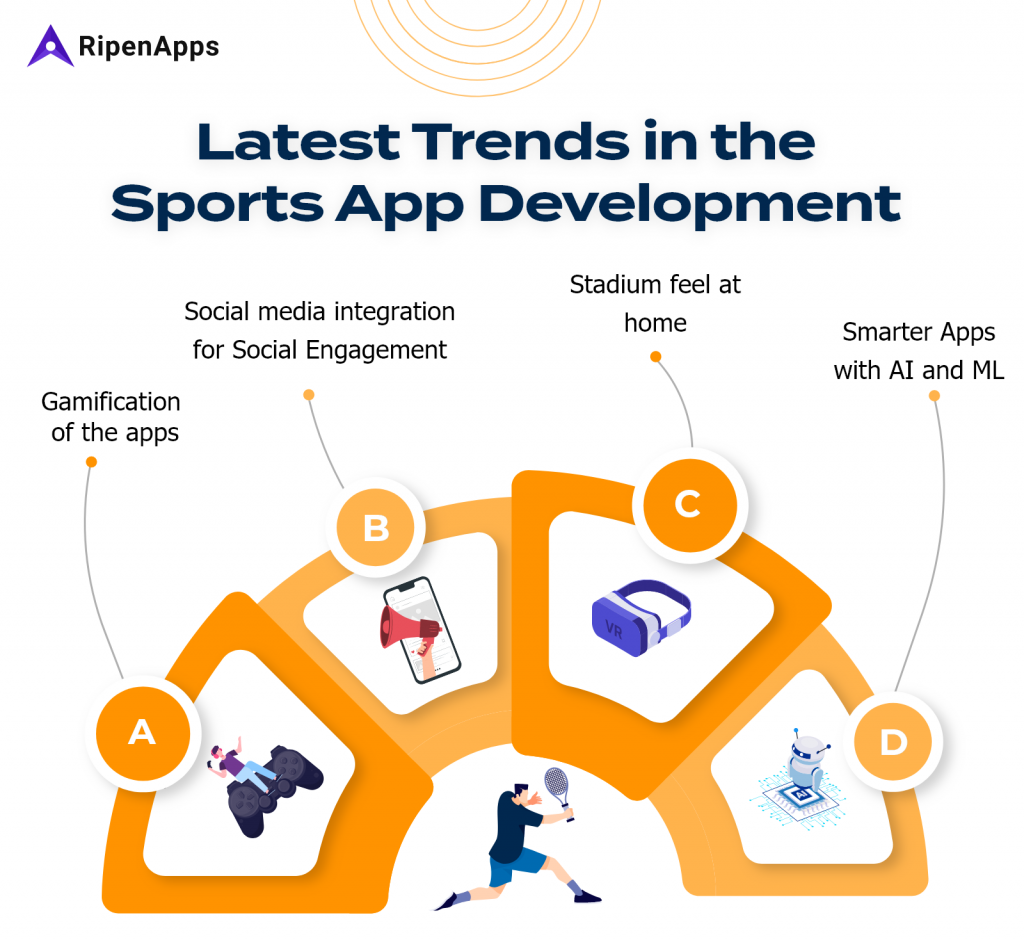 Below are some of the latest trends that sports apps are targeting to provide the best experience to sports lovers.
Gamification of the Apps
Gamification is a trending term that every entrepreneur wants to integrate with their mobile apps. In general, it can be defined as a group of elements that motivate users to engage on the mobile app for a long time with gaming activities. The gaming activities can include point scoring, competition with others, betting, providing an opinion on certain activities, and other encouraging elements. Gamification is also performed by integrating social elements in the apps, where users can connect with other people showing similar interests. Cricket betting apps are already booming in the IPL sessions, especially on the Android platforms. While gamifying your application, it is crucial to research companies and choose the right Android app development agency to integrate gamification.
Social Media Integration for Social Engagement
Not only are we sports fans, but every one of us has one social media platform that we love to explore daily. Undoubtedly, the same happens with sports fans, and they love to share their activities with their connections on social media platforms. Die-hard fans of sports appreciate the feature of sharing real-time updates directly to their social media handles. Live-tweeting and posting Q&A directly to Instagram is a trend where users can instantly share their activity from the sports app to their social media accounts.
Stadium Feels at Home Through VR and AR.
Augmented reality and virtual reality are setting new trends in the sports industry. Users love enjoying their favorite sports matches in the stadium, but not all of them are able to join the action live. With the virtual reality gear, users have the opportunity to experience sports matches as if they were sitting in stadiums. The immersive experience through VR is in demand from users of sports apps, making it a trend. Similarly, the 3D systems like Hawk-eye used in tennis, cricket, soccer, and more provide an amazing experience. Imagine if users could directly experience the Hawkeye in front of them through AR technology on their smartphones. Not only for sports broadcasting apps, but you can also provide AR and VR-based games to the users, letting them play their favorite sports with the help of their sports apps.
Smarter Apps with AI and ML
Machine learning is making apps more intelligent than ever before. When you embed machine learning algorithms in your sports app, you deliver an artificially intelligent experience to the users. Your app can learn from users' activities and deliver personalized content. News apps can provide relevant sports news that users love to read, or broadcasting apps can deliver relevant highlights or live matches that users are more likely to engage with. Further, artificial intelligence in sports app development also supports users in answering frequently searched or asked questions by suggesting the best answers in advance without any human interaction or support.
Best Ideas for Your Next Sports App
Now that you have explored the trends for the sports industry, it is a great idea to explore the top app ideas you can implement in your next sports app.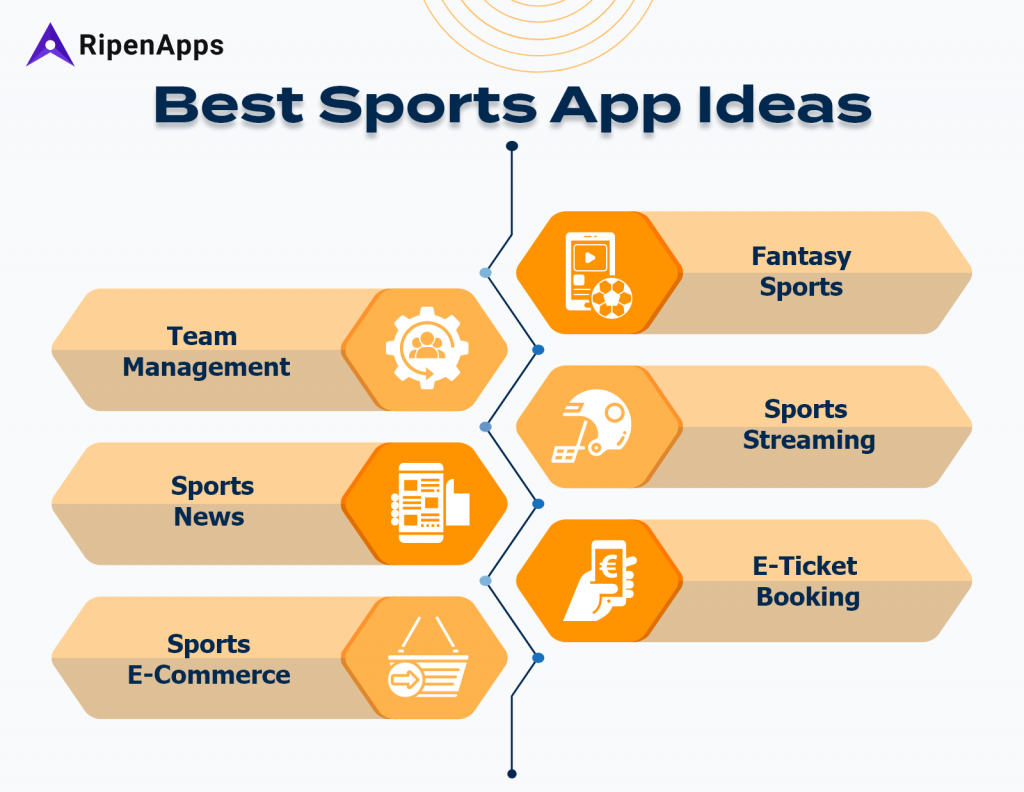 Fantasy Sports App
Not all the players play sports physically. Since sports are also about preparing strategies, fantasy sports apps are pushing them in 2023. With fantasy apps, users prepare their teams and bet on the selected players to showcase their prediction quality and sports strategy. The winners enjoy a top spot on the leaderboards and earn a handsome amount. IPL 2022 saw a significant rise in cricket betting apps, and users are engaging more with existing apps like Dream 11 to reveal their cricket skills. Make sure to focus on the cost of fantasy sports app development to keep your budget efficient and effective.
Sports Streaming App
Broadcasting has been present in the sports industry for a long time. We have gone from radio to television, and now we enjoy our favorite sports directly on our smartphones. You can consider developing an app that can provide live streaming of happenings from all around the world. Further, you can add features like in-app discussions, highlights of the match, and engaging push notifications to hook your targeted audience into your e-sports app.
Online Ticket Booking App
It is not important to always add graphical content like live streaming of matches. You can create an app that can book tickets online for popular stadiums. Also, you can target a range of sports like football, cricket, tennis, badminton, and more to create an all-in-one ticket booking app for upcoming sports events.
Management App for Coaches
Communication is one of the key benefits of the internet, and communication through apps makes it easiest to communicate with people on the go. Sports coaches handle players, and they continuously need to manage their training players. Your management app in the sports industry can provide an option for coaches to manage players directly on their smartphones. Your app can provide features like recording the attendance and performance of the players. Further, you can also provide an option to let coaches communicate directly with the players as a messenger or channel of announcement for important updates.
Sports News App
Sports is a passion, and sports lovers who are extremely busy in their professional lives prefer reading or watching the news on their favorite sports. Your app can target a busy audience that would love to grasp quick news from the sports industry. It is an excellent idea to target the majority of sports so that your app doesn't lack direction. Finally, you can provide an option to let users comment on their opinions and join the popular discussions.
E-commerce in Sports
Cricket lovers who play cricket actively search for cricket equipment to buy. Why not make a sports app that lets sports lovers buy their favorite equipment? From a rugby ball to a cricket ball or a tennis outfit to a football goalkeeper pad, you can sell all the equipment targeting the majority of sports. E-commerce is already a trending industry, with new players stepping in to generate revenue. Targeting the sports domain for e-commerce is a great and rare idea, so it's better to make your first move and take advantage.
The above sports app ideas will give you numerous domains to target while creating your app. But, with this information, you must be curious about the features that a sports app must have, predicting the upcoming 2024 trends. Let us look at the features you must target in your app to deliver the best-in-class experience to sports lovers.
Key Features that Excel User Experience in Sports App Development
Although the below features provide an enriching experience for every app, they are equally implemented in sports app development.
UI/UX Offers a Sports Feel Throughout The App
User interface and design play a key role in delivering engagement on your app. If your app looks bad in design, users will immediately hit the uninstall button and look for another app. Targeting the sports industry requires providing a sports feel in your app design. Using colors that energize users, varying from sports to sports, becomes an essential part. Plus, the background images used on the app screens must relate to the sports they are exploring. The social media integration should look appealing with engaging social handle icons, and the social engagement must look like a social media app where users can create their accounts, post, and engage with other users through exciting animations and chat features.
Payment Gateway
Providing a payment gateway is one of the necessary features that the majority of the apps integrate. And the feature becomes a must-have when your motive is to build an e-commerce sports app where users have to buy or sell sports equipment. Prepare a smooth and ready-made solution for the users while they process payments. Also, your app must support a variety of payment methods, like debit and credit cards, to provide a seamless experience.
Offline Mode for Streaming Apps
Streaming sports apps are key apps and acquire a broad user base because most sports lovers enjoy their favorite sports directly on their smartphone apps. So, to provide them with the best experience, embedding an offline feature adds positive feedback to your app. Let the users download popular highlights or live shows to watch them later once they are free from their busy schedules.
A Smooth News Feed and Chat Experience
A newsfeed is where a user spends hours exploring new content and engaging with it. If your news feed is glitchy and has bugs, you will end up losing customers. So, place emphasis on providing a smooth news feed experience to the users without glitches. Finally, give extreme importance to the chatbot. Integrate features like GIFs and stickers to provide an enriching experience for users. Further, natural language processing chatbots are attracting entrepreneurs to build an app like chatgpt.
Handle Server Overload on Fantasy Sports Apps
Sudden spikes in traffic affect servers, sometimes making your fantasy sports app crash. Ensure that your Fantasy Sports App Development Solutions provider prepares robust server overload algorithms to handle the exceptions smartly.
Instant Chat Support and Smart Chatbots for Critical Queries
Although smart chatbots can solve most queries, it is important to provide a quick channel to connect with the customer executive if users have critical queries. The traditional process of raising tickets or emailing the company no longer exists after the advent of mobile apps. Hence, ensure that your sports app has a quick chat solution for critical queries for your valuable customers.
Conclusion
So, this is what the article has to offer, which covers everything you need to know about sports app development. The statistics in the article will help you understand the promising growth rate that sports app development will provide. Further, the trends will give you an idea of the new technologies and demands the sports industry continuously strives to provide. The sports app ideas in the article will give you a diverse range of options related to sports app development ideas, and you can select according to your choice, whatever field interests you. And the key features will highly assist you during the sports app development process.
You can ask your sports app development agency to embed the most important features and smartly solve commonly known errors like server overload. Now that you are completely informed about the sports app development topic, we are happy to offer you our industry-leading sports app development service to kickstart your idea. Convert your idea into a sports app with a custom sports app development company and walk on the path to becoming a brand.
FAQs
Q1: What is the cost of sports app development?
The cost of sports app development varies according to the requirements. A complex sports app with complex features requires more effort, time, and budget as compared to simple applications. Also, the cost of sports app development varies depending on the Android, iOS, or hybrid choice of sports app development platform.
Q2: Why choose the best sports app development company?
It is vital to decide on a sports app development company that promises quality and growth. A top sports app development company like RipenApps is one of the companies that promises quality and customer satisfaction for their clients. It lets their client stand at the top of the competition.
Q3: What are the types of sports app development?
There are two types of app development: hybrid and native. Native sports app development works only on the platform it is designed for, either Android or iOS. Hybrid sports app development works on both platforms and provides a native feel to the users. Connect with us to discuss your Project.
Contact Us