Product development is like gasoline to a company that keeps boosting brand value and growth. Companies must keep researching innovative Digital Product Development strategies to build products that effectively meet the "dynamic market demands."
The "dynamic market demands" here represents efficient development costs with the shortest possible development period without any compromises in the quality of product. And a new digital product development process is what companies need to reimagine their product development capabilities and meet the dynamic market demands.  
However, it is also common for companies to be unsure about how to re-innovate their development process. But we are ready to cover the new Digital Product Development Process for entrepreneurs in detail.
Henceforth the following blog is of great information to every business who is researching to renovate their Digital Product Development Process. Without further ado, let us head straight into the new Digital Product Development Process, stages, models, and approaches.  
Digital Product Development Process & Results
In business, Digital product development refers to developing new products development strategies that align with the dynamic market. Strategies that deliver optimum quality with efficient cost and time frame. Understanding "customers' needs and wants" plays a key role in a successful new product development strategy. Furthermore, the competitive environment and nature of the market act as a sub-key role to the new product development.
When companies target to stay consistent in innovation and action research on delivering the best to customers building new product development strategies/processes becomes a prominent part. Furthermore, companies achieve the following results with Digital Product Development Process.
What are the Results of the Digital Product Development Process?
95% of the new products fail, which is why the new Digital Product Development Process acts as an important catalyst in business growth. The results of the Product Development Process promise rapid growth and a bigger customer base for the businesses. Henceworth, a successful digital product development delivers:
Expanded existing business product development strategies
Increased productivity and profitability of the business
Enhanced customer satisfaction
We shall look at the new Digital Product Development Process structures that influence businesses heavily.
Digital Product Development- 4 Steps Towards Structuring the Process
The Digital Product development can be broken down into different ways, but the below 4 process structures steps play a major role for every business:
The Fuzzy Front-End (FFE): The FFE process is formal with well-defined requirements. Additionally, in FFE, requirements plays a key role because businesses analyze what a product must have to meet modern business needs and market demands altogether bringing a rapid growth to the organization.
Product Design: In this step of process structure, businesses determine how a product will specify the requirements gathered in the FFE step. Here, engineering design, industrial design, and pre-commercialization terms are the base.
Product Implementation: Here engineers determine detailed product designs to validate the product prototypes.
Fuzzy Back-End: The production and market launch steps are taken with the Fuzzy back end. Commercialization is also a term used for this step.
10 Stages of new Digital Product Development
If you are looking for a step-by-step guide to a new product development strategy, here are the 10 stages of integrating the Product development process into your business.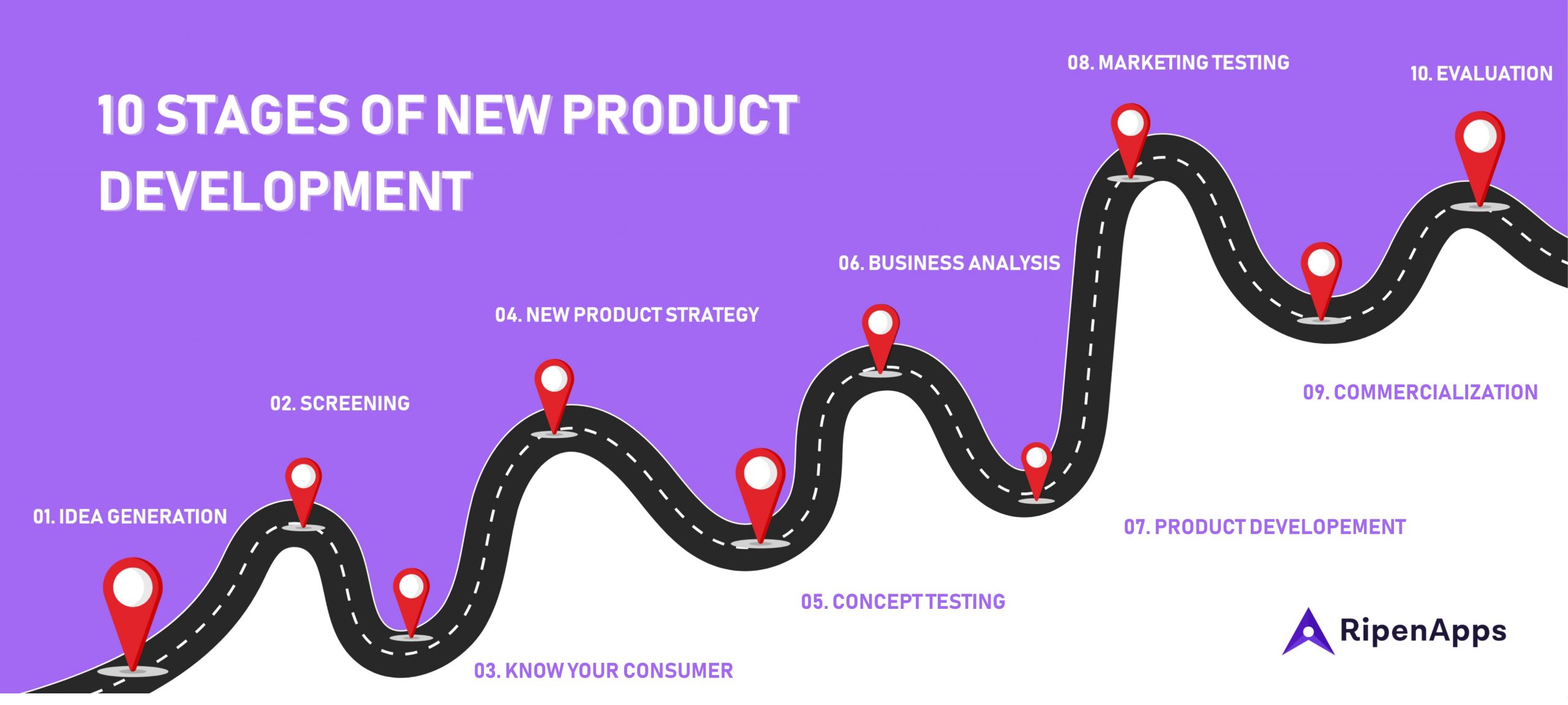 Idea Generation: Since ideas are key to innovation, it's time to brainstorm your idea once you are done with the above two steps. Discover and define the problems and develop a plan to build the right solution. Brainstorm your idea using external and internal sources. As a result, it gives your product development strategy efficient blueprints to move smoothly towards further steps.
Screening: Idea screening is a form of pre-evaluation of the idea before defining a new product strategy that meets business objectives, market demands, and customer expectations. SWOT analysis is one of the best techniques to screen your idea.
Knowing Your Consumer: Customer involvement plays a key role in the Product development process. When you know your customer, you are on the path to building differentiated, unique and creative products with strong competitive advantages. Market research reports understanding the audience's needs, problems, and desires.
New Product Strategy: Product strategy determines the complete structure of the product since it lays down the blueprint of the complete product development from design to marketing. The goal is to identify what your products are expected to achieve in the market. Investors and top-level management personnel have key involvement in this process.
Concept Testing: This step focuses on communication with customers. When you have successfully screened your idea, it is time to return to the customers and ask what they feel about your product or service.
Business Analysis: An expert business analysis is required in the process of digital product development to gather valuable insights about pricing and market trends. Understanding the cost and profit of the new product strategy also remains a key factor in this step.
Product Development: Now, the real product development stage surfaces after performing the steps mentioned above. Taking an example from the mobile app development domain; android app development is different from iOS app development. So, you have to carefully pick technologies before you end up building your new product.
Market Testing: The ever-gold 4 Ps of the market can help you build a powerful and updated Digital Product Development Process. Recall the 4 Ps of the marketing mix, product, price, place, and promotion, to align your market with business and customers flawlessly.
Commercialization: introducing your product to the public and starting commercialization of it. Your product can be open source in nature. Or you can put up a price. For example, a number of mobile apps are paid in nature, which is a part of their commercialization strategy.
Evaluation: Research and monitor the progress of your product development method and organize your goals to make it better in the upcoming product development cycle.

Digital Product Development Models
Several conceptual models have been designed to ensure a smooth Product Development Process for businesses.
Here are some examples you can integrate into your Digital Product Development Process. 
IDEO Approach: A design and consulting firm IDEO adopted this approach to build a Product Development Process for their business. In the mentioned approach, businesses:
Understand and observe the market, client, technology, and limitations involved in the process
Synthesize the information
Visualize existing and new customers for the new product
Focus on prototyping, evaluating, and improving the process
Implement the changes
BAH Model: It was built in 1982 by Booz, Allen, and Hamilton to let companies use it for new product development. The model has 7 steps:
New Product Strategy
Idea Generation
Screening and Evaluation
Business Analysis
Development
Testing
Commercialization

 
Stage-gate Model: This is great for the consumer goods industry's new product development process. Stage-gate model includes the following stages:
Idea generation
Scoping
Build business case
Development
Testing & Validation
Launch
Benefits of the Digital Product Development
The New Product Development Process packs several benefits for businesses actively exploring to renovate their development processes.
Foolproof Concept: When businesses keep exploring Digital Product Development Processes, they develop a reliable and error-free ecosystem.
Enhances Product Quality: The product quality improves with the continuous focus on research and development of product development methods.
Reduces Expenses and Failure Chances: With every monitoring phase, businesses identify the shortfalls while building products. And in the next iteration, the identified issues are resolved to make efficient and better products.
Accelerated Innovations: Research and development extensively contribute to the accelerated innovations for the business.
Better Marketing Strategies: When a business explores new product development methods, they reach consumers back-forth, building better marketing strategies and brand value in customers' minds.
Meets Modern Trends: With every new product development cycle, businesses re-implement the updated modern trends into their development process to meet the market's demands.
How RipenApps Continuously Innovates its Digital Product Development Process?
RipenApps deliver solutions to businesses from diverse sectors. And we know that every business has specific requirements and requires a Digital Product Development Process that aligns with their business needs. We concentrate on researching your business requirements and designing a new Product Development Process that promises you rapid growth through our digital products.
From ideation to commercialization of your mobile app, we actively deliver a full app development cycle for your business. Our passionate team of experts in the mobile app development domain loves integrating trending and futuristic technologies in mobile apps so that you are always ahead of the market.
With "Quippy," we have built an innovative AI-enabled Proactive Security solution for our client. We have delivered strong artificial intelligence by integrating advanced features like Intrusion Detection, missing alerts, tampering protection & offline alerts. And it was all possible after dedicatedly building a Product Development Process for our client.

FAQs
Q1: What is the role of product development?
The Digital Product Development Process is key to creating and improving the Digital Product Development Process. Companies have to frame effective product development strategies to align with client's business requirements.
Q2: What is the average time to build a new Product Development ?
When your team has experienced product developers and you are passionate about building Product Development Processes for your clients, the prototype will take around 3-6 months.
Q3:What is the cost of Digital product development?
The cost of digital product development depends upon multiple factors. The technology part contributes 25% to the product development process. Further research and development-related costs also add to the cost of product development. It is best to consult your service provider if you are an entrepreneur to get the costing quotations.
Q4: Why should a business focus on product development process?
A Product Development Process is required to explore the dynamics associated with the requirements of clients. A standard process doesn't work with every business, and businesses have to innovate their product development strategies and process.
Q5: What are the complexities involved with the Product Development Process?
Research and development are the key complexity to building a new Digital Product Development Process. A passionate team of product developers is required to build effective development cycles.
Q6: What causes new products to fail?
Products fail when you fail to integrate an updated development cycle with your clients. When your team delivers a customized Digital Product Development Process, the chances of product failure reduce to the minimum.