The recent year has witnessed a remarkable spike in mobile app development due to affordability, fast internet, and smartphones. The development of technology and hardware, especially in the smartphone space, has led to companies' spiraling desires worldwide. This is 2022, an era dominated by digital businesses that need effective tactics to achieve a competitive edge. There is no denying that technology plays a crucial role in providing companies with the requisite lead by enhancing productivity and diverse business operations. Mobile apps are the latest technological breakthrough that has revolutionized market models and would continue to do even more in 2022. Before gazing at the 2022 prediction, explore what 2021 has stored in their bags.
Statistical Representation of Mobile Apps' Growth
The year 2021 has seen tremendous growth in mobile app usage, and the Global Pandemic has worked as a Catalyst in this growth in 2020 and 2021. In 2021, various industries that have operated via mobile apps have noted a considerable increment in their business. 
A report says that Q1 2020 = Largest Consumer Spend ever in App Stores.
In the First quarter of 2021, customers spend nearly 32 Billion dollars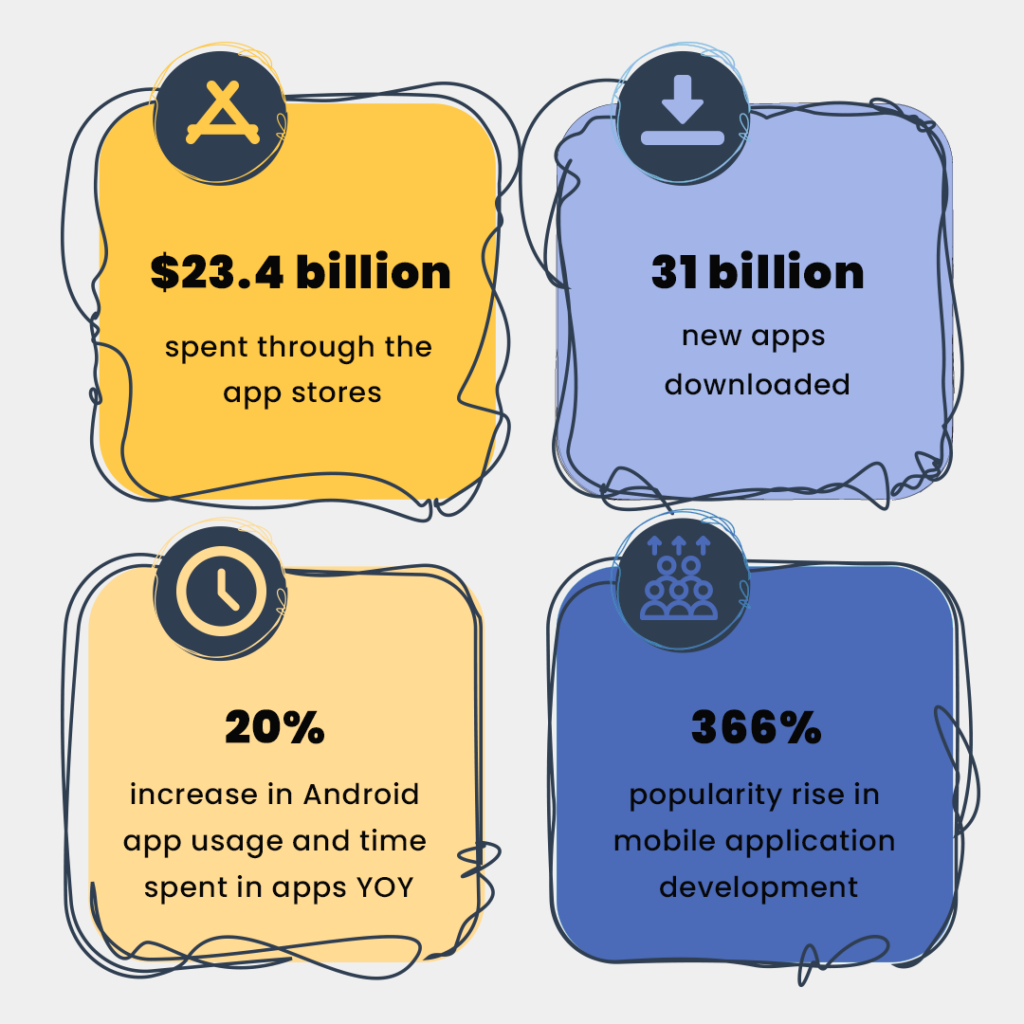 Projected Mobile Apps' Growth in 2022
The top 500 apps will cross 100 million in 2022 in the revenue domain

Asia will see a 9% increase in the app downloads and 18% in the app spending in 2022

USA will see 21% growth in the consumer spending
Various Industries have seen a Massive Hike in 2021 & Expected to Grow More in 2022:
Video chat and online conference apps saw a 627% increase in download.

Finance Technology Apps have seen gigantic increments from 35% to 85% increase in mobile app banking.

In the Media & Entertainment Industry, entertainment apps saw an overall usage increase of 25% & their intake of streaming television by 54% increased.

98.8% in 4.15 billion users access social networks via mobile apps in 2021 (We are Social, 2021).

The market size of the global online food delivery sector is around 111.32 billion U.S. dollars in 2020 & expected to reach 154.34 billion U.S. dollars in 2022-2023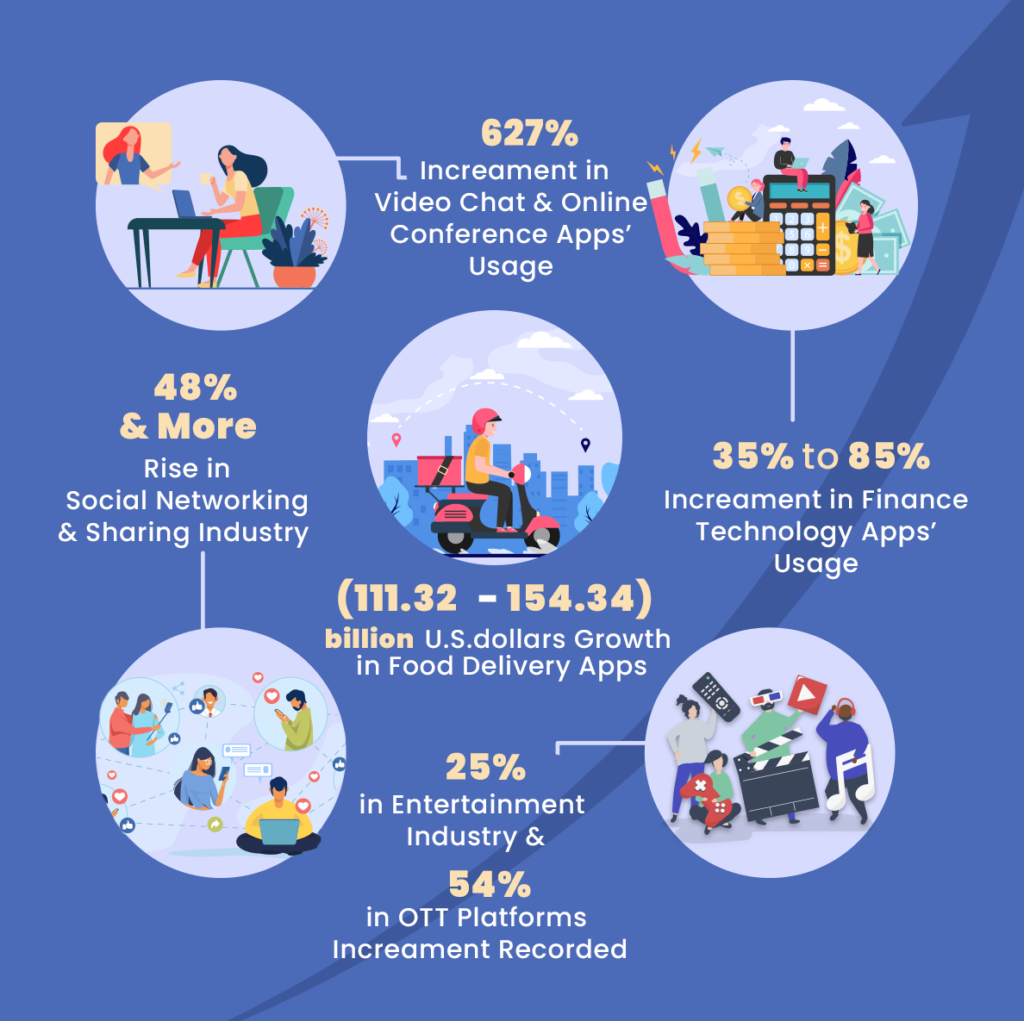 Top Industries that could Reap Significant Benefits from the Apps
Here are some of the top industries that could reap significant benefits from the apps shortly, have a look at them below –
IT Industry
To lure other sectors towards innovations, the IT industry needs to show the advantages of their service or product to the clients, which they can easily do with their app. Some tech firms illustrate wonderfully how, with specific smartphone apps, they can transform the business environment landscape. Mobile applications encourage the company to represent the work performed by their team magnificently. IT businesses can also use their market software more elegantly to broaden their job portfolios in upcoming years.
Retail Industry
The retail industry is one such industry that has distinct dynamics. A user-friendly mobile application that provides excellent support can modify the whole retail industry. With a dedicated mobile app, retailers can get a complete view and display all the details relevant to their products. A mobile application for retail can offer various innovative features that enable retailers to reach consumers, advertise goods, build a brand presence, and eventually improve sales. Recognizing mobile apps' value and integrating them into their potential development strategies can lead to a successful retail venture.
Online Food/Grocery Ordering Industry 
The most lime-lighted on-demand industry: Food Ordering and delivery is continually chasing the heights as people prefer ordering their favorite Food at their doorsteps. 2020 has seen massive growth in Food & grocery ordering application usage. In 2020, where restaurants closing dine-in options & grocery stores suffer from long lines, this situation has turned many to use mobile applications to order, takeout & deliver meals & groceries. This regular habit of using mobile apps for Food & grocery ordering has increased in 2020 and is expected to gain a massive user-base in 2021.
Supporting these restaurant deliveries were apps such as GrubHub, DoorDash, Uber Eats, and Postmates, which saw a 60% bump in downloads in early March 2020.
Education Industry
The ongoing pandemic has changed the way of study. The online consumption of educational content has seen a massive spike in the last 7-8 months, and it is expected to only grow from here. The ease of mobility has contributed to making the learning process much simpler and cheaper, thanks to the latest app development. Mobile applications have brought tremendous interest in education and allow learners to grasp the content quickly. This makes the use of mobile apps to achieve even higher performance in the future.
Read Also: Apps Constantly Benefits Education Industry: Unfold the Cost Details to Develop an Educational App
Tourism Industry
The demand for travelling is slowly coming back to normal after the worldwide lockdown due to COVID -19. However, this slow down will speed up once the pandemic eradicates, which is expected to in 2021. The days are gone when we have to stand outside tours & travels offices to book our tickets; now, all the booking can be made online via mobile apps. Mobile Apps offer a world of comfort for tourists, as all can be done while sitting at home. It allows tourists to find exciting locations quickly and provides advice to reach the tourist site safely. Thus, more and more travelling firms are coming online to make their presence and make their company a brand that attracts more travelers.
E-Commerce Industry
The Ecommerce industry is, without a doubt, one of the most benefited industries from the mobile application. Online shopping has become a lot easier than it used to be because of the rise of mobile applications, which will further keep going. Brands can now send their consumers notifications about their products' launch or arrival and encourage them to buy. The improved realism of online shopping allows e-commerce firms to provide a detailed description of items along with their real-time location, online payment options, and so on.
Takeaway
Having a mobile application gives businesses the advantage of creating a strong customer base. Apps give users the most straightforward and more hassle-free way of living; just a few clicks and swipes of a customer can make a small business a brand or vice versa. Mobile apps have made it easier for companies to connect with their target audience, and now this trend is not going to stop anytime soon. Instead, it will keep on growing.
Hire the best mobile app development company and let your business give the mobile application the power to have a boom in 2022. 
RipenApps would be happy to be your technical hand; drop your desire us at [email protected]. Connect with us to discuss your Project.
Contact Us