How would you feel if you could travel around the world and see world-famous destinations while sitting in one place?
If this sounds like fiction then time to change your mind.
In 2018, a Tokyo-based company First Airlines launched the world's first virtual aviation facility. In this augmented & virtual reality airline, customers can book flights and wear AR headsets, dine on in-flight meals, and visualize global tourist spots.
World's leading travel accommodation company Airbnb recently integrated augmented reality into their application. The new AR feature lets customers explore properties virtually before booking and gives a fully immersive travel experience.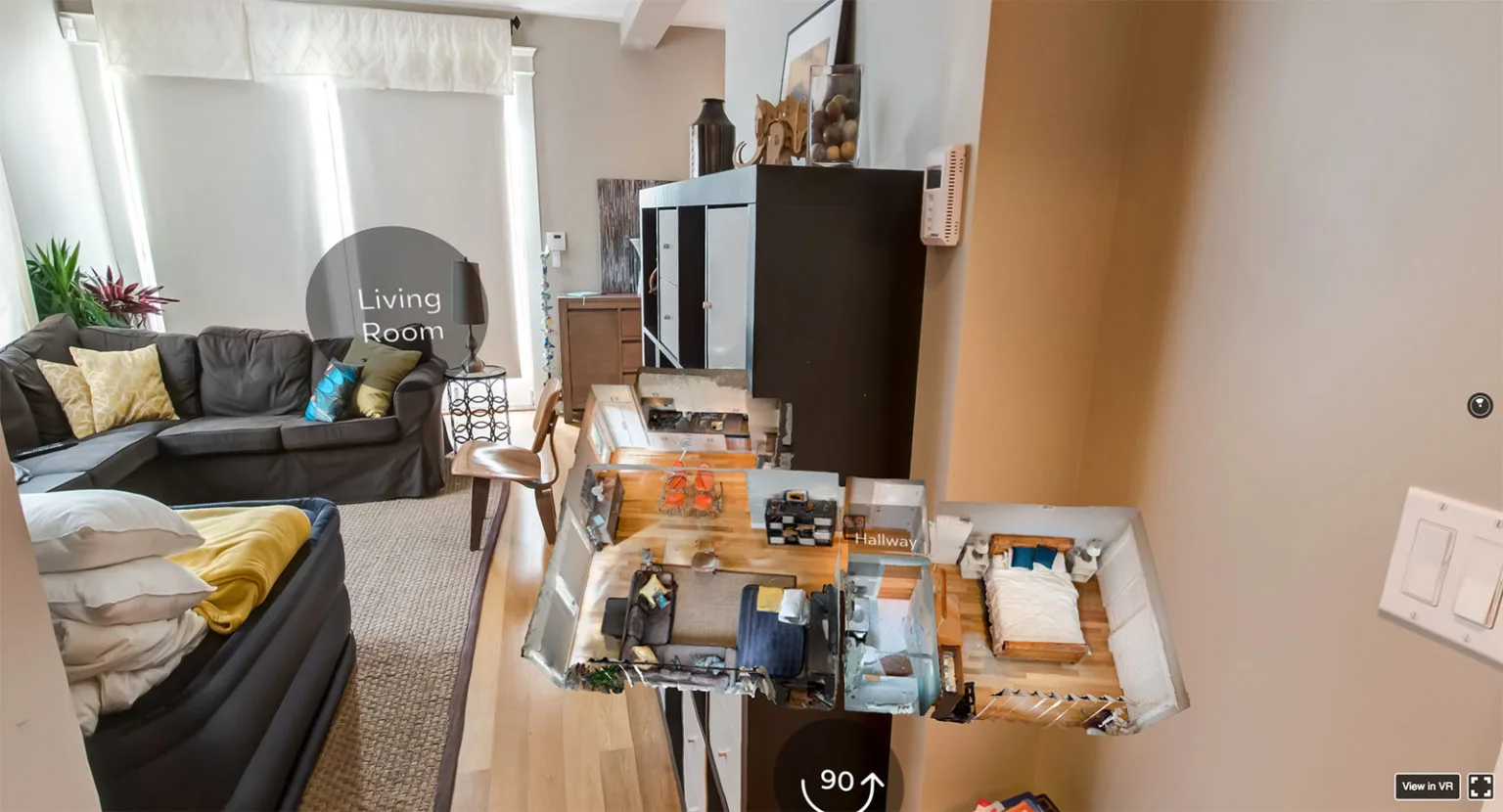 So, augmented reality technology isn't an emerging trend anymore. It is now becoming a significant part of the travel & tourism industry. Whether it is an airline, travel agency, hospitality & accommodation facility, or travel booking, the entire travel sector is leveraging the power of AR technology.
Augmented reality (AR) in the travel and tourism market is projected to reach $4.02 Billion between 2023 and 2030 at a CAGR of 4.5%. The travel and tourism sector is witnessing massive growth due to the increasing adoption of AR/VR technology.
So how is augmented reality reshaping the travel & tourism sector? In this blog, you will know how AR technology helps in transforming the travel experience. And also why AR-based travel app development is a future-proof investment for businesses.
What is augmented reality?
Augmented reality (AR) is an immersive technology that integrates virtual environments with real-world scenarios. It is an innovative technology concept that allows users to overlay real-world objects with 3D virtual graphics. Augmented reality aims to provide an immersive and interactive experience through digital elements, sounds, and other sensory stimuli. It gives the power to users to visualize in the real world which is not possible in reality by other means.
How does augmented reality work in travel & tourism?
Augmented reality in the tourism industry works in several transformative ways. It eliminates the barriers of time, money, and distance for people who are very passionate about exploring the world. AR works as a boon for those who are unable to travel to international destinations due to unavoidable circumstances.
It is because AR enables users to visualize real-world scenarios from any location. In simple words, AR makes tours from home. In addition to this, augmented reality technology assists travel agencies and tourism businesses to enhance their customer experience.
By using AR in travel applications or software they can improve their services. And thus, they achieve better revenue growth. So, augmented reality works in the travel & tourism industry in various ways which-
1. Giving more information about places: By Integrating augmented reality into the travel app makes the application more powerful and feature-rich. The travel app is able to give extra information while displaying things such as public transport, pharmacies, bus stops, etc.
2. Real-time virtualization: Augmented reality enables the user to create a custom virtual environment. Users need to point out the smartphone's camera where they are and get instant information or augmented scenes.
3. Gamification: PokemonGo is one the greatest successful examples of gamification of augmented reality in travel. This gaming app utilized augmented reality with travel in gamification form. Hence, AR works as a gamification method in travel & tourism

Current market state of augmented reality in the tourism sector
Augmented reality technology is dramatically transforming the travel & tourism sector. From providing an immersive experience to giving adequate information, AR technology enhances the travel experience like no other.
Even the best travel app development companies and tourism agencies have already implemented AR in their existing system and applications. Consequently, they have witnessed substantial growth with AR-powered travel solutions. And this growing adoption of augmented reality in tourism is opening more opportunities for travel businesses. If you look at the current market statistics,
The revenue in the augmented reality (AR) and virtual reality (VR) market is estimated to gain $31.12 Billion in 2023.
The AR/VR in the travel and tourism industry is projected to reach $4.02 at a CAGR of 4.5% by 2030.
Around 70% of consumers feel that augmented reality technology could overtake VR in the near future.
AR software holds the largest market share in the entire AR/VR market with a market volume of $11.58 Billion in 2023.
Hence, seeing the latest market statistics and trends, it is evident how tremendously augmented reality in the tourism sector is expanding. And this is because of the following benefits of AR technology.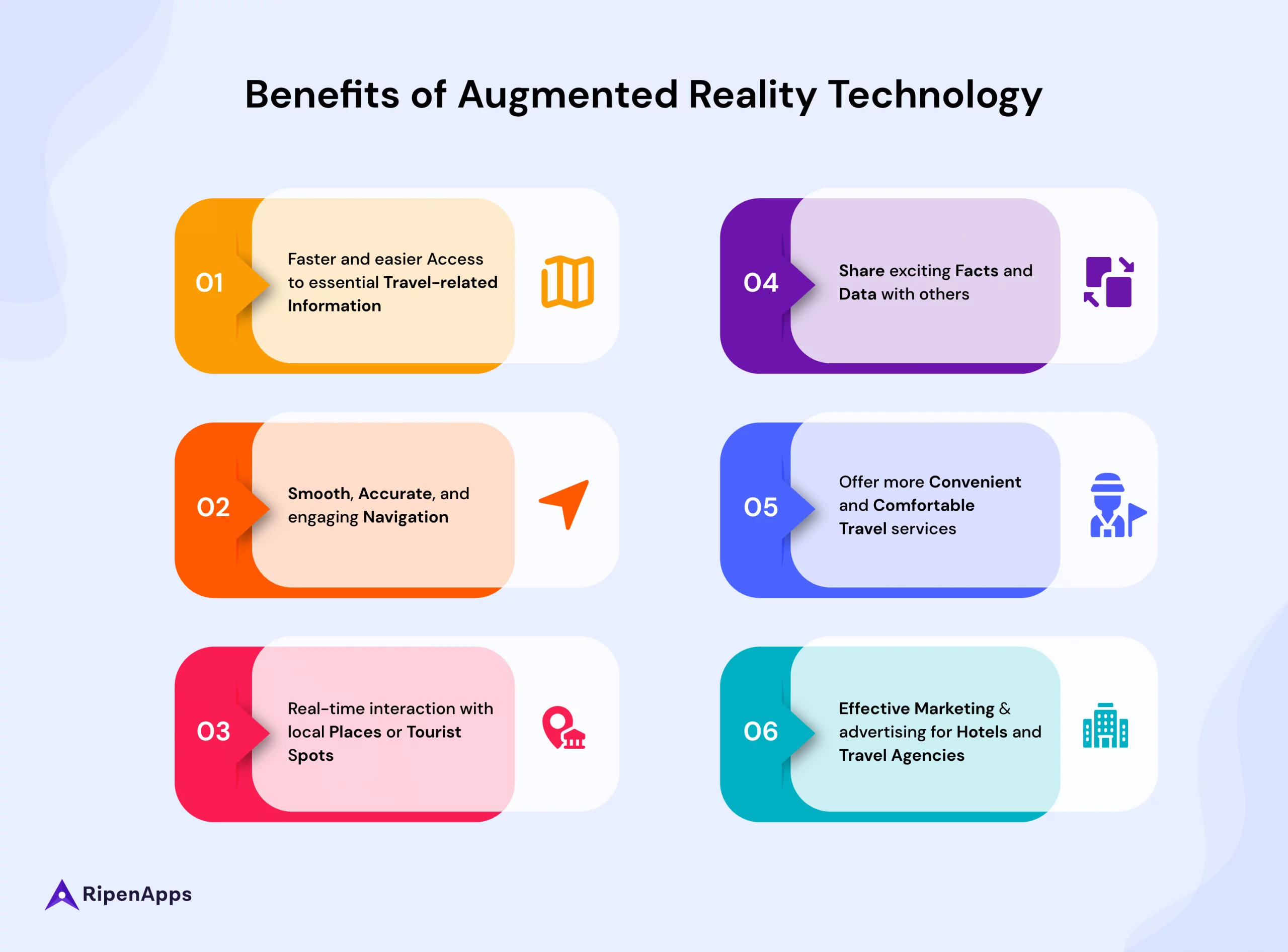 Faster and easier access to essential travel-related information
Smooth, accurate, and engaging navigation
Real-time interaction with local places or tourist spots
Share exciting facts and data with others
Offer more convenient and comfortable travel services
Effective marketing & advertising for hotels and travel agencies
Popular Examples of Augmented Reality in Tourism & Travel
Google Maps Live View
Yelp Monocle
Airbnb's AR
National Geographic AR
AR City
Google Lens
Citymapper
The Gatwick Airport Passenger app
Horizon Explorer
Wikitude World Browser
World Around Me
How is augmented reality reshaping the travel & tourism industry?
1. Augmented Travel Experience
One of the top ways AR technology is transforming the travel & tourism industry is by providing interactive and immersive tour experiences. Augmented reality allows users to get virtual or interactive tours of travel destinations or tourist spots. By using AR-based travel apps, users can go on virtual tours of famous landmarks while being in one place.
They can also use such apps to get extra information while traveling about ancient buildings, landmarks, and locations. AR also assists in location-based technology for mobile apps to give proper navigation and city tour guides. Hence, augmented reality in tourism acts as an amazing way of learning and exploring world places and getting interactive AR tour experiences.
2. AR-powered Self-Guided Tours
For tourists, traveling to new places without a local tour guide is extremely challenging. It is always not so easy to find a reliable guide who can help you nicely through the top places with a well-guided tour explanation. But with the advent of augmented reality in tourism things are getting fully revolutionized. AR technology empowers travelers or tourists with self-guided tour ability.
They can use AR headsets or AR mobile apps for object recognition. And get full information about local places like museums, food joints, stations, historical landmarks, etc. This use of augmented reality in tourism has brought a disruptive change. Top mobile app development companies and tourism businesses are increasingly adopting AR technology in their solutions to build innovative travel solutions.
3. Travel From Home
Ever thought of visiting world-famous tourist destinations without leaving home? It might appear strange at first glance, but AR technology has broken the old traditions. Now, it is not mandatory to leave your home for traveling destinations. With AR-powered mobile apps, users can simply watch and virtually explore world-famous destinations or ancient places.
Not only this but by using AR glasses, people can get an immersive tour experience with various interactive elements. And thus enjoy engaging augmented travel experiences. It is AR technology that has disrupted the concept of travel from home in the tourism industry. Therefore, due to its growing demand, businesses are highly interested in the inclusion of virtual reality in mobile apps to increase customer engagement.
4. Interactive Advertising and Marketing
The travel and hospitality industry highly relies on advertising and marketing. Hotels, accommodation facilities, and travel agencies need to promote their products and services effectively to increase sales and revenue. Augmented reality technology also helps hotels and other travel businesses improve their marketing. AR allows travel businesses to provide virtual tour guides of rooms, hotels, and accommodation facilities.

Many hotels are currently using AR to allow their users to take a 360-degree view of rooms before booking and give enhanced customer satisfaction. They also offer AR tour facilities through web or mobile apps to assist customers in decision-making. Hence, augmented reality & app development together are transforming the advertisement and marketing practices in the tourism sector.
5. AR-based Travel Mobile Apps
The travel and tourism industry has been using mobile apps for over a decade. From ticketing booking to hotel reservation and travel planning to buying travel packages. Mobile apps are being used in several ways to offer multiple travel services. However, due to increasing innovation and technological advancement, the travel industry needed innovative technology for bringing their digital offerings to the next level.
And AR technology here empowers the travel & tourism industry by developing innovative and feature-rich travel apps. Businesses hire dedicated mobile app developers to build next-gen travel mobile apps using AR that satisfy today's user's expectations and needs. Today, there are a variety of AR travel apps that allow users and businesses to take more advantage of their travel mobile apps. For instance
Location-based AR app
Marker-based AR application
Marker-less applications
SLAM (Simultaneous Localization and Mapping Software)
AR City tour apps
The Bottom Line
Augmented reality is an innovative technology. It provides many benefits to the travel & tourism industry. With AR, travelers can see a deeper vision of places and enjoy a never-feel-like travel experience. It helps travel businesses and other subsidiaries to upgrade their existing services and achieve better outcomes and sales growth.
Therefore, augmented reality in the tourism industry is emerging as the hottest trend and opening wider scope for the future. And this AR penetration in the travel sector has broadened the business scope for startups and new business ventures. They can come up with custom or innovative travel solutions using AR technology.
But developing smart AR-based travel solutions requires an intelligent approach and the right use of technology. hence, it is advisable to take assistance from the best mobile app development company that holds specialization in building AR-based travel solutions. And RippenApps is one such reliable company that can assist you turn your innovative AR travel app concept into a feature-loaded application.
Schedule a Free Consultation and Discuss Your Project
FAQs
Q1. What are the use cases of augmented reality in travel and tourism?
There are multiple use cases of augmented reality technology in the travel and tourism sector such as Interactive destination exploration, Historical and Cultural Immersion, Navigation and Wayfinding, Language Translation, Museum and Exhibit Enhancements, Virtual Guides, Marketing and Promotions, enhanced Hotel and Accommodation Experiences, Augmented Travel Experiences, and more.
Q2. How much does it cost to build AR travel mobile app?
Developing an AR-based travel mobile application requires dedicated AR tech stacks and other supportive technology to build essential augmented reality features. So, the final cost of AR app development depends on multiple factors. We advise you to consult a professional mobile app development company and get a price quotation as per your project requirements.
Q3. What are the popular examples of augmented reality in tourism?
There are many examples that demonstrate the effective use of augmented reality for travel and tourism purposes. Some of the popular examples are Google Maps Live View, Airbnb's AR Try Before You Book, National Geographic AR, AR City, etc. Connect with us to discuss your Project.
Contact Us