We transitioned from a Traditional Commerce style to E-commerce. It brought significant changes to buying patterns of consumers. Consumers want that the products shall be delivered right outside their houses. And, Businesses are actively rushing to meet this demand of consumers by delivering robust online websites to shop. However, operating the internet from a desktop/laptop required some form of preparation and was not very much convenient.
Gradually smartphones took the lead. With enriching features and appealing visuals, smartphones have unlocked top-notch convenience for users. Users take out their smartphones, tap on the desired E-commerce app and order whatever they want. And, with the revolution of mobile apps, E-commerce websites are recording less traffic than mobile apps. Soon, nearly all of the users will shop with E-commerce apps.
So, if you are an E-commerce business, you must transition to M-commerce, i.e., consult an E-commerce app development company and build your E-commerce app. If you have the curiosity to know more regarding the same,  keep going through the article. We will explain how mobile app development affects your e-commerce business.
The Effect of E-commerce Mobile App Development on Your Business
Building an E-commerce mobile app unlocks ample benefits for you whether you're from the retail industry or already an online E-commerce business owner. And these benefits reward you with a positive impact on your business. Although many of these benefits affect your business, we will talk about the most important ones. So, let us dive into the core of the article.
Enhanced Revenue and Brand Recognition
The mobile app boosts your brand recognition. Not only does the recognition, but it also boosts the revenue for your business. Customers can easily find your app right from the app stores. And start dropping the orders from anywhere they want. Whether you opt for multi-vendor marketplace app development or a single business, a mobile app enhances your revenue and brand recognition.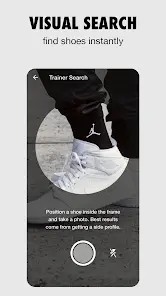 Let's take the example of Nike. The company got its name in 1971. Smartphones started to float in 2013. In 2013, Nike's revenue was $25.3 Billion. In 10 years, the company has nearly doubled its revenue to $46.71 Billion. Here the app has played a massive role in increasing brand recognition and the company's revenue. The mobile app has 5cr + downloads on Google's play store. The company has registered significant growth in just 10 years, which it could not achieve in 30+ years. For example, with the mobile app, Nike offers a visual search option to find shoes, instantly increasing customer engagement and overall revenue for the company.
Top-Notch Marketing Tool
A mobile app lets you build a robust marketing strategy for your business. The head of digital marketing at Walmart commented that the mobile app users of Walmart are making twice the trips to Walmart with 40% more savings.
Location-based marketing is one of the most trending marketing features using mobile apps. Do you know how? Whenever a customer walks near your shop, your mobile app will send them a notification. The notification will remind them that an official and physical store is nearby if they want help.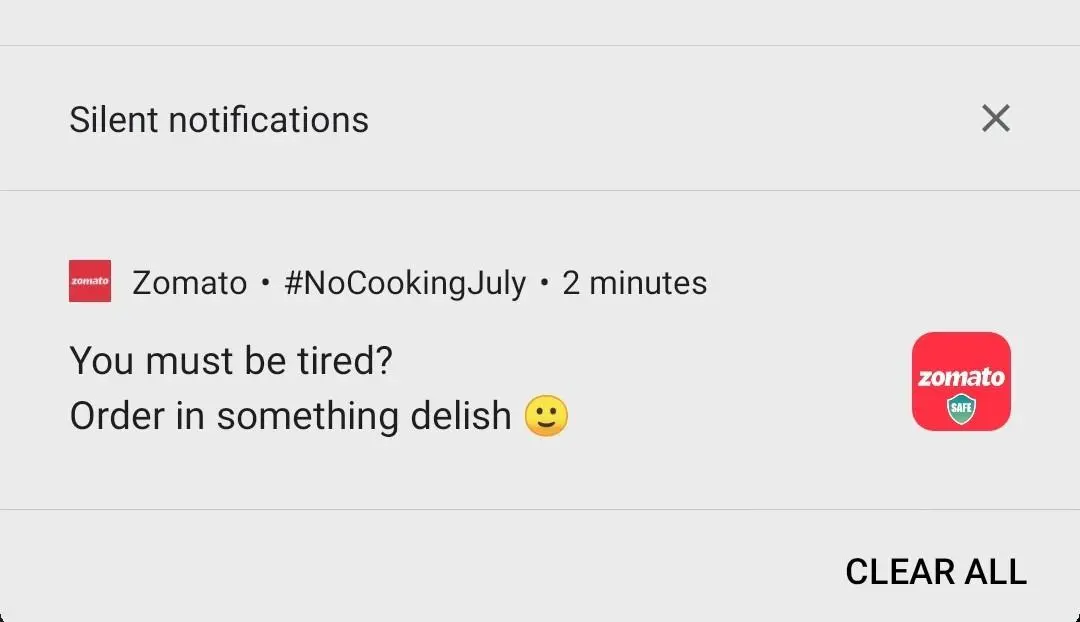 Further, push notifications are another marketing tool. Let us quote the example of apps like Zomato. The companies have been using push notifications to multiply their revenue. Below is one of the marketing examples with the use of push notifications by Zomato.
Enhanced Customer Experience
Customer service experience transforms to a whole new level with mobile apps. When you go for E-commerce mobile app development for your business, you set yourself on the path to understanding the customer journey and behavior of users. The power of AI lets you unlock a whole new dimension of customer engagement and experience.
Today, chatbots in mobile apps are becoming a trend. Chatbots in Ecommerce mobile apps have started to become a trend.
By 2027, chatbots will become the primary customer service channel, and 50% of enterprises will spend more on chatbots, according to Gartner.
Further, chatbots provide immediate customer service to users. If companies cannot serve customers with a physical person, chatbots can assist them in referring to the best possible solution. Take the example of Amazon. We can chat with the chatbot as well as live agents in case of any queries. The live agent solves the problem for us without any need for voice-based or physical communication. This is an example of an innovative and quick digital solution in E-commerce apps.
Use of Smartphone Hardware
When you build a mobile app, you can take advantage of the user's smartphone hardware. An E-commerce app must have a review section. Nearly 99% of the users read reviews on Ecommerce mobile apps. Pictures and videos play a crucial role in enhancing the credibility and reliability of a product in a review. You will improve customer satisfaction when you deliver the option to click pictures right from the app using the smartphone's camera hardware. The use of smartphone hardware will ultimately assist you in bringing more engagement.
Reduced Shopping Cart Abandonment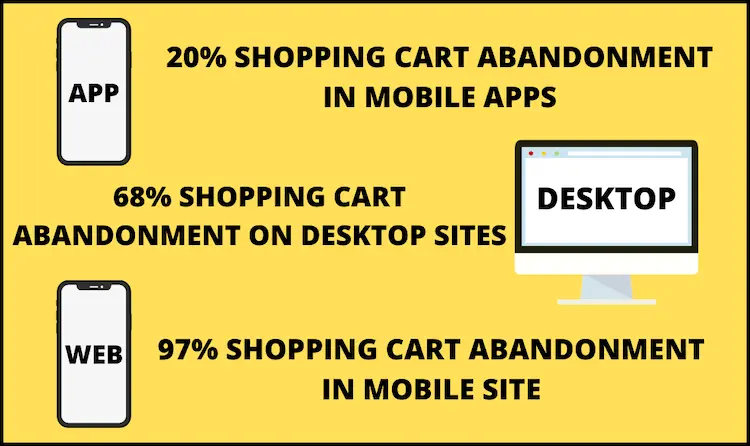 On desktop Ecommerce websites, the shopping cart abandonment rate is 68%. However, with mobile apps, the percentage is only 20%. When you build a mobile app for your E-commerce business, you ultimately reduce the chances of card abandonment. Mobile apps more efficiently store shopping details and offer a one-click checkout process. Everything is secured with mobile apps, so the need to pass the authentication every time is eliminated with mobile apps.
What's next? Partner with RipenApps for E-commerce App Development
With the above pointers, backed by research, you can analyze how a mobile app has increased revenue for companies who were in the commerce business. When you build a mobile app for Ecommerce, you unlock the highest potential for your business.
Your next step shall be building the blueprints for your app and consulting with a top-class Ecommerce mobile app development company like RipenApps. At RipenApps, we have built advanced solutions for the Ecommerce industry, and our clients have registered the highest revenue bars and customer base. Our core focus is to build apps that align with your customers.
We specifically take care of the modern trends that the E-commerce industry is following so that your app leads in every department. By building an intuitive design, we hook your customers to your app. And our dedicated domain-specific experts take care of the development part to unlock a high quality and smoothest performance for your app. We are just a step away from consultation and are waiting to convert your E-commerce mobile app idea into reality.

FAQs
Q1. Why mobile apps are essential for eCommerce?
Mobile apps for Ecommerce deliver a variety of advantages to businesses. These include increased user engagement, new marketing opportunities, and enhanced customer experience. The overall revenue and growth for the business exponentially improve.
Q2. What is eCommerce mobile app development?
An Ecommerce mobile app development is taking an online business to the mobile app. Users can browse product catalogs from their mobile devices anytime and anywhere. The payment processing, shipping, and order management are smooth with an E-commerce mobile app.
Q3. How do eCommerce apps help eCommerce businesses grow?
E-commerce app boosts an Ecommerce business. The rate of abandoning a checkout from the cart decreases due to convenience, flexibility, and quick payment processing. Conversion rates improve significantly through mobile e-commerce apps compared to desktop eCommerce.