When it comes to taking loans or borrowing money, the first option that comes to everyone's mind is the bank. It is not uncommon since the banking sector has mostly affected consumer financial practices. However, in recent years, fintech has fully transformed conventional banking and financial practices.
Today, people don't have to necessarily rely on banks for borrowing money or lending loans. With money lending mobile apps, they can instantly and directly connect with individual lenders.
The massive disruption in the fintech sector has paved a new way for borrowing and lending money. According to the latest report from Allied Market Research, the global Fintech lending market size is projected to reach $4,957.16 billion by 2030 at a CAGR of 27.4%.
As more and more people are using digital lending platforms, the demand for money lending apps is gaining fast market traction. Therefore, startups and businesses invest in money lending app development to create a money lending mobile application.
If you also wish to build your own P2P money lending app, here in this blog, we will guide you step by step on how to build a money lending app. You will learn essential and crucial strategies to launch a successful online money-lending platform. So why wait? Let's delve into
What is a money-lending app?
A money lending app is an application that allows individuals to borrow or lend money and loans on demand. A money lending mobile application works as a common digital platform for borrowers and lenders. This app allows people to connect with individual persons and get loans or borrow money in real-time. It eliminates the need for going to banks for taking loans. People can seamlessly apply for loans using money lending apps without interacting with brokers, banks, or financial institutions.
Types of money lending apps
Money lending apps provide multiple facilities for borrowing and lending money. Based on their size of credit or types of services, money lending apps could be categorized as follow
1. Cash advance loans: This app allows people to quickly acquire loans or money at minimal fees.
2. Small personal loans: This kind of app grants access to personal loans and funding requirements at low credit scores up to $5000.
3. Business loans: It usually provides loans or financial lending to business owners.
Popular Examples of money lending apps
Chime
MoneyLion
Earnin
Dave
Brigit
Upstart
Why the demand for money-lending apps is growing?
Money lending apps work as a boon for people and businesses. In traditional banking and financial practices, people had no choice but to depend on banks, brokers, or financial institutions for getting loads of money. This method puts a heavy cost and liability burden on borrowers since they don't have any alternatives.
But after the penetration of fintech in banking and financial practices, things have changed. People today can use various financial or banking apps to get instant loans or borrow money directly from money lenders. As per market statistics, around 60% of companies issue loans in the microfinance sector. People are increasingly taking loans for small and large requirements.
This peer-to-peer money lending transaction is giving people a fast and convenient way for financial assistance. And therefore, the popularity of money-lending mobile apps is rising. If you look at the recent market report released by GrandViewResearch, the global digital lending platform market was valued at $7.04 Billion in 2022. It is estimated to register a CAGR of 26.5%  between 2023-2030.
And this increased growth is due to the demand for money-lending app development services. At present, fintech startups and new business founders hire dedicated mobile app developers to build money-lending apps for multiple purposes. It is because Money lending apps provide many advantages.
Benefits of developing a money lending app
Money lending apps have multiple features that benefit both borrowers and lenders. It allows users to take all kinds of advantages that they could get from banks or financial institutions.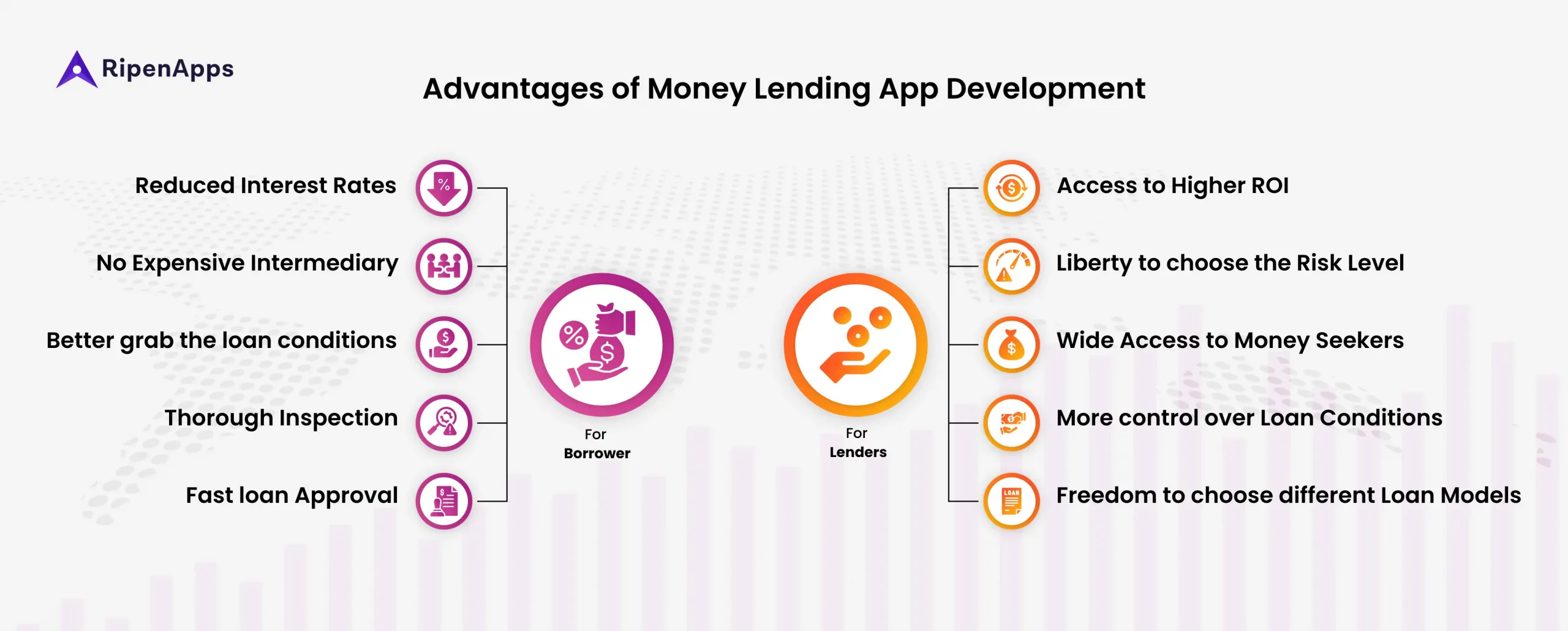 For borrowers
Reduced interest rates
No expensive intermediary
Better control over the loan conditions
Thorough inspection
Fast loan approval
For lenders
Access to higher ROI
Liberty to choose the risk level
Wide access to money seekers
More control over loan conditions
Freedom to choose different loan models
How to create a money lending app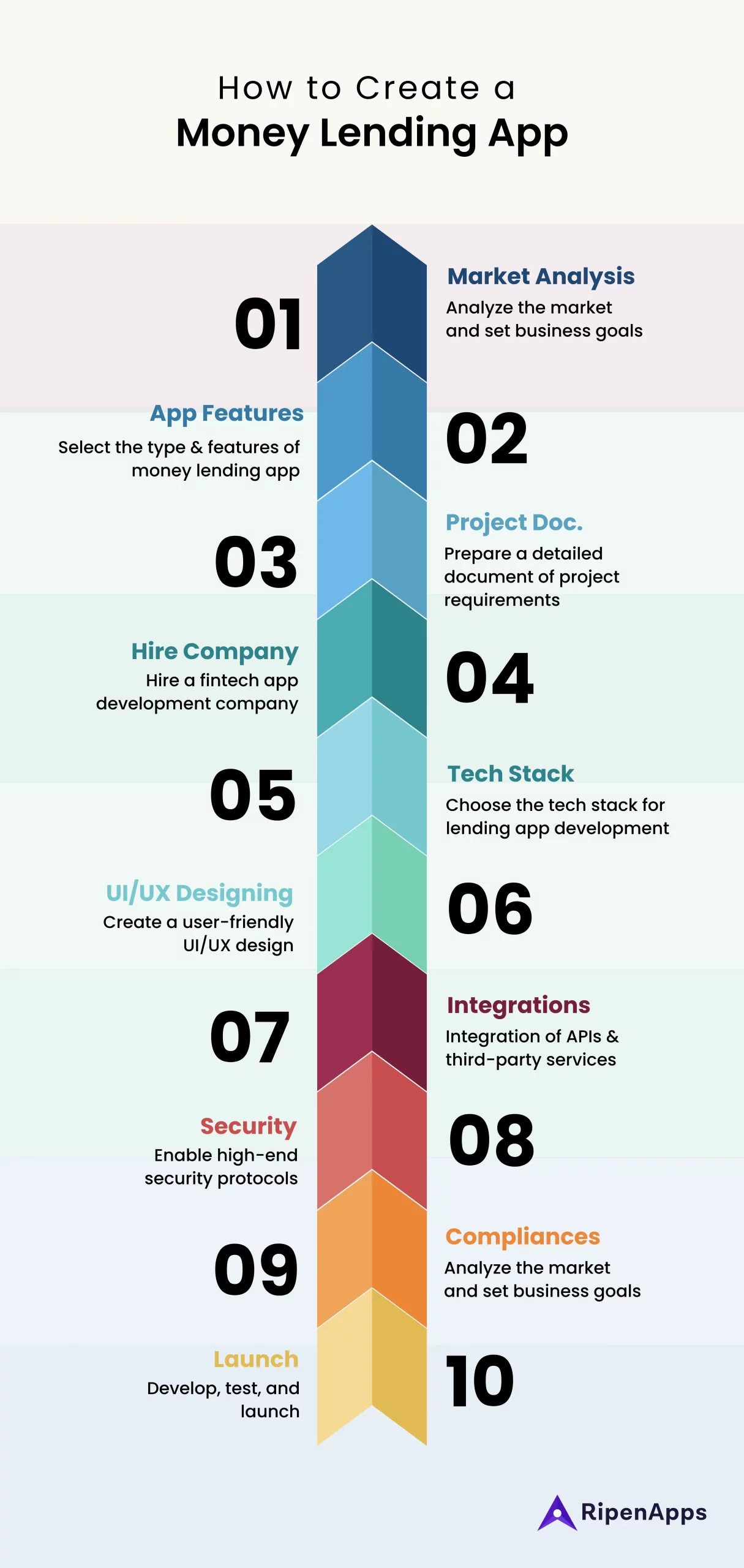 1. Analyze the market and set business goals
Money lending is a growing yet competitive market. It holds a significant part of the fintech market. There are many mobile apps that provide money lending services. Some fintech apps cater to business domains only. While some apps focus on consumers. Hence, before stepping into the loan lending app development process, you need to properly analyze the money lending market.
This would give you an overall idea of what trends or practices are currently running in the market. Besides this, every country has certain rules and regulations regarding loans and moneylending. Thus, analyzing the market in detail will allow you to develop a market-ready money-lending mobile app.
2.  Select the type and features of money lending app
As we discussed above, there are different kinds of money-lending apps. Each app has certain methodologies and conditions to facilitate loans. Therefore, you have to determine the type of money-lending app. Based on the type of money lending app, your mobile app development company will build the required features and functionalities.
Hence, you should determine whether the app is for Fast cash advances, Small personal loans, P2P money lending, or Business loans. After determining the type of app, you should choose features accordingly. Below are common features that a loan lending app contains
Dashboard
Registration
user account
Loan application form
Loan Calculator
Payment & billing
Collective lending
Chatbot
EMIs
Loan restructuring
Reporting and reminder system
Feedback and recommendations
User rating
Integration of payment systems
Credit score
Reward points
3. Prepare a detailed document of project requirements
Once you have finalized the type of app and your market, it's time to prepare written project documentation. This document would include all the information regarding your money lending mobile app. For instance, type of app, target audience, budget, target region, business goals, etc. You have to conduct in-depth research and accurately analyze your requirements. It is because this will lay the foundation of the development process.
4. Hire a fintech app development company
Money lending apps are kind of fintech mobile apps. Hence, you would need assistance for developing this app from a fintech app development company. They specialize in building all kinds of money lending and other fintech apps for business purposes. They have expert developers and business analysts who have proven experience. However, you can adopt other options for developing your money-lending apps. For instance, hire mobile app developers or recruit your own in-house team.
5. Choose the tech stack for lending app development
To build a money-lending mobile application, you would require to choose a tech stack. This tech stack consists of programming languages, APIs, frameworks, SDKs, and tools. Nevertheless, what technologies your app needs depend on its type of app and target platform.
If you want to build a native app then you have to choose native development tools. And if you want to build a cross-platform or hybrid mobile app for all platforms. Then, you have to go with cross-platform app development frameworks. In this case, your company or hired developer would help you better.
6. Create a user-friendly UI/UX design
People that use money lending or other banking or financial apps expect a good user experience. They want the app to provide financial services without any hassle. Therefore, you should focus on creating a user-friendly UI/UX design. Try to make the user interface simple and intuitive. It will offer smoother navigation and user flow. To make it more engaging, you can even add gamification features or some animation effects in the app to reward user actions.
This factor is more important when you target iOS users. Apple has its own app design guidelines to ensure every iOS app meets its user expectations. Therefore, you should take consultation with an experienced iPhone app development company regarding the app design.

7. Integration of APIs and third-party services
As lending app development involves different financial procedures, your app would require the integration of external services. For example, if your app involves international transactions, then you need to integrate PayPal or other payment gateways. In addition to this, your app might also need e-wallets, mobile wallets, bank card integration, and dedicated accounting systems.
8. Enable high-end security protocols
Security is the foremost concern of money lending apps. Since users here deal with sensitive financial activities, it is critical to enable robust security protocols to safeguard user data. This step is extremely important in the loan lending app development process. Therefore, you should work closely with your development team to integrate high-end security features in the app for ensuring safe financial transactions and exchanges.
9. Ensure legal compliance
Every country has its own rules and data regulations for banking and finance. When you are to launch your app you should check country-specific laws related to digital money lending or loan process. This early preparation and research will protect your app from potential rejection or ban. It is because some countries even ban loan apps due to not being compliant with their country's laws.
Hence, it is important to make your lending app compliant with the required laws and data regulations. Below are some of the popular compliance for apps providing banking and financial services. We advise you to consult a professional legal consultant or company regarding the legality aspect of your app.
GDPR (General Data Protection Regulation) for European Union
CCPA (California Consumer Privacy Act) for California State
AML (Anti-money laundering)
KYC (Know your customer)
10. Develop, test, and launch
At last, develop your money lending app as per the defined roadmap. While your team works on building your app you should monitor the progress of the project. Once your app is developed, conduct all kinds of performance and usability tests. It will make sure that the app performs well as per desired expectations. And once the QA team gives the final green signal, you can launch your app to the market. If you have launched an MVP version. collect customer feedback and reviews. And based on this feedback, you can modify the app furthermore and improve it.

How much does it cost to build a money-lending app?
On average, the cost of loan lending app development can vary from $30,000 to $100,000. But the final figure depends on multiple factors. Such as the location of a mobile app development company, the number of features, third-party integrations, and more. The best way to get the cost estimation of your app project would be to directly consult a mobile app development agency or firm. They will give you a price quotation based on your specific project requirements.
Final Thoughts
So, you now have got the overall idea of the money lending app development process and its other aspects. Since the loan lending market is getting bigger day by day due to increasing fintech penetration you should build your app under experienced leadership. There are already many loan lending apps having a strong user base.
So when you are planning to launch your own digital lending app, you have to follow a strategic approach to stand out in the market. And RipenApps is one such perfect destination for making your dream app into success. Here, we have a team of experienced fintech app developers and business experts who can assist you build a high-value money lending mobile app.
If you have an app idea in your mind, let's give it a real shape.
Schedule a Free Consultation Now and Speak to Our Experts
FAQs
Q1. What is a P2P lending app?
P2P is a peer-to-peer lending application. It allows people to individually lend or borrow money from another person. A P2P lending app eliminates the need for going through a bank or financial institution since it directly connects borrowers and lenders.
Q2. How do money-lending apps work?
Money lending app connects borrowers and lenders. A user who is seeking to take a loan or borrow money can access various lenders. They both have livery to determine loan conditions and agree upon interest rates also. Once the agreement is done, the app processes the cash or credits the money into a user account within the app or bank account.
Q3. Is money lending app legal?
Yes, loan lending apps are legal. But before your app must be registered as a legal business entity or company as per the country's laws. You have to check legal compliance to launch a loan lending app in a particular region.
Q4. What are the popular loan lending apps in the current market?
Earnin, Brigit, Dave, MoneyLion, Chime app, Branch, Empower, Cash App, and SoFi are some of the widely-known loan lending apps around the globe. Connect with us to discuss your Project.
Contact Us