The finance and banking sectors are experiencing a new wave of technology transformation in the form of Fintech vs TechFin. Fintech and TechFin are the two evolutionary technology terms that cater to the same niche. However, they both are different terms and utilize technology in different ways.
Fintech has been running and expanding for many years in the industry. Banks and financial companies are transforming their financial services with various fintech solutions. TechFin is gradually evolving and has started changing the global financial and banking market.
As per the McKinsey report, 40% of financial activities are automated. For instance, revenue management, digital payments, cash withdrawal, and more. As a result, fintech and TechFin are bringing influential changes in financial practices and opening new prospects for banks and financial service providers.
So how fintech and TechFin are set to impact the future of finance and banking? In this blog, we will discuss it. You will know the difference between the two and how the rivalry between Fintech vs TechFin gives business opportunities for startups and entrepreneurs.
What is Fintech?
Fintech is the integration of finance and digital technologies to provide financial services to consumers. Fintech refers to software or applications which aim to streamline or digitalize financial operations or activities. It helps companies, banks, business owners, financial institutions, and consumers to effectively manage their financial-related things through software, web, or mobile applications.
What is TechFin?
TechFin is a combination of technology and finance. It refers to a technology company or service that enters the financial sector to offer finance-related products and services. TechFin company's core area is the technology domain. However, they provide dedicated financial solutions integrated with their own ecosystem. The term 'TechFin' was first coined by Jack Ma, the founder of Alibaba. Examples of TechFin are Google, Amazon, Meta, and Apple.
Difference Between Fintech and TechFin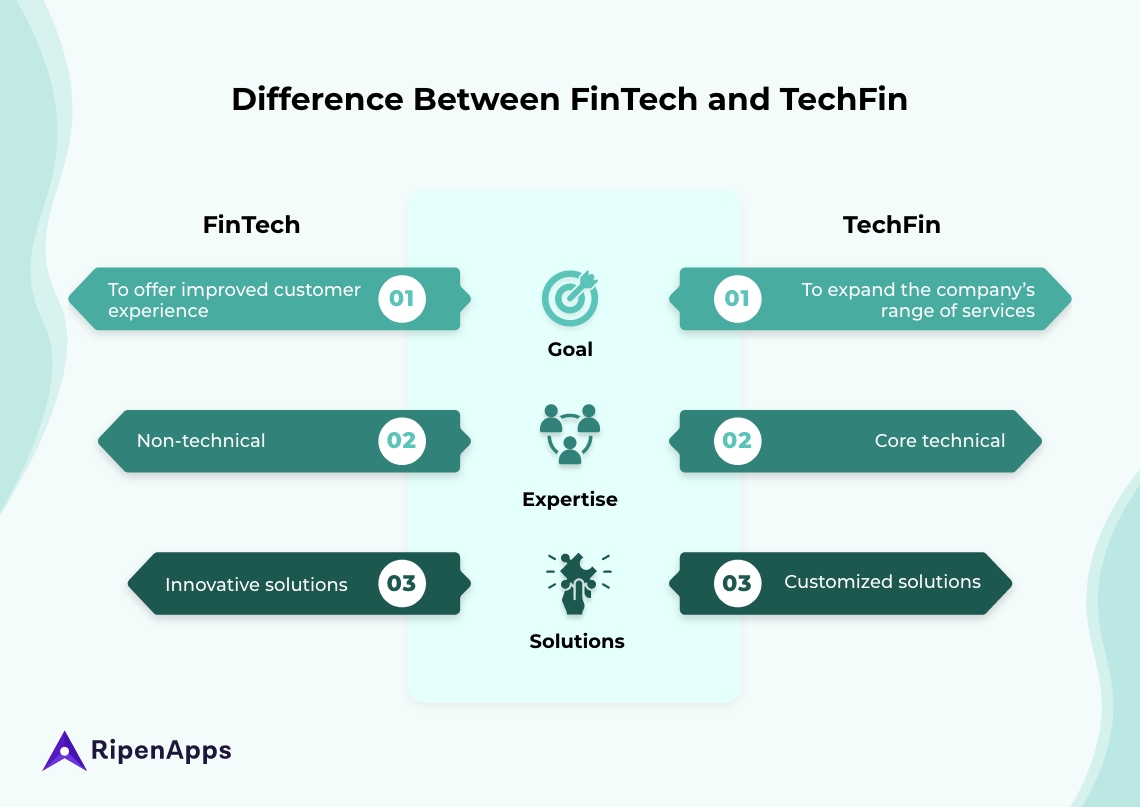 Fintech and TechFin both use technology for financial purposes. However, there are many differences between fintech and TechFin depending on various factors. Fintech is generally associated with firms, startups, businesses, and companies. It utilizes digital technologies like web applications, mobile apps, and mobile wallets for providing financial services.
Whereas, TechFin is a company or service that holds expertise in a particular core technology.  But, it provides financial services using its own technology system. TechFin companies focus on developing user-friendly financial solutions. Here are the key differentiating factors between Fintech and TechFin.
Goal
A Fintech company's primary objective is to offer improved customer experience in financial services or products. They use the latest technologies to reduce costs, streamline operations, and enhance revenue. TechFin company's primary objective doesn't exclusively focus on offering financial solutions. They do it as a part of their company's services with the goal to collect data or expand the company's functioning in other areas.
Organization Expertise
Fintech organizations do not hold expertise in the technology domain. They look for fintech mobile app solutions from a dedicated software or app development company to build fintech-based digital solutions. On the other hand, TechFin companies work in the core technology domain but expand their range of services through their own technology ecosystem.
Solutions
Fintech companies come with innovative financial solutions for a variety of domains including banking, investments, savings, personal financial management, etc. TechFin companies attempt to bring customized solutions which require advanced or large-scale expertise. Fintech companies hire mobile app developers for creating fintech app solutions. Whereas, TechFin companies are self-sufficient. 
Fintech vs TechFin: How They Are Affecting Finance and Banking Sectors?
The banking and finance sectors have been experiencing many changes for the past few years. With the growing adoption of technology in financial services, banks, and financial institutions now leverage different technologies to build effective and customized financial solutions for consumers.
Traditional banking is used to work in an infrastructure environment. This not only increases the operational cost but also dependency on the workforce. But today, they provide banking services through mobile banking apps, wallets, and other software applications.
Startups are also coming up with unique financial solutions to offer enhanced customer experience. They develop fintech mobile applications like stock trading apps, investment apps, financial management apps, and more.

This has led to growth in the creation of software and mobile app solutions for banks and financial services.
Current Market  Statistics for Fintech and Techfin Adoption
According to AlliedMarketResearch, the global mobile banking market is projected to reach $1,824.7 million by 2026 at a CAGR of 12.2% which was valued at $715.3 million in 2018.
The fintech sector is expected to reach $492.81 Billion at a CAGR of 16.8% by 2028 from $194.1 billion in 2022.
So this data indicates the increasing adoption of fintech and TechFin solutions by consumers and businesses. The growth of fintech and TechFin has brought disruption in terms of increased efficiency, reduced operational costs, fast and seamless financial management, and better customer experience.
However, this market growth might sound lucrative for fintech firms and startups. But for banks, it is challenging. Fintech and TechFin companies provide a wide range of financial and banking-related digital products and services. These facilities work as a competitive rivalry for traditional banking services.
In conventional banking, people are limited to certain benefits or institutional capabilities. But with fintech or TechFin, consumers get the same facility at reduced time and costs. For instance, TechFin solutions like ApplePay and GooglePay Work as an alternative to bank mobile payments. This takes the share of the consumer market in mobile payment from the banking sector.
As a result, TechFin is a promising competitor for banking institutions. However, since banks are also adopting fintech solutions, the tussle between fintech vs TechFin would affect the future of banking and finance tremendously.
How will Fintech and TechFin Affect the Future of Banking and Finance?
The competitive tussle between Fintech and Tefin affects the global banking and financial market significantly. They both have brought dramatic changes and substantial improvements in the efficiency and delivery of financial services.
As banks and fintech firms are embracing digital solutions like software, web, and mobile apps in their financial operations, the demand for fintech app development and other technology solutions is also increasing. As a result, the future of banking and finance is set to experience a new wave of change. But how? Here are the reasons:
1. Digitization of Financial Products & Services
In the current digital-first age, consumers are more interested in using banking and financial services on their mobile devices. This shift in consumer behavior has compelled banks and fintech firms to develop customer-oriented financial solutions like fintech apps, digital-only banking apps, mobile payment apps, super apps, and more. Whether they are banks, SMEs, enterprises, or startups, every business size entity or financial institution will leverage digital technologies to streamline their financial products or offerings.
2. Digital Payments
Digital payments and mobile payments have disrupted the whole market scenario. Modern consumers are more tech-savvy and seek fast and convenient payment facilities. Today, with a single click they can make payments anywhere for anything through smartphones or mobile devices. People can now pay for a broad range of financial products or services like loans, bills, investments, stocks, purchases, and more.
Interestingly, fintech and TechFin both provide a facility for making digital payments. According to Fortune Business Insights, the global payment market is projected to reach $19.89 trillion by 2026 at a CAGR of 24.4% which was valued at $ 3.53 trillion in 2018.
And due to increasing demand for more efficient and feature-rich payment facilities, companies are developing innovative digital and mobile payment solutions for consumers. They are utilizing innovative technologies like AI & ML, Blockchain, and cryptocurrency to develop advanced digital payment solutions. Hence, fintech and TechFin will both leave a great impact in the field of digital payments.
3. High-End Security
Security is the top concern for consumers. One of the top reasons why in some cases TechFin takes an edge over fintech is security. As TechFin companies are tech giants and have immense resources and technical expertise, people are more interested in using the financial services offered by TechFin.
Therefore, the use of Google Pay, Apple Pay, and Samsung Pay is much more prevalent than fintech-based payment apps. Besides this, with the growth of crypto exchange, P2P payment, and cryptocurrency, the need for high-end security has also increased. Fintech and banking institutions have to take assistance from the top mobile app development company or IT firm for creating high-end security features.
However, TechFin companies have the advantage of being tech giants and having their own large-scale ecosystem for enhanced security. Thus, with the growing concern for security, fintech, and TechFin will both tend to bring better security features for banking and financial services.
4. Data Analytics
Data is the new power in the age of digital transformation. Whether it is a bank, SME, or enterprise, every organization looks for data analytics to better understand their customer and derive useful business insights. Banks and fintech startups generally have to put extra effort to collect data and get analytics solutions.
Whereas, TechFins like Google, Apple, and Meta already have a large customer base, so they easily acquire huge data and get analytics. However, many fintech apps like  Robinhood, Revolut, and Acorns have also gained large customers and millions of users. Hence, the competition to acquire large data analytics between fintech and TechFin will have a considerable effect on banking and financial services.
Conclusion
Fintech and TechFin both are emerging technology trends in banking and financial domains. They both leverage different technologies but their goals and functioning are different. While fintech focuses on providing a better customer experience, TechFin leverages its core technology expertise to build large-scale solutions.
And since consumers today give preference to digitally-empowered financial products & services, the rivalry between Fintech and TechFin will create a positive and significant change in banking and financial services.
How RipenApps Apps Can Help You Develop Future-Proof Solutions?
RipenApps is the leading fintech app development company that specializes in creating a wide range of digital solutions for banking and finance services. We have a big team of experienced app developers, AI specialists, software engineers, and market experts who can assist you in developing future-ready web or mobile applications using innovative technologies.
If you have any idea that can bring a disruptive change, our team can make it happen successfully.
Schedule a free consultation and speak directly with our experts
FAQs
Q1. What is the main difference between fintech and TechFin?
Fintech is financial technology where non-technical organizations or businesses use technology to provide financial products or services. TechFin is a technology company that expands its service in the finance sector.
Q2. How much does it cost to build a fintech application?
There is no exact value for the cost of fintech app development. It depends on several factors like app size, number of features, APIs, and more. The best way is to consult a professional fintech app development company and get a quote as per your specific project requirements.
Q3. Which is better Fintech or TechFin?
Both domains have distinctive capabilities and goals. In some cases, fintech stands out better than TechFin. While in other cases, TechFin overtakes fintech. So depending on the use case, the application of fintech and TechFin varies.
Q4. How to find the right company for developing applications for my fintech startup idea?
The best company holds years of proven experience in building fintech apps with a good track record of delivering successful projects. They have certified developers and a dedicated team of professionals who possess qualified skills in using modern technologies. So, while choosing a company that can assist you in creating an application for your fintech startup idea, consider these factors.