Can you imagine what AI apps can do for your e-commerce business?
Sephora is a French-based ecommerce company that sells personal care and beauty products. This ecommerce brand achieved massive success with the help of an AI-powered ecommerce mobile app. Their app Sephora application allows customers to virtually try different makeup with the smart Sephora Virtual Artist feature.
In addition to this, it also gives personalized alerts, product recommendations, and exciting gift cards. It may sound interesting to know due to these AI-powered features, their ecommerce app has brought 8.5 million customer visits and 2+ million downloads. Source
Not only this, many other leading ecommerce companies like Wayfair, Taggshop, Alibaba, and Boxed have leveraged the power of AI technology in their ecommerce applications and achieved great business outcomes.
So, if you also have an ecommerce business and want to boost your sales you should consider using AI apps for ecommerce. And in this article, we will explain how you can boost your ecommerce business with the help of AI-powered mobile apps.
So let's get started
What are AI-powered apps?
AI-powered apps are mobile applications that utilize artificial intelligence to perform complex operations. These apps leverage the capabilities of AI technology to several use cases to offer advanced solutions and better user experience. AI-powered mobile apps use AI & ML algorithms to enable automated, smart, and self-learning features. They empower users to do innovative things. With AI-powered apps, users can make human-like interactions and get personalized user experience.
Famous real-life examples of AI-powered ecommerce apps
Amazon
Sephora
Alibaba
IKEA
Rewind
Justuno
Wayfair
Why eCommerce businesses need AI powered mobile apps?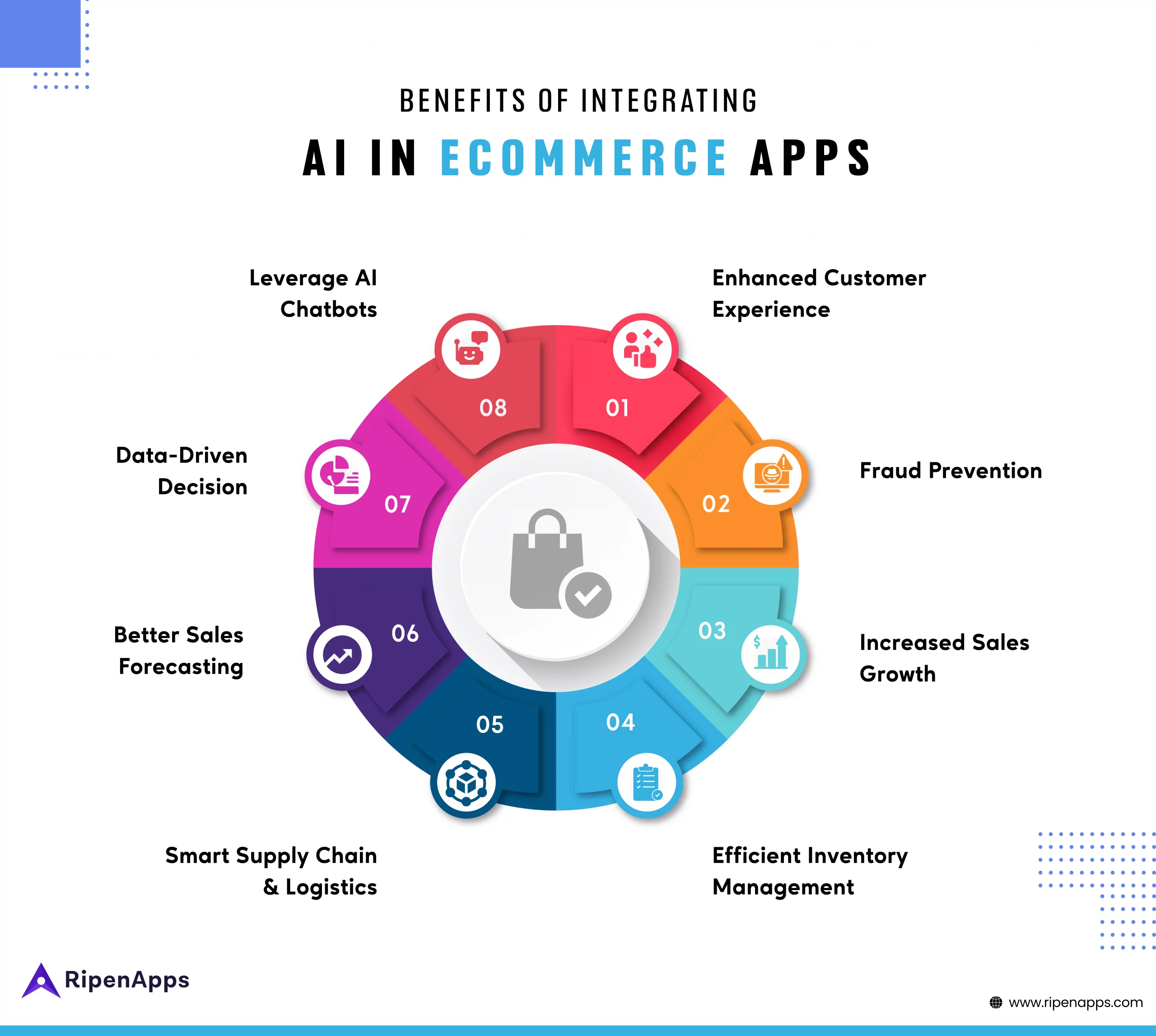 The ecommerce industry is growing at a substantial rate. According to Statista, the revenue of the global eCommerce market is estimated to reach a whopping $3.64 Trillion in 2023 and attain $5.56 Trillion by 2027 at a CAGR of 11.17% between 2023-2027. The average revenue per user is also projected to be $827.40.
Hence, undoubtedly, the growth of ecommerce sector is skyrocketing. This is due to the massive adoption of mobile-first and digital approaches in online shopping. Today, people don't prefer going outside physically or visiting Malls for shopping. By using mobile apps they can now order anything online and get their products delivered to their doorsteps in few clicks.
However, as technology is evolving continuously, consumer behavior and business practices are also changing. In the past few years, artificial intelligence has emerged as a transformative technology.
At present, AI is being implemented across all industries to streamline and enhance business efficiency and productivity, Particularly in ecommerce, AI helps ecommerce to scale its growth by improving its various capabilities. The current e-commerce sector needs improvements in many aspects such as
Customer experience
Sales growth
Operational efficiency
Reporting & data analytics
Checkout optimization
Conversion Rate Optimization
Landing Page Conversion
Reviews and ratings
Product recommendation
Social sharing and recommendation
Optimized performance across all devices
And AI here helps ecommerce businesses to improve all of the above factors which play a vital role in enhancing ecommerce sales.

How AI powered mobile apps can boost eCommerce business?
Artificial intelligence comes with advanced abilities. When it is integrated with mobile applications it enhances their functionalities and helps in creating innovative and custom features. At present, the use of mobile apps in ecommerce industry is very high. Online businesses are investing in ecommerce app development services to build feature-powered ecommerce apps.
AI technology here empowers developers to streamline the app performance and features to offer improved online shopping experience to users. So let us explore how AI-powered apps boost ecommerce business.
1. AI Chatbot Assistant
Chatbots are one of the prominent part of ecommerce mobile apps. They are built with AI to provide various automated services like online customer support, voice assistance, 24/7 availability, etc. Chatbots are highly useful in providing a better online shopping experience. They use text messaging, voice commands to simulate human-like conversational experience.
These chatbots use AI, ML, & NLP to understand customers' inputs and deliver the best answers or solutions. Therefore, chatbots play a vital role in improving sales conversion rates. As per Jupiter Research, chatbots have produced over $100 billion in e-commerce transactions in 2023.
2. Smart utilization of augmented reality
Artificial intelligence assists ecommerce companies in effectively utilize augmented reality features. IKEA, Sephora, Alibaba, and many more world's leading ecommerce brands have witnessed dramatic improvements in sales growth after the implementation of AR features in their e-commerce apps.
It is due to the unique ability of augmented reality technology that enables customers to visualize products in real-world environment. As a result, it helps in making a good buying decision which contributes to sales conversions. When AR is combined with AI, the quality and creativity of AR features of ecommerce apps get enhanced.
By integrating AI and AR in eCommerce app development, many innovative features could be offered to customers. And eventually, it improves customer engagement and ultimately converts them into sales.
Virtual try-on solutions
Product placement preview
User manuals

3. Product recommendation systems
It is one of the major aspects where AI helps boost ecommerce business growth. Ecommerce applications use product recommendation systems to suggest products to customers as per their individual choice and expectations. Many ecommerce companies use customer data to offer personalized product suggestions and optimize sales processes. Implementing AI in recommendation systems in eCommerce mobile applications, benefits in several ways like
Generate more traffic
Increase user retention
Enhance sales growth
Improve customer experience
So if you want to improve your ecommerce sales try to implement AI in the recommendation system in your ecommecre app.
4. Fake reviews detection
Customer reviews are critical element in ecommerce sales. No matter how expensive or cheap the product is, before buying every customer looks for customer reviews. Ecommerce businesses know the crucial importance of reviews in customers' decision-making. Therefore, they implement effective ways to collect customer feedback and product reviews to help new customers purchase the right products.
However, many fraudsters or fictitious buyers tend to hamper the reputation of their competitors by putting fake reviews. These fake reviews make wrong impressions of the products of other brands. And this problem of fake reviews even bothers leading ecommerce brands like Amazon and Alibaba. So, AI stands out as the best solution.
It allows eCommerce app developers to employ ML algorithms to accurately identify fake reviews by critically analyzing some elements like unusual text patterns, formatting, wrong wording, etc. As a result, AI-powered ecommerce apps are able to detect fake reviews quickly and accurately. And let run a fair competition among sellers.
5. Inventory management
Efficient inventory management allows business owners to save huge time and cost. It assists them in optimizing the speed and performance to reduce waste by properly managing the products that are likely to sell. For this, artificial intelligence enables inventory management more efficient and smarter.
By integrating AI into the inventory management system, ecommerce apps are able to deliver faster order fulfillment, streamline inventory management operations, supply chain management, and overall efficiency.
Besides this, ecommerce business owners can get an edge over the competition by reducing time and effort in internal operations and responding quickly to customer queries. This, as a result, could contribute to delivering a better customer experience and drive more profits.
6. Sales analytics and forecasting
AI-powered ecommerce apps have better data analysis ability. AI enables ecommerce applications to efficiently collect large amounts of customer data and derive useful insights. With AI-powered sales analytics and forecasting, business owners can accurately analyze customer behavior, and purchase trends, and forecast future sales.
Not only this, they can also streamline inventory levels, find new growth opportunities, and make better marketing strategies for improving e-commerce sales. Since AI enables ecommerce apps with predictive intelligence, it assists them in reducing risk and maximizing profitability.
7. Optimizing product pricing
Timely optimization of product price is very important in the eCommerce industry. There is no certainty of the price of a product when it needs to be changed. It is because there are multiple factors working behind you that could compel you to change your product pricing such as
Competitor's activities
Festive Season
Emergence of new trends
Virality of products
Customer reactions to the product price
Hence, everyday ecommerce businesses have to work on their pricing strategy. They might have to make changes accordingly depending on several factors. It ensures the pricing is aligned with current market demand and maintains consistent sales growth amid increasing competition.
How much does it cost to build AI powered ecommerce app?
On average, the cost of developing an AI-based ecommerce mobile app can range somewhere between $40,000-$80,000. However, this is just for estimation. The final cost of integrating AI in eCommerce app development depends on multiple factors. AI is an advanced and complex technology.
It requires immense expertise and high-level programming to implement AI in mobile app development. Therefore, the best way to estimate the cost of building an AI-powered mobile app for ecommerce business would be to directly consult a dedicated ecommerce app development company.
The Bottom Line
Artificial intelligence is a powerful technology. It empowers mobile applications with innovative capabilities to perform high-level operations. By integrating AI into ecommerce applications, business owners get additional strength to leverage modern technology for improving sales growth.
Today, when competition is skyrocketing and customer behavior is becoming more dynamic, AI enables ecommerce mobile apps to streamline existing ecosystems and deliver better online shopping experience. This, as a result, leads to increased business growth.
However, since integrating AI in mobile apps is a complex process, you should try to implement AI in your eCommerce app under the supervision of an expert mobile app development company. And RipenApps is one such company that holds years of proven experience in building AI-powered mobile app solutions for ecommerce businesses. Connect with us to discuss your Project.
Contact Us