Cross-platform app development has unlocked ample opportunities for businesses with its robust single-code line feature. Furthermore, building applications using cross-platform technology is more cost-effective for businesses.
But what is the future of cross-platform app development? Will it be sustainable, or will some other technology take over the trend? We will cover all the dynamics associated with it to reach our ultimate conclusion.
Top Cross-Platform Frameworks With Market Stats
By 2033, the cross-platform app development market will cross $546.7 billion. It showcases how popular the technology will be in the coming future.
Moving ahead, Before heading to the cross-platform app development part, we will briefly discuss some of the top cross-platform frameworks and how they are performing in the market. Flutter, React Native, Ionic, and Xamrin are the top ones on the list.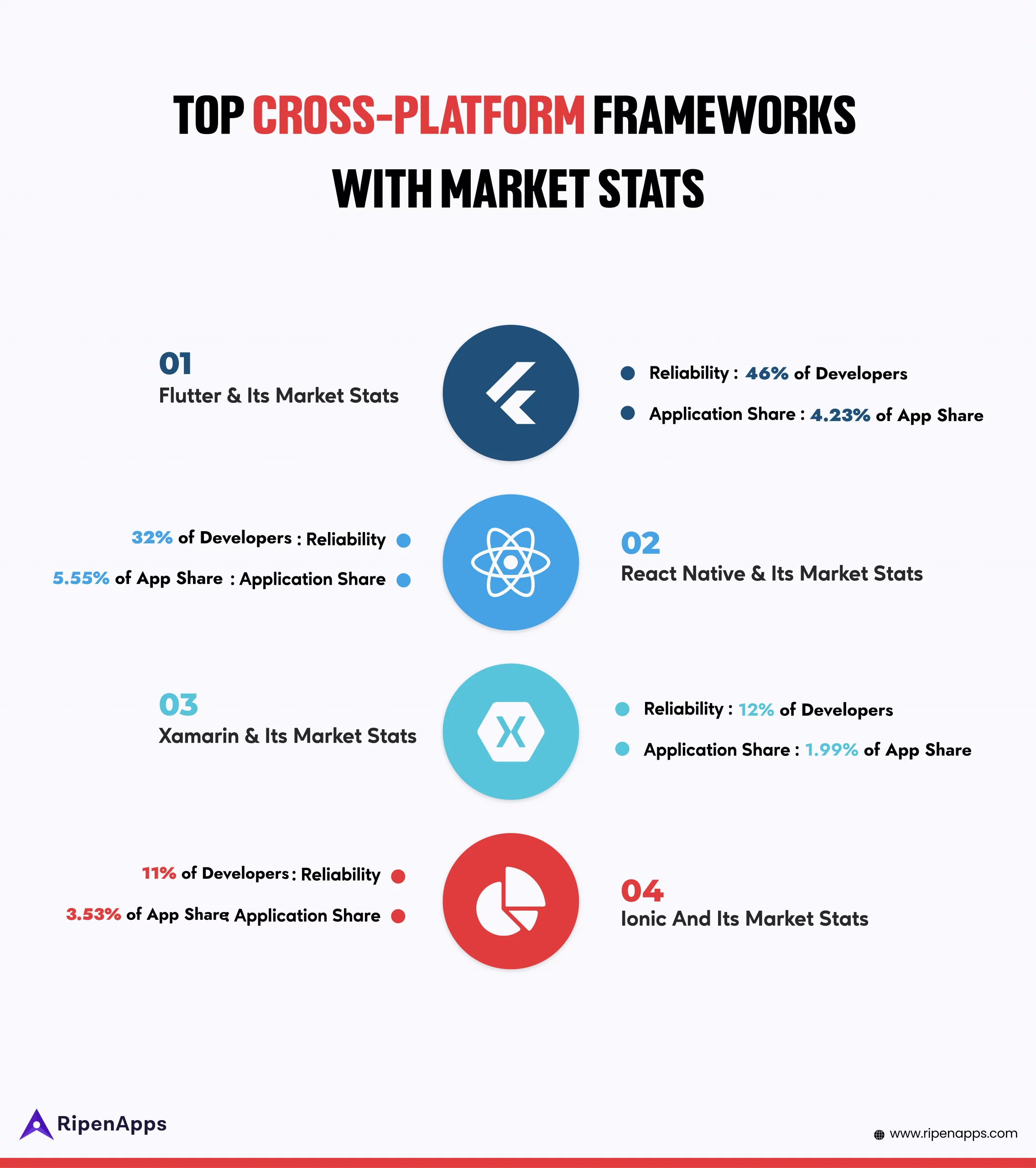 Flutter And Its Market Stats
Flutter is an open-source UI (User Interface) software development toolkit created by Google. It is used to build natively compiled applications for mobile, web, and desktop from a single codebase. Flutter is known for its fast development, expressive and flexible UI, and ability to create high-quality, visually appealing applications.
Nearly 46% of developers worldwide rely on Flutter to build applications, which is evidence of why Flutter is leading the market.
Also, 4.23% of applications available are built using Flutter on App stores.
12.62% of new applications use Flutter.
React Native And Its Market Stats
React Native is an open-source framework for building cross-platform mobile applications. It was developed by Facebook and is now maintained by a community of developers and organizations. React Native allows developers to create mobile apps for multiple platforms, such as iOS, Android, and even some web platforms, using a single codebase.
Nearly 32% of developers worldwide rely on React Native to build applications. The percentage has dropped since 2019 when 42% were using React Native. We can see that developers have heavily shifted to Flutter.
Also, 5.55% of applications available are built using React Native.
0.97% of new applications use React Native, which is quite low if we compare it with Flutter.
Also Read: React Native vs Flutter
Xamarin And Its Market Stats
Xamarin is a cross-platform app development framework that allows developers to create native mobile applications for iOS, Android, and Windows using a single codebase and the C# programming language. Xamarin was initially an independent company, but it was acquired by Microsoft in 2016, and its tools are now integrated into Microsoft's development ecosystem.
Nearly 12% of developers worldwide rely on Xamarin to build applications. The number has reduced to more than half as compared to 2019.
Also, 1.99% of applications available are built using Xamrin.
1.94% of new applications use Xamarin.
Ionic And Its Market Stats
Ionic is an open-source framework for building cross-platform mobile and web applications using web technologies such as HTML, CSS, and JavaScript. It provides a set of tools, libraries, and components that enable developers to create high-quality, native-like user experiences for iOS, Android, and the web from a single codebase.
Nearly 11% of developers worldwide rely on Ionic to build applications.
Also, 3.53% of applications available are built using Ionic.
0.97% of new applications use Ionic.
Top Apps Using Cross-Platform Technology
Now that we have analyzed the top cross-platform frameworks and the market statistics associated with them, it is time to analyze the top apps. We will analyze these top apps through the categorization of the frameworks discussed in the previous section. This, in turn, will lead us to conclude the cross-platform app development future.
Top Apps Using Flutter
BMW: BMW adopted Flutter to adopt a more flexible, domain-based organizational structure. The challenge of building applications for multiple platforms in diverse countries was solved since Flutter used a single codebase, easing the overall work of developers and making the solution cost-effective.
Google Pay: With Flutter, Google Pay was able to adopt a 70% reduction in engineering effort and a 35% reduction in lines of code, making it a chartbuster app for payments.
Dream 11: Flutter is supporting 50 million fantasy sports users in India. Through Flutter, Dream 11 built a new multiplatform solution to more quickly deliver an innovative user experience
eBay: The eCommerce giant was able to achieve 98.3% shared code and 2x faster development compared to native solutions.
Tencent: One of the largest Chinese organizations, Tencent achieved 80% increased efficiency in debugging, 90% multi-platform code, and a 33% reduction in development efforts using Flutter.
Want to build an app like Dream 11?
Read our exclusive guide on Dream 11 like app development
Top Apps Using React Native
Messenger Desktop: The application leveraged React Native technology and migrated from Electron to React Native flawlessly in a very short span of time. The entire application was built on React Native.
Microsoft Office: 345 million people are currently using Microsoft Office, which is built completely on React Native technology.
Discord: React Native helped Discord achieve a native performance holding a 4.8% star rating, and 99% of the app is now crash-free.
Flipkart: The application is the largest eCommerce player in India, having 400 million weekly visits and 100 million+ downloads. Through React Native, the company fixed delayed experiments and bug fixes, resulting in decreased development efforts.
Also Read: Why 42% of Web Developers Choose ReactJS for Web Development in 2024.
Top Apps using Ionic
Sworkit: The top-featured fitness app enhanced user experience for millions of users through the single codebase and top-notch design flexibility of Ionic.
Instantpot: America's #1 pressure cooker seller, secured positive ratings after leveraging Ionic technology. Today, the community has over 1 million active users.
Shipt: A growing leader in grocery, Shipt aligned with the user requirements using Ionic technology. The team is able to keep their app updated effectively.
Top Apps using Xamarin
Spotify: One of the top music streaming apps Spotify is accessible in 183 countries, and 30% of Americans use Spotify every month. The app is built using the cross-platform app development framework Xamarin.
The World Bank: World Bank mobile apps use Xamarin technology to achieve cross-platform flexibility. The organization has leveraged a single base code line feature and deployed smooth apps on the iPhone and Android platforms.
Future of Cross-Platform App Development
We have researched enough dynamics to come up with the main question of the future of cross-platform app development. As you can see, the majority of brands have moved to cross-platform technology to leverage its benefits.
Flutter has been taking over the market, with React Native coming later. In the near future, it is no doubt true that the majority of the apps will use cross-platform tech stacks. It is because the technology delivers a native experience, keeping the cost-effective, especially for startups. If you want to build a leading cross-platform app, we suggest you hire mobile app developers for your business. Connect with us to discuss your Project.
Contact Us