Cricket is a religion, and the World Cup is a month-long festivity for the cricket-crazy fans in the country. As you all know, the fever of the ICC Cricket 2023 World Cup Match started months prior and will continue until the end of this year. These matches will be played for nearly 50 days in India. We all can clearly see the excitement and curiosity for the ICC World Cup in the fans.
Talking about the craze, you will see the craze of the World Cup Match in every street around the globe. In many cases, cricket lovers who do not want to miss a single spot of the 2023 World Cup live match unknowingly go to various websites where they show more ads than live matches. There are also many cricket fans who are busy at their workplaces and are unable to watch the World Cup while sitting relaxed on their home couches. But each of you fans would not miss a single update on the ICC Cricket World Cup 2023 live scores.
Thanks to technology, this has effectively made life simpler for sports lovers. Regardless of whether the client is a lifelong fan of soccer or an extremist enthusiast of cricket, sports apps make users adjust to what is happening in the game.
There are some ways in which you can enjoy and stay updated with 2023 World Cup matches. "Cricbuzz" is on top of them.
Cricbuzz! "A Familiar Name Among All Cricket Lovers"
CricBuzz was created by Pankaj Chhaparwal and Pravin Hegde in 2004. By 2010, CricBuzz had started developing a mobile app for live cricket news and scores.
In 2014, Cricbuzz, an app acquired by Times of India Group's digital arm, Times Internet, became one of the top sports apps globally.
In January 2015, Times Internet-owned GoCricket was merged into Cricbuzz. GoCricket's website was redirected to Cricbuzz, and the mobile app of GoCricket was also merged with that of Cricbuzz.
Last 2019, ICC World Cup Statistics
In 2019 world cup, 1.6 billion people joined for live coverage, a 38% increase over the 2015 edition
A unique broadcast audience of 706 million viewers. Cricbuzz was ahead of the major sports news giants.
Users spent 560 million minutes on Cricbuzz or 41% of all time spent on cricket websites.
348 million page views were recorded on Cricbuzz, compared to 236 million on ESPNCricinfo and 158 million on StarSports.
What Does The Research Say About Cricbuzz?
The Cricbuzz sports app was the top sports app in 2022 by worldwide downloads, with close to more than 30 million installs.
First-time installs of the Cricbuzz app grew by 17% year-over-year out of which 63% were from India.
According to the latest report, Cricbuzz has again secured the first position with over 10 million installs. 93% of those installs were from India.
Revenue of the app has surpassed 78 lakh USD
Cricbuzz, in April 2019, was ranked 259 globally by Alexa Internet and ranked 16 in India and Bangladesh.
How To Build An App Like Cricbuzz?
You must be amazed by the growing stats of Cricbuzz, whether it is about app downloads, app reach, average usage time, revenue, popularity, or user base. This is the app, which could give huge business to any business owner, and app development like Cricbuzz could be a source of huge revenue for any business owner.
For developing an App like Cricbuzz, there are some must-have features that should be included in the app by mobile app developers, i.e.
Looking for an exclusive guide for the sports industry?

Read our Sports App Development Guide
Must-Have Features for Developing a Sports App Like Cricbuzz
While building an app like Cricbuzz, there are certain features that are important to embed since they are loved by the audience. Here are these features:
Live Score, Updates, Stats, and News
Your sports app user goes to your app since they need to know the latest scores, stats, and news. What's more, they need to be updated on the principal features in a hurry. Thus, this is one of the core features that make your sports apps like Cricbuzz.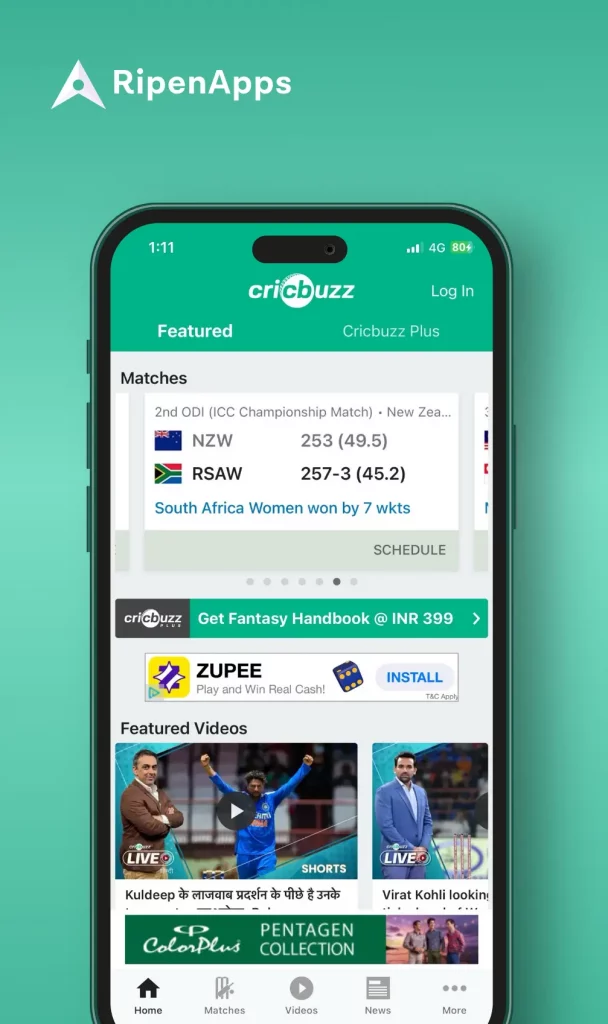 With this feature, you can give convenience to your users and help sports fans become familiar with another game without lifting a finger, saving them time. For Sports app development like Cricbuzz, this is one of the fundamental features for your viewers or app users.
Useful Notifications Of Upcoming Events
The feature "Push Notification" is one of the center features for the up and coming occasions identified with sports matches for the up and coming occasions of matches. The key point is to comprehend the intensity of push notifications. However, you don't have to battle for the consideration of your app users. Because of this, this is one of the connecting features from which you can achieve your users by giving helpful services in a hurry.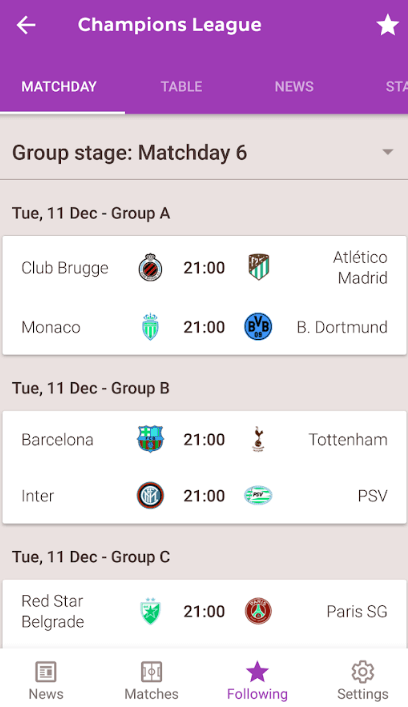 Being a sports tech startup, in the event that you are searching for a technology accomplice, who can assist you with providing solutions where sports aficionados or fans can appreciate the game and keep updated themselves, you can hire a full-stack app developer from the best mobile app development company.
On-Demand Sports Video and Match's Highlights
So, to expand your user's engagement, it is imperative to offer on-demand sports videos in the demand of your users or viewers. However, it is essential to improve the quality of the broadcast each time your user watches. Moreover, it is additionally imperative to furnish solutions alongside those features to your users, which give content faster and simpler broadcast quality.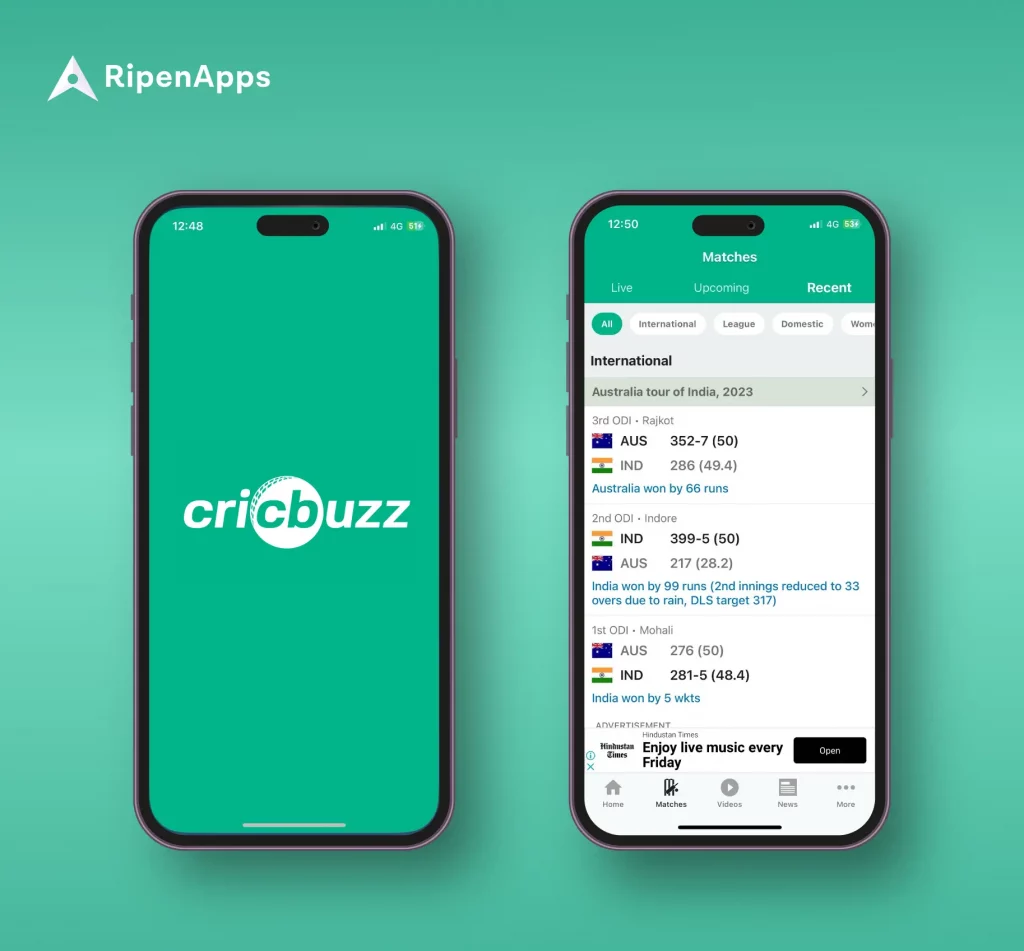 Amid sports app development, all you simply need to give solutions as far as features, which give them simple access to various games. Regardless of whether it is tied in with giving live streaming or a couple of significant features of matches, it is imperative to think about this primary element to check the games on any device and whenever or anywhere.
Appointments, Checking for Seat Availability and Social Media Integrations
Discussing other significant features to integrate to develop the best sports apps like Cricbuzz, OneFootball & ESPN at that point you can give an assortment of solutions from which they can make the most out of sports update apps like ESPN, FIFA, or One football. Your app users can without much stretch book tickets for games legitimately from the application. Additionally, they can check the seat accessibility directly from the sports app.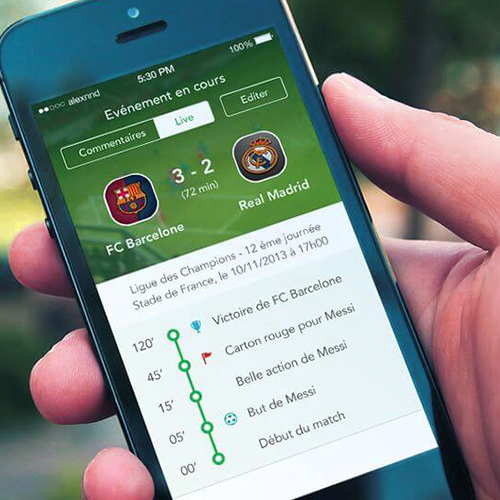 Besides, the user can check the availability of seats for up-and-coming matches inside the game app. Furthermore, users can likewise effectively share what they feel like on various social media platforms with their friends.
Want to explore the cost factor?

Here is How Much Does It Cost To Build A Fantasy Sports App ?
Bottom Lines
Today, sports apps have made a big impact on the sports industry. So, if you have a sports app idea, that is worth sharing, then you can cross-verify it with us. We're having a team of sports app developers, who can help you to make the right decision.
In case, if you still have any query or confusion regarding how much does it cost to create sports apps like Cricbuzz, how long does it take to create an app like Cricbuzz, mobile app development estimate or sports app developers cost, sports score apps timeline, then you can get in touch with us through our contact us at [email protected]. We are a leading sports app development company globally. Connect with us to discuss your Project.
Contact Us