It is easy to forget "Game of Thrones," but it is quite difficult to turn around your eyes from the fieriest battle of  being best between iOS & Android. They are in constant competition, and there is never a shortage of gloom, whether it's Apple dropping a truth bomb about Android's flip-a-switch privacy during its WWDC '19 keynote, or Google showing off the competency of its integrated AI smarts at its developer event.Now, the hot topic of this year is iOS 13 VS Android Q.
Last year we had a comparative debate on Android 9 Pie Vs. iOS 12 and here again after released of Android Q or iOS 13, we are on that route.
Well, Android Q is in its four beta, as many of us are using it for months and iOS 13's beta is just launched in its WWDC 2019 and only available for developers now, with a public beta coming in July.
This means that we are basing this comparison on the features Apple presented at its developer's conference and the one we have seen from Google so far.
Battle of iOS 13 VS Android Q  Begin
With both iOS 13 and Android Q now in beta, here is our take on where things stand with the two mobiles operating systems.
Minding Privacy
In tech land, privacy has been the unmistakable subject throughout the previous couple of years, and Apple and Google promise privacy enhancements in their next mobile operating system.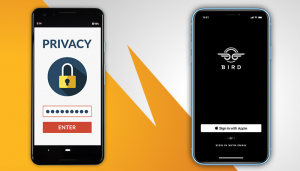 Boss among Apple's new privacy features is Sign In With Apple, a catch for utilizing an Apple ID to sign in to iOS apps and websites. It contends with similar tools from Google and Facebook, which let you use your Google or Facebook accounts to sign in to various websites and apps.
Where, Google's Android Q, then again, plays catch-up with Apple on privacy. The software update will concentrate on giving individuals more control over how their location is shared. At the point when an app asks permission to approach your location data,
Google will ask whether you need to share your area regularly, just while the app is being used or never. (Before, the main alternatives were to share data regularly or never.)
Well, comparatively Apple has more experience about applying dark themes whereas, Google has already launched in Android P and going to pass it on Android Q as well but experience matters. In Apple, it first introduced a dark theme in MacOS Mojave back in the past year, and this time around with iOS 13, they plan it on mobile as well.
Result: iOS 13 won by 1-0
Dark Modes for All
Dark modes are coming to both iOS and Android
Numerous apps are planned with white backgrounds, and in certain conditions, this can get tedious for the eyes. Apple phones and Android devices will both get dark modes, which can be flipped on by tapping on an accessible route. The two renditions supplant white backgrounds with dark colors, extending from dim to dark, contingent upon how an app's interface is layered.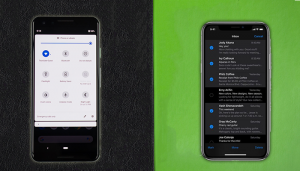 So what is the point? Dark mode can be useful for various reasons: It ought to lessen battery utilization because fewer pixels should be lit up, and it will make screens simpler on the eyes when perusing in obscurity.
Well, if we talk about comparison, In contrast to Google, Apple's fundamental business isn't driven by focused ads which depend on user' data. Instead, it's emphasis has stayed on apps, services, and hardware. Thus, even after Google guarantees that Android Q would give the user more noteworthy control on what gets shared, it gets hard to process it short pessimism.
Result: iOS 13 won by 2-0
Mapping & Navigating
If you need to get from here to there, Apple Maps is up to the assignment. Also, with iOS 13, Apple is reconstructing Maps to incorporate better street and passerby data and increasingly exact locations. Apple's up and coming Maps app will likewise examine the device that gives you a chance to see a 3D perspective on an area.
Google Maps has had these features for some time, in any case, including its very own 3D mode called Street View. In any case, Google has significantly more, always refreshing its Maps app to make it much progressively valuable getting you puts, to some degree by collapsing in the helpful bits of its other guide application, Waze. But, Maps is additionally valuable after you arrive. For instance, its Explore tab gives you a chance to discover an apparently perpetual rundown of spots to eat and activities in your general vicinity.
Result: Android Q won by 1-2
Siri VS Google Voice Assistant
Apple may have been first out of the voice assistant gate in 2011 with Siri. However, Google Assistant runs hovers around it, and throughout the years, Apple has done little to close the gap. In iOS 13, Siri gets another robot voice and grabs a couple of traps all over, such as scanning for WatchOS apps on the Apple Watch and having the option to peruse and react to approaching messages through AirPods and stream radio stations. iOS 13 will likewise come preloaded with Siri Shortcuts.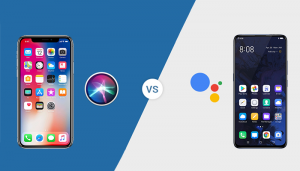 However, Siri doesn't perform so well as Google Assistant at perceiving and understanding various voices and directions. It's this essential usefulness that is at the core of the issue. However, Google right hand is likewise incorporated firmly into all that you do on your phone, and can proactively make suggestions by taking a gander at your schedule, and Gmail represents up and coming reservations and arrangements.
Google has put its colleague on each Android phones, in the $49 Google Home Mini and $299 Google Home Max, and into vehicles as Assistant Driving Mode, and at its ongoing Google I/O developers conference, the organization flaunted a scope of Google Assistant personalization features.
Siri is likewise generally accessible – taking a shot at iOS, MacOS and WatchOS devices, and the HomePod. Siri alternate ways can make the customized, personalized task that Apple's keen associate can perform for you. But, Siri is as yet disappointing, for the most part, because the database it draws from is constrained, while Google guidelines search.
Although Siri is the first launch in Voice assistant market, Google assistant gives more precise way to perform the task which is incorporated in Android Q.
Result: Android Q won by 2-2
Capturing, Editing & Sharing Pictures
Google Photos offers nearly all that you'd need in a photograph service. It consolidates easy efforts and photographs imparting to incredible, simple to-utilize altering devices to make a fundamental photography tool for an Android phone. Night Site mode on Pixel phones almost without anyone else is sufficient to tip the scale to Android. Since its from Google, you can look for individuals, spots, and things to see every one of the pictures Google Photos has doled out the tag to. What's more, the principal 15GB of online stockpiling is free.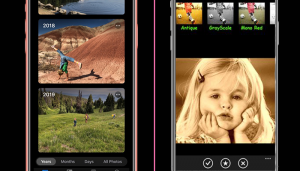 Apple Photos accompanies a rich of editing tools, and in iOS 13, the app will increase considerably more, including the capacity to change the force of portrait lighting with a slider. Apple Photos exceeds expectations at perceiving faces, objects, and scenes to enable you to deal with your pictures. Shockingly, a significant part of the apps capacity is accessible just to Apple's clients. Also, the principal 5GB of iCloud storage is free.
Result: Android Q won by 3-2
Messaging:
Apple Messages, Google's Duo & Hangouts
Apple puts its messaging focus around FaceTime & Messages, which are difficult to beat for video and text chat. Communications are encrypted end to end. The informing handoff among iOS and MacOS devices is consistent. Also, you can further modify Memoji symbols.
Google's messaging approach on Android is, err, more varied, with Duo and Hangouts for voice and video calls, Google Voice for dedicated voice calls, Hangouts Meet and Chat for business communication, and Messages for text messaging. You can utilize the Hangouts website to keep informing on your Mac and Windows device, and you can stay aware of your Messages writings using the web rendition of the app. The web version is helpful; however, not impeccable, and it, in some cases, appears to overlook it's associated with the mobile version of the services.
Results: iOS 13 won by 3-3.
Swipey Keyboards
If you swipe rather than sort, iOS 13 picking up a swipable console is a major – yet very tardy – deal. Google has its swipable console, Gboard, and many other Android phones actualize different apps like SwiftKey, into their default virtual consoles.
There is a ton to like about Gboard, particularly, past its swiping capacities. I like having the option to apply various topics, utilize multiple languages, and effectively embed GIFs. Apple's demo of QuickPath Typing, the swiping some portion of the iOS 13 console, looks great also, yet it's so a long ways behind the challenge, it's challenging to consider this to be anything other than long past due get up to speed.
Results: Both Won
Well, iOS 13 & Android Q both are market pioneers in their way, both the operating systems are coming with most awaited and mesmerizing features. Now its time for mobile app development companies to decide, how they are going to launch the mobile apps for the relating OS.
RipenApps is a firm that adopts every transformation as a gift full of flexibility and reliability. For more query regarding these OS updates in app development, drop a question at [email protected] Connect with us to discuss your Project.
Contact Us