What's going on? FaceApp is going on.
If you've been on Facebook, Twitter, Instagram, WhatsApp Stories or any other internet service that lets you share photos, you may have seen the name FaceApp, or at least saw some images of people morphed into younger and older versions of themselves.
We knew the fact that time may come for us all, but it came with as high pace over the last few days- we never knew that.
An Idea that proves "time flies so quickly" has got a buzz in the name of FaceApp.
Origin of FaceApp
FaceApp was founded in 2017 by Wireless Lab, a company based in St Petersburg, Russia. That year, the app was widely criticized for "racist" selfie filters; an option labelled as "hot" seemingly lightened users' skin tones.
What's Behind This Hype Of FaceApp?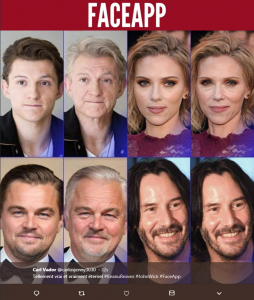 The Internet has a tendency to come on strong and take over our social feeds, seemingly out of nowhere. The current meme dominating just about every platform involves an app called FaceApp, which uses artificial intelligence to apply surprisingly convincing filters to pictures of people. The app recently introduced a filter that shows what you could look like when you're old.
Various Features of FaceApp That Is Attracting Users
Many amazing features are there in FaceApp that attracts users towards downloading it.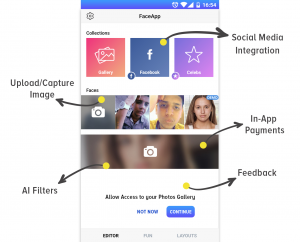 Capture &Upload Image
Basic & first feature of FaceApp is capturing & uploading images from the gallery.
Here you will notice that FaceApp is presently facing backlash from users because of not asking for permission before uploading pictures. So, before developing an app like FaceApp.
AI-based Filters
As we said before, AI is the base of FaceApp as the various filters lie on the AI. These filters are behind morphing your pictures to the old or young Image.
Social Media Integration
Like other image altering apps, FaceApp comes with the feature of sharing images on various social media platforms for like, comment & share.
In-App Payment
This App comes with a lot of free features, but there is an amount to access more premium features.
Feedback & Review
One can share their review within the app about the working of the app.
Wow, there are amazing features in FaceApp!!!
The results are somewhat convincing and rather entertaining. But, as with all app-based fun, it comes to a cost involving your info, privacy, and security.
App development like FaceApp creates huge buzz as well as downloads because of its brilliantly concepted idea, but when it comes to privacy, secrecy, and cybersecurity- these kinds of brilliant apps may come under some security breaches and starts losing its coverage from the market.
What are Loosing Pointers where Buzz-Creating App Like FaceApp Is Lagging?
App development like FaceApp can create a lot of engagement as well as generates more revenue, but it can lose the market in terms of privacy & secrecy of user data.
Being an app developer or an individual who wants to see their brilliant app idea in reality and wants to make it a huge success then there are some essential factors that you should have to take care of while developing an app like FaceApp.
User's Data Security
User's data security is the main concern on which every mobile app development company should put an eye. If your user is not sure about their privacy or secrecy of their data, they will surely uninstall your app without thinking twice.
As in FaceApp- there is the concern of the user's data privacy, it stated as- the users are uploading their images for making it morph on the server of FaceApp, the community of FaceApp has the right to use their images according to their need. This is the main concern why people started uninstalling FaceApp.
While developing a Photo editing app like FaceApp- you must make sure your users about privacy and secrecy of their data. You must integrate more security plug-ins that make users contented while their data is safe or secure.
Third-Party Integration
The FaceApp terms and conditions do state that they can "use, reproduce, modify, adapt, publish, translate, create derivative works from, distribute, publicly perform and display" your content and name without compensation to you with third-party servers.
These kinds of practice make users threatened about their data or secrecy. These integrations let your app collect a vast amount of data but can make your user abandon.
While developing an app like FaceApp- make sure you are performing Third-party integration for safety purposes, not for harassing user's privacy.
Prevent Unsafe Important Data Transmission
Another issue raised by FaceApp users is that the iOS app appears to be overriding settings if a user had denied access to their camera roll, after people reported they could still select & upload a photo, despite the app not having permission to access their photo.
While in that case, to prevent these kinds of unwanted stuff, as a mobile app developer, it is your responsibility to ensure that relevant information on your application is secured in transit. You should use a highly secure and end-to-end encryption process, like TLS or SSL encryption, when users send essential information. In the meantime, you should not attempt to override the built-in platform trust manager. This may make hackers execute man-in-the-middle attacks using fake SSL certificates.
Adopt the Approach of Least Privilege
In FaceApp, it not ask user's permission before uploading their photos, and that is a big issue. So, make sure your FaceApp clone app Development Company has a provision set for the issue.
When you are going to develop a mobile app, ensure that it requests user permissions that are mainly required for the core functioning of the mobile app. It should not have your users get confused; "why does this photo editing mobile app require access to my text messages?" By having your app require relevant permissions, you should be sure about a parameter of user data safety and security. In the meantime, you reduce the possibility of being put down by informed users who tend to avoid applications that request pointless permissions.
In-App Sensitive Details
A recent update from US state that FaceApp is using user's sensitive data like Bank account details, OTPs, passwords, or other sensitive credentials. Also, upload it on their server, which ruining the brand image of FaceApp and making users tensed about their sensitive data.
While developing an app like FaceApp- you must give assurance to your users that you are not hampering their sensitive data at any cost and users are free to upload their bank details for making in-app purchases without any worry.
Protecting Moral Values
While the issue above was the technical issues that every mobile app developer or app development company should take care while developing a photo editing app like FaceApp, now let's come over morality-
Most of the people are giving negative reviews, as at a young age, people are loving to seeing themselves getting older, which is impacting their moral values.
In terms of entertaining, using these kinds of apps, we are somewhere losing our interest to stay younger or want to see ourselves as an older one.
To consult about how to make viral this kind of such big-hit ideas, you are welcome to ask us at [email protected]