On 6th June, Tim Cook kicked off Apple's WWDC 2022 event. The event delivered innovative announcements with iOS 16, iPad OS 16, Watch OS 9, Mac OS Ventura, and Macbook air & pro with m2 chips.
Here is everything announced at the Apple's WWDC June 2022. 
Lockscreen Customizations for Aesthetic Looks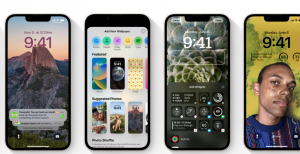 Apple is opening doors toward customizations. With the new Lockscreen customization options, users can set different color styles and fonts, add widgets, and see live activities directly on their lock screens. All users have to do is touch and hold their screens on the lock screen and select from a wide range of customization options.
Advanced Focus Mode for Better Productivity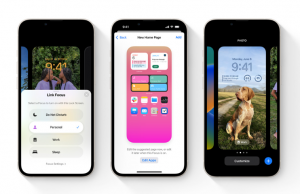 The focus mode is more intelligent than before. The mode can filter the distracting contents in multiple apps like calendars and email. The same is visible on the lock screen, where users won't see the notification from irrelevant apps and achieve maximum productivity.
An Updated Messaging App with More Control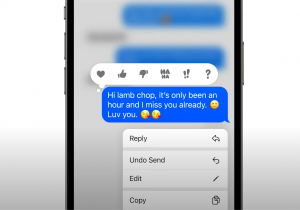 Apple has been listening to its customers and is set to deliver their demands in the messaging Apple's WWDC June 2022. Now users will be able to edit and unsend the sent messages in messaging apps just like they can in apps like Discord and Linkedin. They can also mark a message as unread providing more control over their messages. Further, users can share their content with friends in the messaging app, and they all can directly enjoy the content together.
Apple Wallet at its Best to Replace Physical Wallet and Terminal Merchants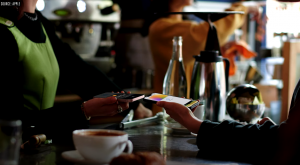 Apple has a goal to replace the physical wallets of users with digital wallets. Sending and adding money to the Apple wallet has made it easy because users can share wallets with people through Share keys. Once the wallet is shared, the shared users can interact with the wallet directly with just one tap. For non-apple users, apple is exploring IETF standards. Finally, in Apple's WWDC June 2022, Apple is also replacing traditional merchants for businesses. Businesses and customers can perform a transaction with tap-to-pay features on their iPhones. 
Pay Later
Apple is set to deliver the option of Pay later, where customers can split the bill and pay in EMI forms to the merchants without any interest rates. Businesses will have the required information from the digital wallets of their customers to track the split bill paid in installments.
iOS 16 Brings Family and Friends Closer with Top-notch Security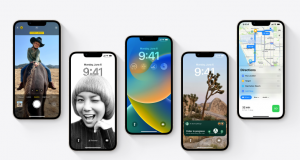 iOS 16 is set to bring astonishing features. 
Maps
Apple maps will store previous routes that users have used and provide the cost of the journey from one place to another. 
Family Sharing
Further, Apple is concentrating heavily on smooth sharing for family and friends. Users can share their products with 5 family members at a time. Setting up a device for a child is easier than before since users just have to bring their iPhones near the child's devices and set it up. Users can share their subscription to iCloud plus with their family members. A shared library will be much more convenient soon since shared users have control of what they see and can attach an image directly to a shared image as they take pictures.
Safety Check
The safety check is another feature to implement a robust security system where users can stop sharing their location, reset privacy permission and protect access to the messages more efficiently. 
Home App
The home app will be efficient and reliable since users can control more accessories and can view the entire home accessories like different cameras from a single place. 
Car Play
Finally, Car play will better integrate with the car's hardware where users can easily change the car's temperature and see their iphone widgets at a glance directly in their cars.
Watch OS 9 and Health Features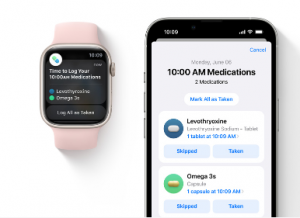 Apple never ignores its wearable devices. It brings new watch faces with the Watch OS 9, and the active apps will remain on the top for quick access. The medication app will track medication for users, getting medication notifications. Adding medicines to the list is easy since users just have to scan the medicines, and the software will store the medicine data. Users can also share health data with their selected alias.
An Upgraded m2 Chip More Powerful than m1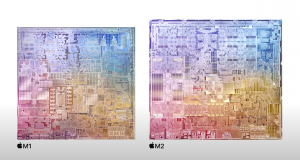 Apple's silicon M1 chip was a hit in the market. Now Apple has announced an M2 chip on 5 nanometers having 20 billion transistors. It is 25% faster than the m1 chip with a bandwidth of 100 GBS, 50% more than the M1 chip. The M2 chip has 24 GBs of unified memory with up to 18% performance cores faster than the M1 chip. And, the power consumption is reduced despite its increased performance. The GPU has 10 cores, 2 more than M1 chips delivering 25% more GPU performance.
MacBook Air M2 with Sleek Design and Performance

Design
The all-new Macbook air M2 weights just 2.7 pounds and is significantly thick at 11.3 mm, and comes with a full-screen display and a notch. The device will come in 4 colors, silver, space grey, Starline, and midnight. Apple brings MagSafe back to its laptop. The screen size is 13.6 inches with 500 nits of brightness, 25% brighter than the previous generation Air. Now, users can enjoy consuming content effectively since it comes with 1 billion colors. Communicating with friends, family, and professionals adds quality since the laptop comes with a 1080 camera 2x of the previous resolution and low light performance. The headphone jack accumulates quality to the audio, and the speakers deliver a 4 speaker stereo system with spatial audio and Dolby Atmos. 
Performance
For security, the laptop has an efficient touch id, force touch trackpad, and performance up to 20% faster in adobe photo editing and 40% high in the video editing apps like Final cut pro. With the fanless design, the laptop can still deliver 18 hours of video playback and supports fast charging with an additional 67-watt charger from Apple. 
Cost
The laptop costs 1199$ for the audience and 1099$ for the students.
MacBook Pro 13 inch with m2 chip for pro users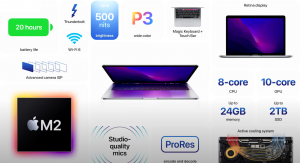 Performance
For the pro users, Apple brings an all-new m2 chip that is 40% faster at image processing. The gaming performance is 40% faster with an active cooling system and 24 GB of unified memory. The battery backup delivers 20 hours of video playback time. 
Cost
The laptop will be available at 1299$ to the audience and 1199$ to the students.
MacOS Ventura Bringing Stage Manager for Top-notch Productivity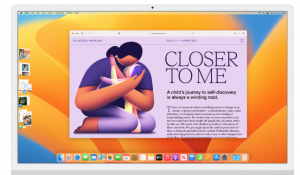 Like the iOS 16 for iPhones, Apple is bringing new features to its computers with Ventura. 
Stage Manager
The stage manager feature is at the highlight because it will make users' work convenient. The feature will arrange windows of the same apps to the left, and only the main window in which users are working will be displayed whenever users want to explore different windows from the same apps. They can cycle through apps by clicking over them. 
Spotlight
Further, the Spotlight is becoming AI rich. Users can peek into the files directly from Spotlight by pressing the space bar. And, they can search text from images directly from the Spotlight. 
Safari Browser
The Safari browser is set to become the world's best browser since users can share tabs with their alias and add, remove and work on the tabs directly from the browser. Users can create pass keys for different websites and share them with non-apple devices. 
Handoff Features in Video Calls
Handoff features will come to Macs, and users will be able to transfer their calls from iPhones or iPads to Macs by just bringing their devices closer to Macs. 
Continuity Camera
And, with the continuity camera app, users can use their iPhones as a webcam for the macs conveniently with a new Apple cam holder stand.
iPad OS 16 Brings Full-fledged Multitasking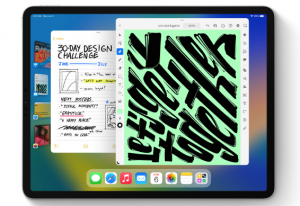 The most awaited functionality will be available on the iPads soon as announced in Apple's WWDC June 2022. The stage manager will also come to the iPad, where users can resize the app windows and overlap windows on each other, bringing a full-fledged multitasking experience to the iPad. iPads are ready to become our new computers.
The announced features will bring innovation to the Apple's devices benefiting the end users. However, Apple will also bring announcements for iOS developers to ease the process of iOS app development for them. Stay tuned with us! Connect with us to discuss your Project.
Contact Us