Apple has focused on innovating together to change people's lives with its unique integration of hardware & software and robust privacy policies. In the recent apple event announced on September 7, 2022, known as "Far Out," Apple clarified that its priority for health and safety is stronger than ever before.
They have also displayed that they will focus heavily on machine learning and artificial intelligence to provide devices that ensure users are seamless, never out of connectivity, and enjoy the magical ecosystem of apple. And that's the same the new Apple devices focus on. The health, the safety, and the greatest integration with the strongest communication.  
Apple Watch Series 8 & Newly Announced Apple Watch Ultra: a Key Highlight on the Health Features
Very few companies are extensively focusing on improving health features through smart devices. But Apple has proved that its machine learning and artificial intelligence are out of the box compared to other brands in the smartwatch world. Apple Watch has been by far the number 1 smartwatch for 7 years.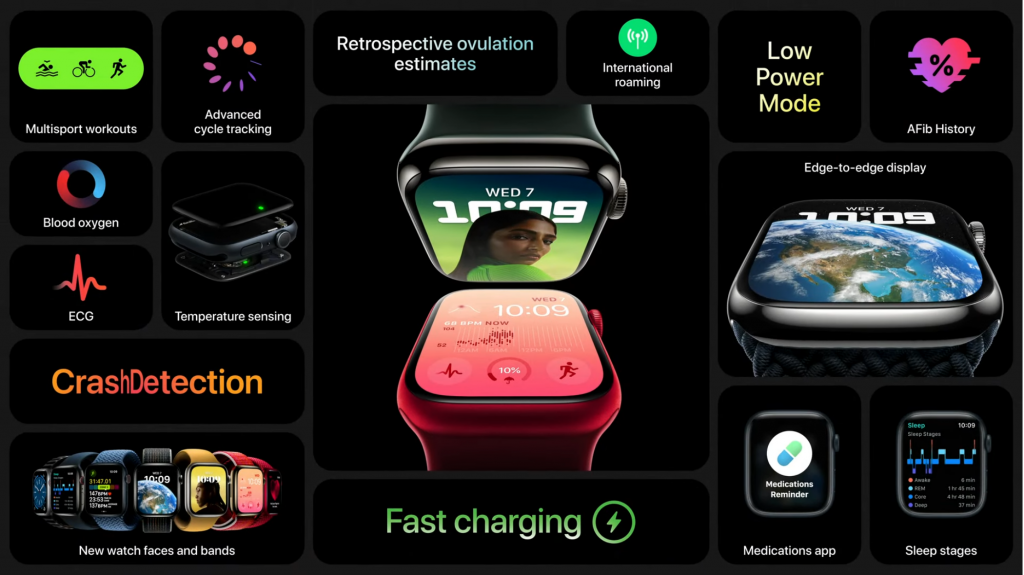 Apple Watch Series 8
Apple Watch Series 8 brings multisports workouts for the users targeting different modes for swimming, cycling, running, and more. Their advanced cycle tracking with ovulation tracking cycle brings a smart way of knowing about ovulation periods for the women's health.
The new temperature sensors on the Watch actively learn the body temperature in women with a scientifically valid process of sampling the wrist every 5 seconds avoiding manual thermometer screening.
With the new car crash detection feature, apple brings safety for their users at par since car crashes have become a major contributor to accidents and life risks. The new motion sensors perform force detection by determining the G-force in the crash, calling the emergency SOS and contacts, and sending the current location to the emergency department.
Apple Watch Ultra
The newly announced apple watch ultra is for extreme explorers, adventurers, and endurers. It is one of the most rugged watches ever built by Apple, with the biggest batter of 36 hours on a single charge and 60 hours soon with the upcoming updates.
Apple Watch Ultra brings the strongest GPS accuracy, and all its features work in extreme conditions of minus degrees and go as far as most extreme heat conditions a human can. Oceanic + app for apple Watch Ultra brings a dive planner, calculating water depth, the time you are in the water, the temperature of the water, tides, and currents, and more.
Apple Watch SE
Finally, the apple watch SE packs most of the popular features, but there is no ovulation detection apple watch SE.
For 80% of users, the apple watch is their first Watch and a perfect fit to start into the apple watch lineup.
The display is 30% larger and 20% faster, proving it one of the best budget watches from Apple.
All Apple Watches Announced Come with Watch OS 9, Bringing 
International roaming lets users stay connected when they are abroad.
AFibHistory heart rhythm shows signs of Atrial fibrillation, providing deeper insights into the user's health condition.
Compass app brings a backtrack feature, allowing users to track their waypoint on adventures so they are never lost.
Workout app with multi-sports modes for swimming, biking, and running
Advanced health app that sends notifications when it detects a sudden change in your body temperature, heart rate and more.
AIRPODS PRO2 2ND Generation with Advanced Active Noise Cancellation & More Battery
Air pods pro 2nd Gen provide a seamless experience to the users for their cinematic experience with music, videos, and communication they perform. With air pods, pro apple brings the best audio experience taking it to an even advanced level with iOS 16.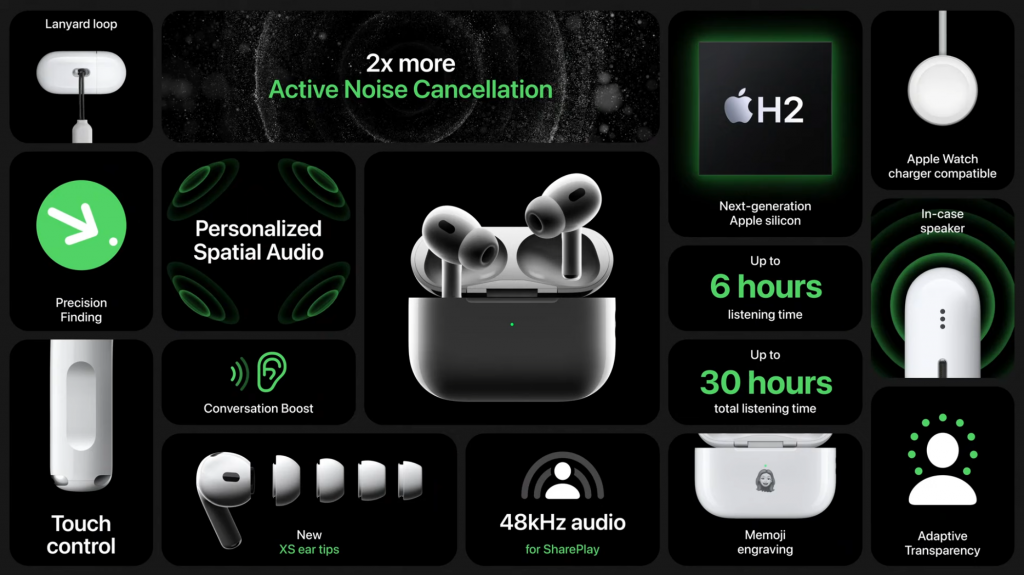 Now the air pods create personal profiles for spatial audio based on the shape and size of the ears. The active noise cancellation is 2x more powerful, storing 48000 cases from heavy construction to silent restaurants customizing the complete experience of the users.
In the air pods, pro 2nd generation users enjoy a 33% increase in the battery, enjoying their cinematic experience for a longer time.
Apple iPhone 14 Series Bringing a Plus Model, a Redesigned Notch with Pro and Beyond with Pro Max
The ultimate iPhone 14 series lineup brings a 14, 14 plus, 14 pro, and 14 pro maxes delivering a magical way to interact with smartphone powered by the fastest ever smart chip.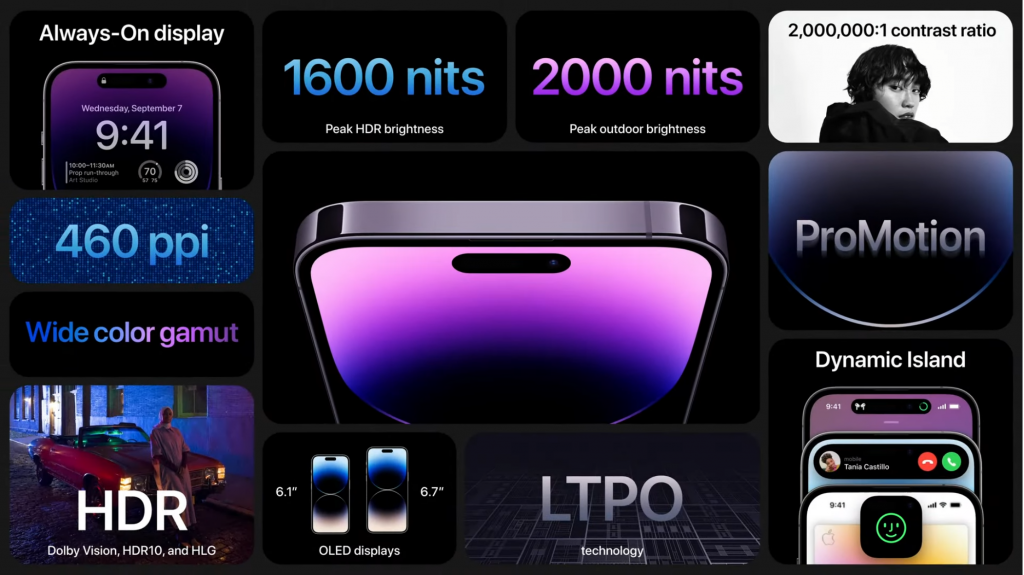 iPhone 14 and Plus 
A durable and beautiful device, iPhone 14, is coming up in fantastic 5 colors; blue, purple, starlight, midnight, and red. The ceramic shield is tougher than any glass on any smartphone, with strong water resistance.
iPhone also brings crash detection and calls for help to emergency SOS and contacts. The high quality is the best in any smartphone. The iPhone 14 Plus is 6.7 inches compared to 6.1 inches on iPhone 14, delivering users a bigger experience in whatever they do.
And the cinematic camera is a deal breaker since apple packs its powerful AI in the camera app.
iPhone Pro and Pro Max 
The iPhone 14 pro line-up brings a complete redesign to bring an interactive notch and powerhouse with an A16 bionic chip. These iPhones come in deep purple, gold, silver, and space black.
The always-on display brings a new way to interact with the phone, and the notch has become interactive, too, showing multiple instances in multiple ways to the users. iPhone pro max is made for photographers bringing the best camera in any smartphone.
Wrapping up- has Apple Went Really FAROUT with Sept 7 2022 Event?
Undoubtedly, Apple has gone FAROUT with their Sept 2022 event. They have delivered exceptionally well in improving the health of their users. The crash detection, ovulating tracking, Ocean + app, advanced health care notification, emergency SOS and more displays, Apple is working hard enough to bring futuristic technologies. An interactive notch design showcases how unique and perfect Apple integrates everything.
We are looking forward to such apple events and seeing how far this tech giant contributes further to improving people's lives. Connect with us to discuss your Project.
Contact Us