20 Million people watched the recent Apple event 2023, Wonderlust, live with great anticipation. With time, Apple has become one of the greatest innovating companies introducing future proof features.
In the recent event they unveiled the latest iPhone series, apple watch 9 series, Apple watch ultra 2 and showcased how hard the company is trying to go completely environment friendly by 2030. Let us dig into the Apple event 2023 and uncover all the announcements Apple made in details.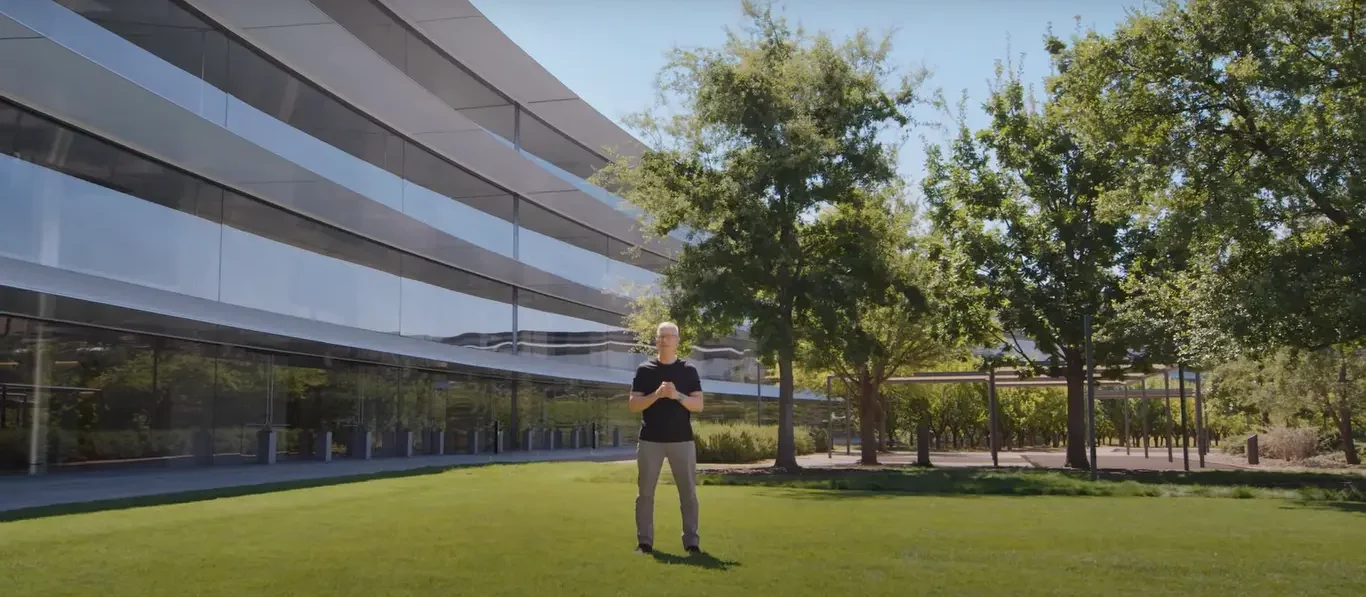 iPhone 15 Series- 15, Plus, Pro and Pro Max
In the Last year's Far out event, Apple introduced dynamic island which has been a hit and the same has been introduced to all the devices in the Iphone 15 series. The iPhone 15 and 15 plus features a brighter 2000 nits of peak brightness display with the screen size of 6.1 inch and 6.7 inch respectively. They come in 5 stunning colors to choose from.
Advanced Camera System Across the Lineup
Also, the advancement in camera system is one of the major highlights in the iPhone 15 series where a 48 MP camera in 15 and 15 plus delivers double resolution pictures keeping the size of images shareable. A16 chip in iPhone 15 and 15 plus, and A17 pro chip in 15 pro and pro max opens new doors for camera processing capabilities. Also the gaming on 15 pro and pro max can give tough competition to the consoles level gaming. Definitely the chip is so powerful that it can beat even the highest end computers.
Additionally, the pro and pro max features titanium design which is incredibly strong and much lighter delivering the thinnest screen to body ratio.
Focus on Emergency Satellite Assistance
Further, the company has launched the  emergency SOS satellite to more countries. And, new features like Roadside assistance will further complement the emergency satellite services. Though it is only available in the USA for now. In case, you want to embed advance apple features in your application, it is essential to hire dedicated app developers having expertise in Apple's development ecosystem.
Here are the countries that support emergency SOS.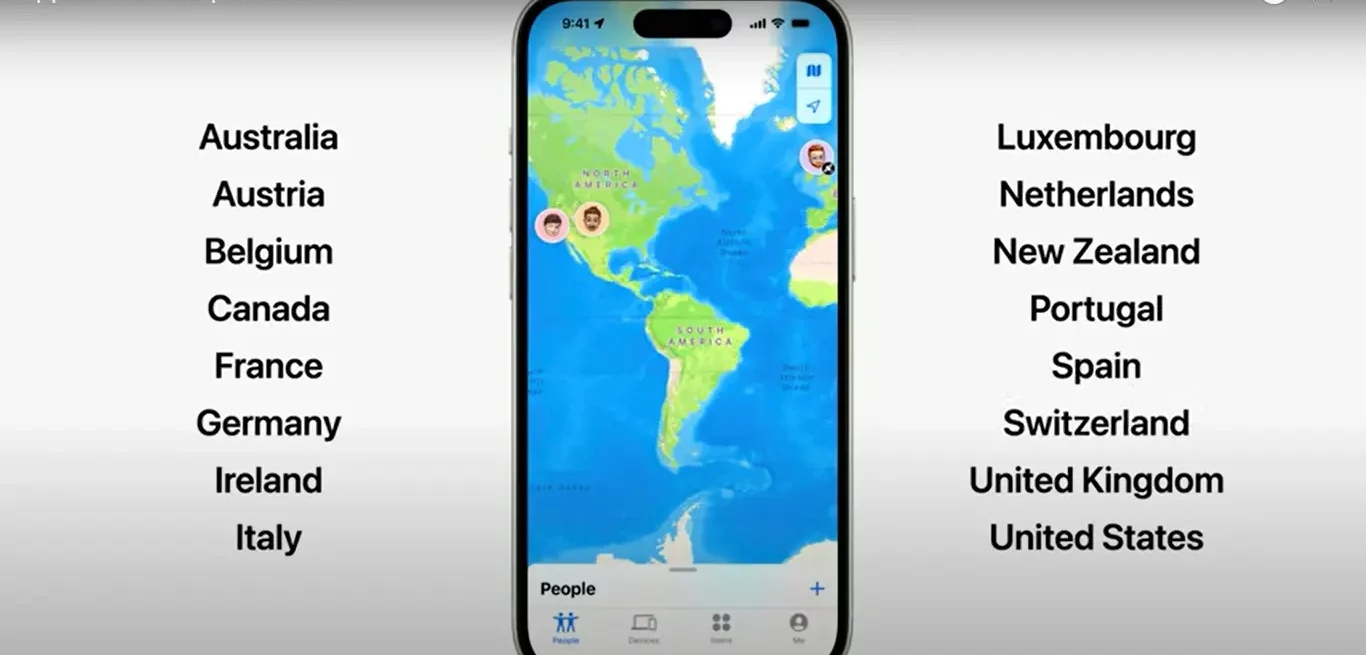 C type across the iPhone 15 Lineup
Finally, not to forget, all the iPhone 15 series devices feature the c-type charging. Means, you can carry one charger to charge your mac, iPad, and airpods. This is something that all the tech fans were demanding from Apple and they did it. To support the high end images, Apple has also introduced the iCloud + plan of 6 and 12 TB.
Pricing of the iPhone 15 Series
iPhone 15 price starts from $599
iPhone 15 + price starts from $699
iPhone 15 pro starts from $799
iPhone 15 pro max starts from $999
iPhone 15 and 15 Plus Features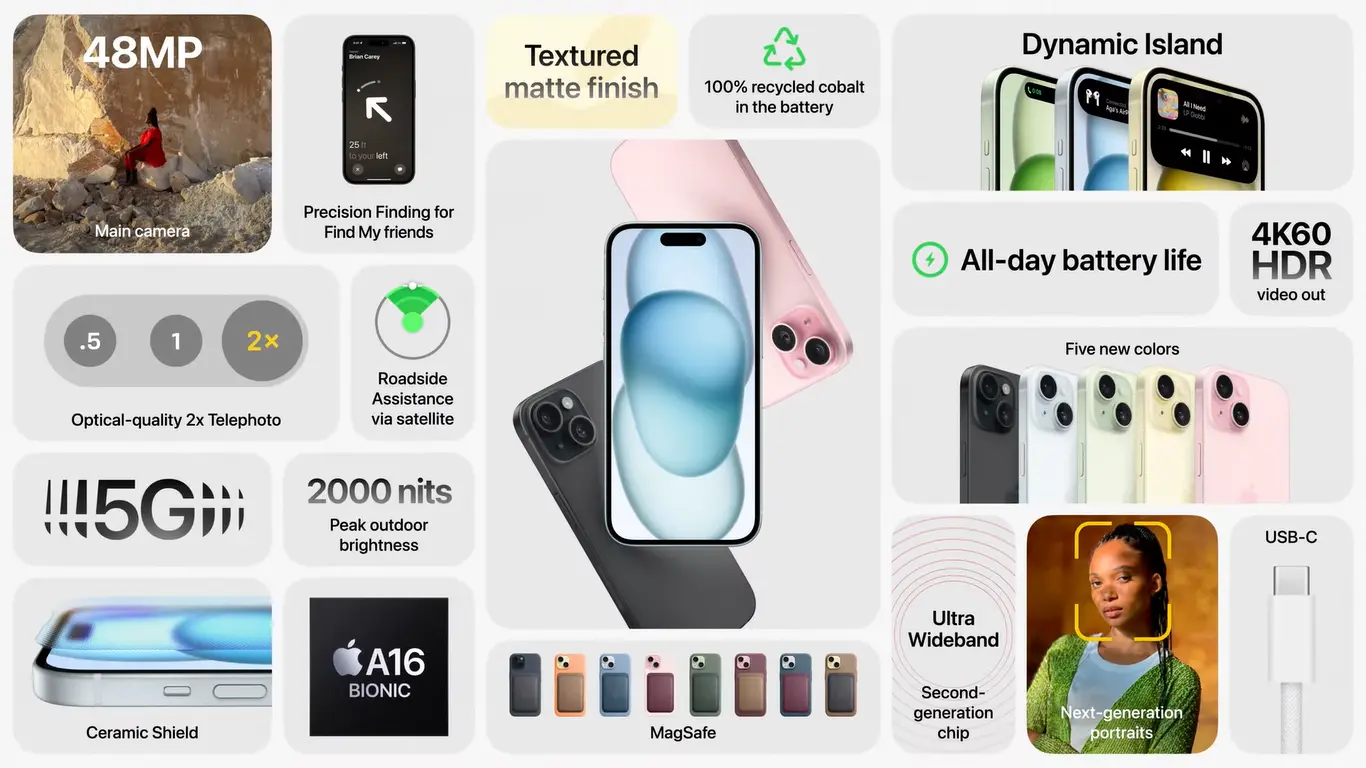 iPhone 15 Pro and Pro Max Features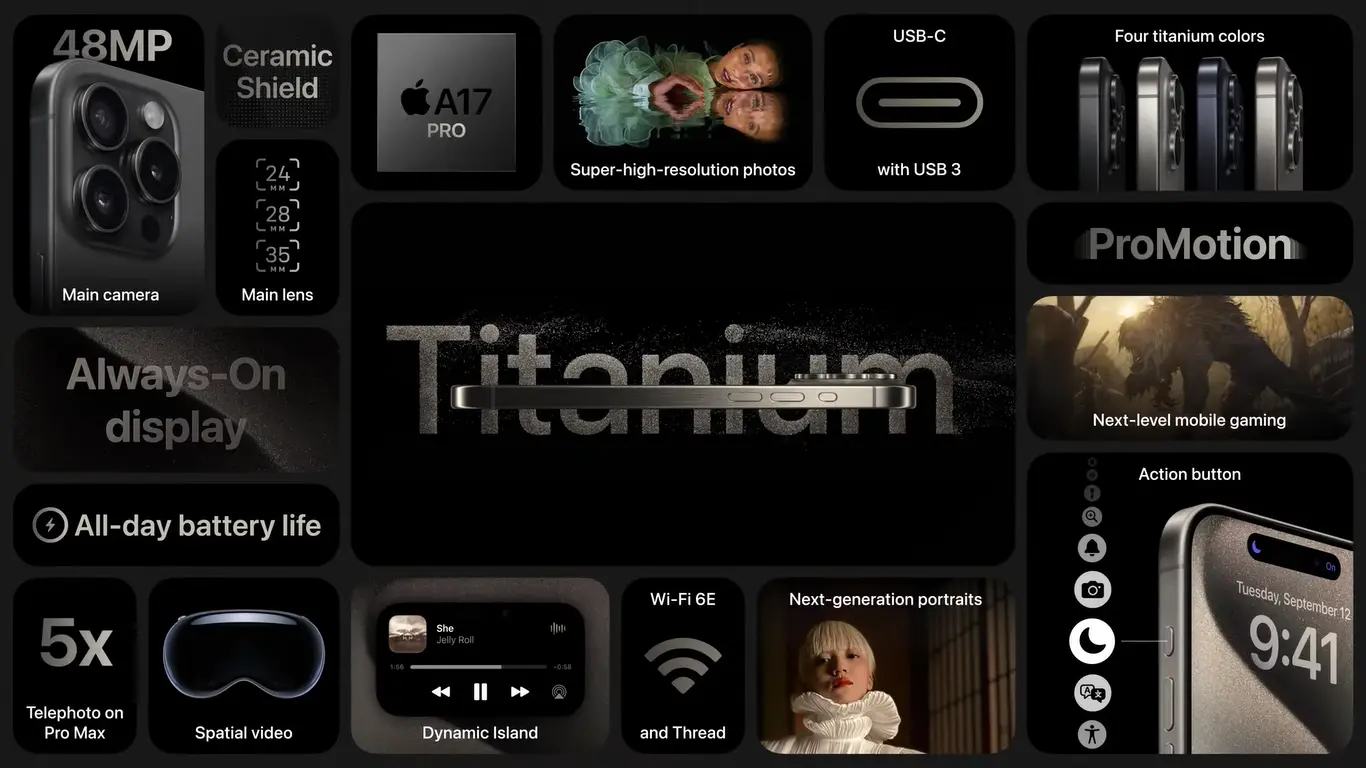 Apple Watch Series 9 and Ultra 2
Millions of people use the Apple Watch to make their lives better. From monitoring health to improving it, the Apple Watch has become the world's most popular and powerful watch. The silicon chip, advanced work out metrics, sleep traces, car crash emergency alert are some of the most important features in the Apple watch. According to Tim Cook, iOS app developers are creating truly amazing experience for their users.
Siri + Apple Watch
This time Apple watch has a new S9 chip which is 30% faster in the GPU and 2x faster in the machine learning capabilities. Further, the integration of Siri with Apple watch opens new doors for opportunities where users can do more with just their voice, handsfree. For example, whenever a user reaches near the home pod, Apple watch will automatically pop up media controls and Siri to let the users play their favorite entertainment media.
Double Tap Feature and Brightest Display in Watch
Another major feature in the Apple watch series 9 is the double tap with finger feature. Users can now double tap with their thumb and finger to answer the call, end call, take pictures, play/pause music, snooze alarm and what not. This is made possible by the machine learning algorithms reading the changes in the blood flow which is definitely revolutionary. Also the peak brightness visibility in the outdoors has reached 2000 nits (brightest display) and can go down to 1 nits depending on the environment condition.
Coming to the Apple watch ultra, it has the biggest display ever with longest battery life and brightness going to peak of 3000 nits. Also the action button is now customizable on the apple watch ultra.
Carbon Neutral Product
Finally, Apple has showcased how they have built 100% carbon neutral apple watches and the plants are running on 100% solar electricity. A part of Apple's 2030 100% environmental friendly goal in all their devices.
Pricing of the Apple Watch Series 9 and Ultra 2
$299 for Apple watch SE 9
$399 for Apple watch 9
$799 for Apple watch Ultra 2
Apple Watch Series 9 Highlighted Features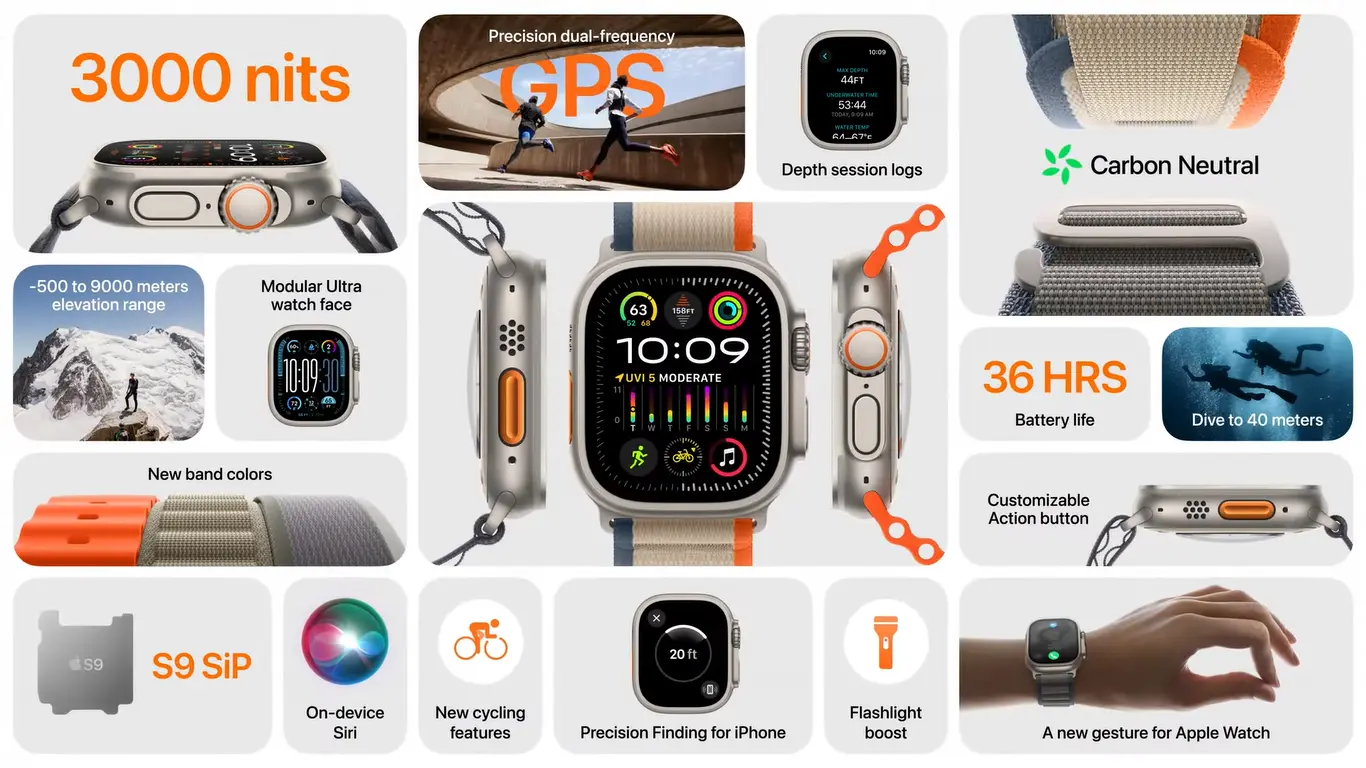 Apple watch Ultra 2 Highlighted Features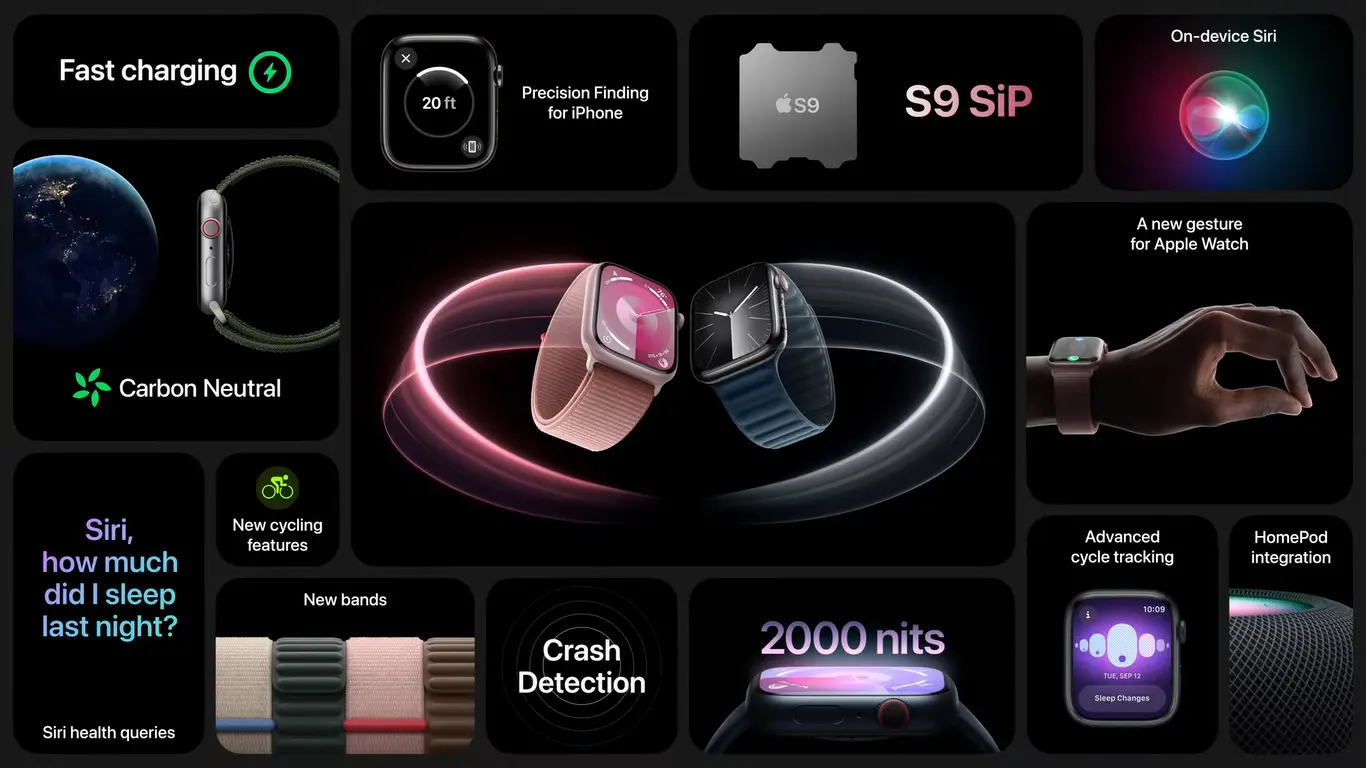 Conclusion- Advance Camera System, Emergency Assistance and Environment Friendly Steps
Undoubtedly, Apple products bring some revolutionary innovations and it is the reason why the company is the biggest tech giant around the globe. However, with the Apple event 2023, Apple seems to not have introduced any major game changing features. Rather, the focus was on advancing the camera system, emergency situation assistance and environmentally friendly sustainable operations. And, this is also excellent to see how brands like Apple are taking climate change very seriously. We will bring you the next event too, so stay tuned with us. Connect with us to discuss your Project.
Contact Us