Technology is playing a key role in education. e-learning applications are rolling out with new ideas making it easier for learners to keep their learning journey flexible and convenient.
Whether it is about a primary, high school, college student or corporate employees, e-learning is the way to go. And, the high revenue generation capabilities in the e-learning industry is the reason why more entrepreneurs are planning education app development.
However, the key concern and matter of research revolves around the cost. What is the cost of e-Learning app development?  In this article we will clear out the concern. Let us take a leap in the e-learning market statistics first.
e-Learning Market Prospects With Statistics
e-learning market registered a heavy growth rate after the pandemic. The global ed tech market will reach $840.11 billion by 2030 as more users are shifting to e-learning platforms.
For example, BYJU's education app saw a 200% rise in the number of students. Nearly 26 million post-secondary students are practicing distance learning courses.
Not only the students, but corporates are using E-learning applications to train their employees. e-learning market from corporate segment will expand at over 15% CAGR through 2032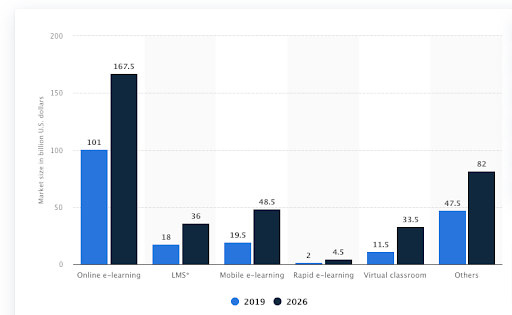 Type Of e-Learning Apps You Can Build
Learning journey can differ from student to student. You must define your targeted niche before moving to the actual cost factor. Here are the types of e-learning applications you can build from scratch if you want to step into the e-learning industry.
Kids E-learning App
Kids find entertainment in learning through their smartphones and tablets. Entrepreneurs are planning Kids E-learning app development on a higher scale. However, kids learning apps are more focused on the graphical content to make the learning process fun.
Study Material App
Learners require multiple resources to study. An app offering the complete resources required for a specific course will be a hit. This is why Study material apps are in demand.
Study material apps collect study materials. Then they organize them according to the courses and let users access them either for free or for a fee.
Test Preparation App
It is important to test the knowledge for every learner. Although books provide exercises in the end, knowledge testing still becomes essential. Test preparation apps combine multiple sets of tests to test the knowledge of learners from multiple angles. Government exam preparation and aptitude tests are hot selling in the current era.
Language Learning Apps
People love exploring languages beyond the borders. Through language learning applications, users can explore and learn new languages cross-border. Whether it is Spanish, Chinese or any other app, an app can teach learners. These apps have become famous in recent years with the curiosity of learners and ease of learning through these apps.
Corporate Training and Learning Apps
Employers want to upskill their employees to gain maximum productivity in organizations. e-learning apps are becoming popular among corporations. MNCs have completely shifted their onboarding, organization introduction and upskilling  processes to e-learning platforms.
Factors Affecting Educational App Development Cost In India
Several factors determine the cost of building an education application so there is no fixed number related to pricing. Here are some of the important ones determining education app development cost.
App features: Complex features in an Education app demands complex timeframes and expertise. The more complex features you demand, the more you have to pay to avail the service.
Development partner: In an app development process there is a demand for multiple resources. Your education app development partner will decide cost on the basis of the experts they are deploying, aligning their respective time frame to complete the tasks. Experts include project managers, quality control team, back end developers, UI/UX designers and more.
Technology choice: What technology you are choosing to build your education app affects its cost. Different technology experts demand different skill sets and compensation.
Platform choice: iOS or Android- will affect the cost! Android can be a bit on the less expensive side as compared to the premium iOS app development.
Maintenance and support: If you want long term support from your app development partner, then the pricing will vary. Maintenance includes server costs, regular bug fixing, new feature testing and more.
What Is The Cost Of Education App Development?
The development team building your app plays a key role in determining your final cost of e-learning app development services. Keep in mind the estimates can vary depending on the factors affecting the app development cost (mentioned above).
Here is an estimated cost breakdown for building an education app according to the vital resources deployed in your project.
There are a number stages involved in building an e-learning application with their respective costs depending upon certain factors mentioned above.
MVP: Building an application starts with MVPs (Minimum Viable Product) to analyze and improve the app development idea. It is the smartest way to identify if an idea aligns the users demands and gathers the right features or not.
Costing: $ 10,000 to 70,000  depending upon the feature set you want to start by.
Production: After the MVP, your application gets into the development phase. Unlike MVP which is a light version of your app with only the important testing features, here your app is transformed into a full-fledged version.
Designing: Usually costs 15% of the budget.
Development: Usually costs you 60% of total budget.
Testing: Roughly 10% of the total cost.
Deployment: It takes about 5% of the total decided cost.
Maintenance and support: Around 15-20% of the total cost are incurred in the maintenance and support phase.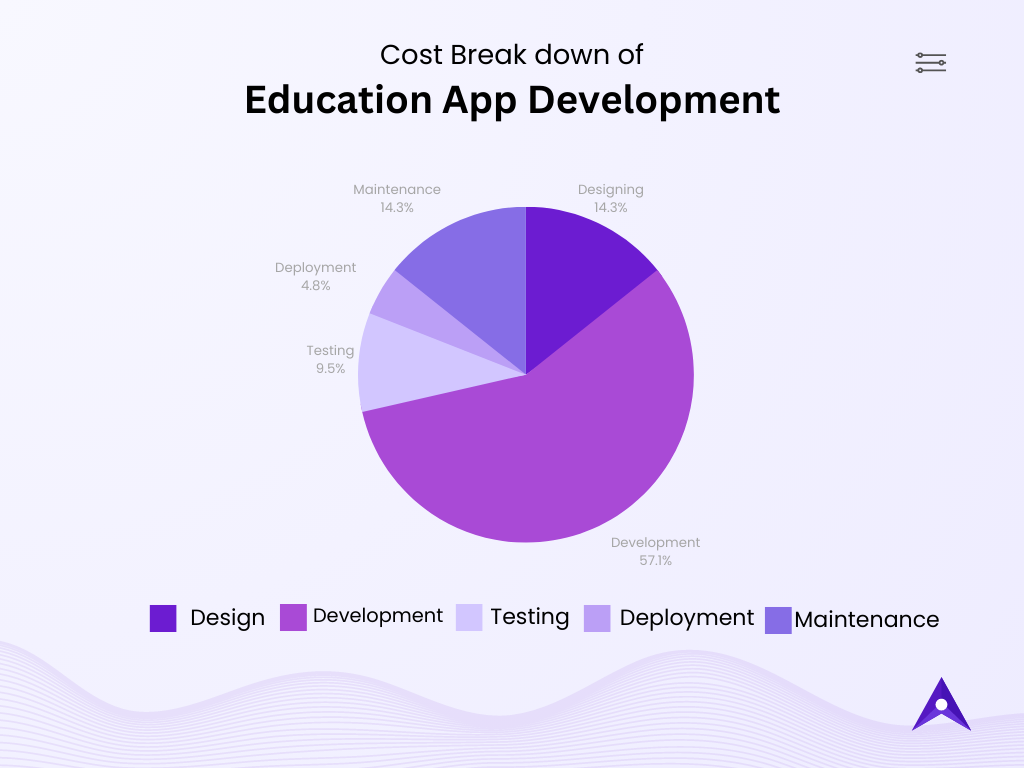 Don't forget that the location of the developers will impact your e-learning app development cost. If you hire a top e-Learning app development company in India, your online education app development cost will be nominal. However, if you build in the USA the prices will significantly vary.
How To Reduce Your Education App Development Cost?
We would also like to convey to you some of the important pointers that might keep your e-learning app development services cost low.
Feature Selection
Choose your features after analysis! Yes, when you opt for irrelevant features they add up to your overall cost.
For example, a social media sharing button in a finance app will be useless. Plan, prioritize features effectively and build an MVP to analyze your features.
Open Source Tech Stack
Some technologies are not open source. For example COBOL is a commercial programming language helping finance industry to code applications using English language. Target open source tech stacks that will reduce your overall development cost.
Outsource Your Project
The cost of hiring an in-house team will be way much higher compared to outsourcing your idea to an Education mobile app development firm. Companies have dedicated experts! If you hire resources on your own you have to also invest in infrastructure, hiring teams, management personals and what not.
Go Cross Platform
Building an app separately for Android and iOS will cost you more. Instead you must use cross platform app development technology. With it your application will flawlessly use the single base code line and save development cost.
Top Education Apps Examples With Development Cost
There are hundreds of E-learning platforms in the app markets. Some associate with educational institutions while others are independent. Here are the top education apps with their development cost to give you a real life estimate.
Khan academy: An American e-learning app well known from a very long time. It offers a vast range of educational courses to the primary students to the university level. The average cost of building Khan academy apps is $60000 to $180000.
Coursera: Another American e-learning application offering online courses. The main courses on the app are in the humanities and computer science department. If we estimate the development cost, it is somewhere around $90,000 to $200,000.
Duolingo: It is one of the most popular apps to learn new languages with ease. The development cost estimates from $40,000 to $140,000.
Ripenapps Has Transformed Learning Experience For Millions Of Learners
From front end, backend, to cloud hosting and analytics, we have dedicated experts for your education app idea. Egurukul, one of our education app development products, is trending on markets. Our education app development process follows agile methodology and incorporate the below steps smoothly:
Designing
Development
Artificial intelligence, Augmented reality, machine learning implementations
Quality assurance
maintenance and support

FAQs
How much does it cost to develop an education app?
The initial factor in determining the cost of an education app is the complexities involved in your education app. These complexities then sub-determine the development time and team deployed in your education app development project. And, all that combined, decides your total cost for building an education application.
Are there any ongoing costs for maintaining an education app?
In the maintenance and support requirements, there are separate costs described by the companies according to their team, brand value and location. So yes, there are bug fixing, cloud hosting, security enhancements and upgrade costs involved in education app development.
How long does it take to build a more complex education app with advanced features?
If you are building a basic education application it will at least take 3 months to develop. The more complex your requirements are, the more timeframe it demands. A complex e-learning app with advanced features can take more than 6 months in development. Connect with us to discuss your Project.
Contact Us