Businesses are continuously digging into the potential of digitalization for their business. In the process, mobile and web apps have benefited a business in rich and multiple ways. Although it is possible to opt for ready to go platform for application development, but most of the time, businesses have unique requirements. And these unique requirements require custom app development solutions to successfully launch a remarkable application that delivers business growth and success.
However, the challenge of ensuring "how can custom mobile app development boost a business" remains on top. This article targets the same and discusses custom app development in detail with its benefits, process, and cost to answer the query.
What exactly is Custom App Development?
Have you customized your smartphone according to your needs instead of using the default looks and feel? The meaning of Custom app development is also somewhat similar.
Custom app development is building a customized application, either on mobile or the web. The customization is based on the unique and innovative requirements of the business and its targeted consumers.
87% of IT experts prefer custom software development to build a rare application. When you take a custom app development service, you present your unique ideas to a custom mobile app development company. And this unique idea builds a high-quality brand image for your business.
So, whether you are a startup or a large enterprise, custom app development is always a great approach to present your creativity, innovativeness, solution, and requirements with a unique perspective. This perspective stands distinctive in the market, letting you win the competitive edge easily.
Why are Entrepreneurs Opting for Custom App Development?
Custom app development introduces a pool of robust benefits that businesses gain when they opt for custom-built apps. Companies that opt for personalized solutions generate 40% more revenue than competitors. Why? Because custom app development brings the following:
Personalized user experience
The loyalty of consumers form when you offer them something unique. Opting for a go-to or ready-made development platform might not meet your consumer's requirements.
Today 71% of consumers expect personalization from the brands and businesses they choose. Your efforts to build a unique solution will result in positive feedback and a pleasant brand journey.
Your sales will skyrocket, and your business will achieve a significant growth rate and engagement with a custom app development solution.
Customizing the efficiency
Unique solutions demand a unique approach to increased efficiency. A customized application can embed the power of artificial intelligence and machine learning in a customized manner. "You desire unique approaches in your app; you communicate with your custom app development partner."
For example, you can automate several tasks for the users, according to your custom requirements, that might be missing in other applications in the market.
Machine learning and AI, for example, can reduce overall inventory by 50% and scale efficiency for a business. Opting for custom app development will unlock the capabilities of your application to the highest potential.
Hiring custom app developers will ensure a high quality of security in your application. The security of the app depends upon its features and functionalities. When you embed unique features and functionalities, you must embed more than standard security into your app.
A custom app development solution will deliver security to:
Application programming interface.
Network connections.
Data through customized encryption.
Full customized server side control.
And there are a bunch of dynamics that you unlock in a customized format with a custom build application.
Increased scalability and less costing
You unlock a competitive edge when you build a personalized customer experience, embed powerful AI and ML-based solutions, and deliver customized security. As an entrepreneur, you can focus on more important tasks in the business since you have built an app according to users' and your requirements.
You do not have to reinvest in correcting the remaining pit holes that come with the go-to platform development. Hence you also save cost. So, custom app development unlocks top business opportunities delivering scalability.
Redefining user engagement experience is highly possible with custom app development. Your feature-rich application, built with a unique approach and creativity, will require custom application development solutions. And the above benefits describe in detail the pool of benefits you gain through custom build apps.
Building a Custom App- The Process
You must also be researching the process of building a custom app. Here are the complete steps involved when building your custom app.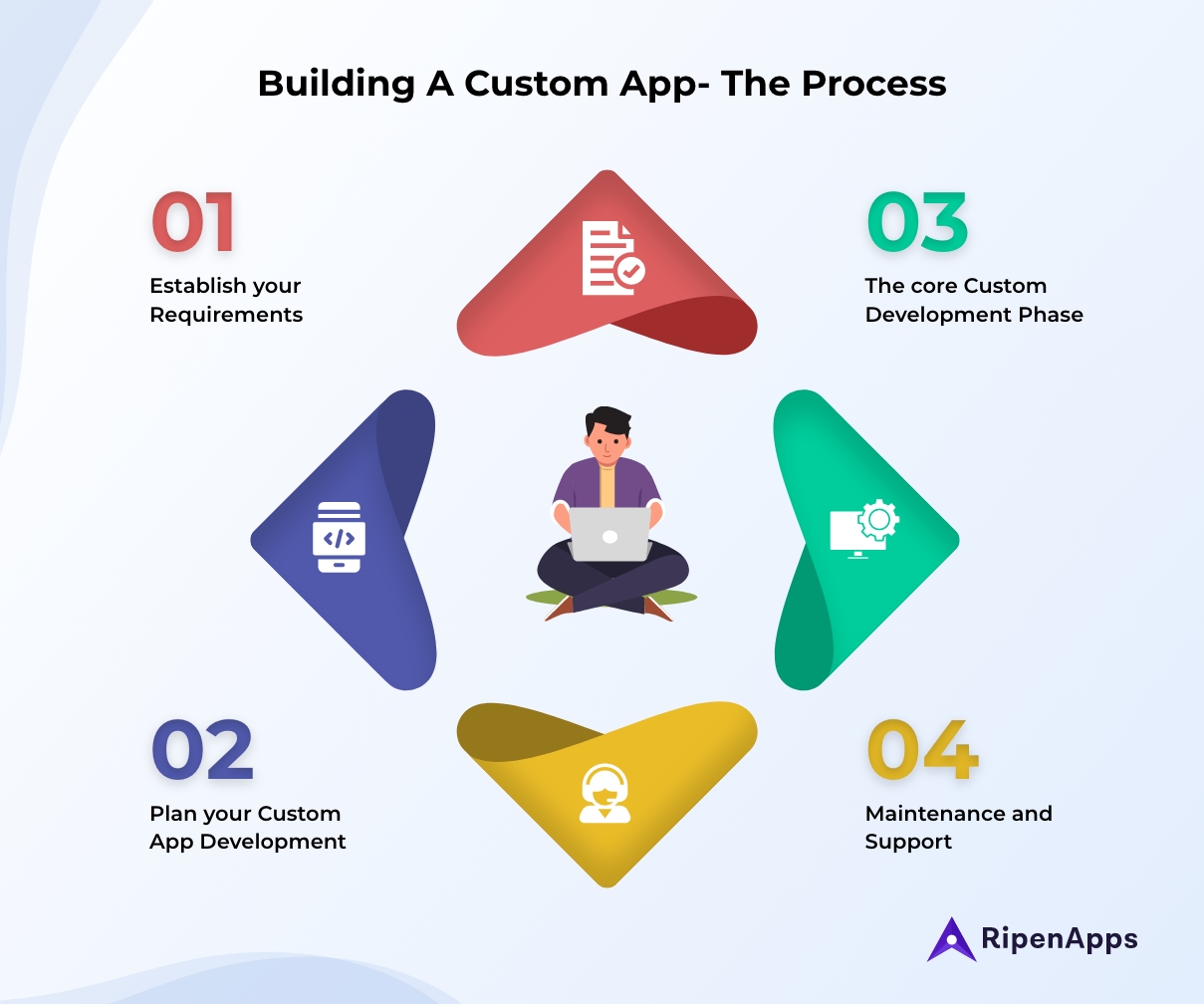 1. Establish your requirements
Establishing requirements becomes a necessary step in building a custom app. You must know what unique features and functionalities you will embed in your application. Gather your requirements and needs to build the vision of your solution. Once the vision is clear, you can avoid unnecessary hustle while building your custom app. Further, do not forget to include the budget for your custom app development project.
2. Plan your custom app development
A clear and transparent plan to build a custom app is critical. All the details associated with your project need proper execution planning before they are actually executed. With a strong blueprint, you can smoothly align your custom app development process. Here you have to organize project-related information.
You can also opt for Minimum viable product development to ensure that your idea aligns with our targeted audience. The audience will provide the best feedback for your idea so that you can polish it before moving it to the final product development phase.
Finally, ensure that you are embedding mobile app development trends that are popular among the users.
3. The core custom development phase
Now that you have strategically collected business requirements and planned the strategy to execute development, it's actually time to build your custom app. Your selected custom app development partner will work on your custom app according to the decided tech stack. They will work on the following phase:
Designing
Development
Testing
Launching
In the meantime, you have to schedule regular meetings with the team. Monitoring your project is as essential as defining your strategy. So, make sure everything remains transparent in your development process.
4. Maintenance and support
Maintenance and support are the final phases of your custom app development project. Here your development team will ensure the maintenance of your application by giving their support whenever required. You must stay in touch with the company and contact them whenever any issue arises. The ease of maintenance and support depends upon the tech stack you have chosen to build your custom app. For example, Flutter app development offers a flawless maintenance process.
The above 4 steps will cover your complete custom app development project.
What is the Cost of Custom App Development?
The answer to the cost of custom app development is not a fixed number. All entrepreneurs have different requirements, and every business charge rate according to their business model, size, and origin. So, discussing a fixed number will not be viable in the mobile app development domain. Yet, for a rough idea, it can range from $40,000 to $300,000. However, we can mention some pointers that affect the cost of custom app development.
Complexity of design
Number of screens
Feature and functionalities
Complexities in the features and functionalities
Complexity of database
3rd party API integrations
Size of the team
Region of the custom app development company
Your requirements
It is better to consult with a top custom app development company to get a quotation for your project.
Work with a Specialized Custom App Development Company like RipenApps Technologies
Custom app development demands robust integrations that only specialized app development partners can ensure. You can hire RipenApps Technologies to build a high-quality and performing web or mobile app.
Our professional team of app developers, designers, testers, and business analysts will ensure you get the right product aligning with your business goals.
Our vast experience in diverse industries boasts our successful deployment of apps to startups, medium enterprises, and Fortune 500 companies.
We also follow standard ethics while building your custom app so that you always feel reliable with us.
RipenApps technologies strive to transform your vision into a customized product built specifically for your business.

FAQs
What is custom app development?
Custom app development is building applications specifically tailored to business requirements. Custom apps stand unique in the market with their own unique ideasidea and development.
How much does it cost to build a custom app?
The cost of custom app development can never be a fixed number. You must consult with your custom app development partner for cost-related queries.
Why custom app development?
Custom app development brings a pool of benefits to the business opting for it. These are personalized experiences, a unique approach to security, creative features and functionalities, and more.
What is the difference between readymade and custom app development?
Readymade app development does not have much room to customize the product. Whereas with custom app development, you can fully align the product according to your business requirements. Connect with us to discuss your Project.
Contact Us