The era of E-commerce apps is sailing at the fastest rate, and consumers are shifting completely to online platforms. However, some retailers still follow traditional selling practices and are thinking about making a shift over to online mediums. But the competition in the existing players like Flipkart and Amazon is fierce, and they have still not moved to an online platform.
So, what is the solution to this? It is a unique and feature-rich E-commerce app development.
As an entrepreneur, you can cater to a large retail base who have not considered online platforms to sell their products. Therefore, in this article, we will uncover detailed dynamics related to E-commerce in the retail industry and inform you about building your E-commerce application.
What Challenges Are Retailers Facing in 2023?
With the pandemic, if retailers want to survive in the future, one thing is clear- they have to use technology. The ones who are still following the traditional pattern do face the following challenges:
When consumers want to buy a new product from traditional retailers, they call them, visit and make the purchase decision. However, this process takes time and requires effort from consumers. It lacks the direct-to-consumer mode, which is possible through technology. Moreover, by the end of 2023, the DTC online market will reach $213 Billion. Retailers are facing challenges in communicating directly with their customers. With this, they are also losing Generation Z, who does not prefer offline shopping.
Personalization for consumers 
Retailers want to offer a product their consumers are looking for even before they tell them. This increases a personal touch with consumers since consumers think our retailer knows us well. Additionally, these unique needs and expectations are not possible through offline channels. So, retailers have to showcase many products to sell one finally. Showcasing personalized products for specific consumers is a key challenge for retailers in 2023.
Imagine a retailer wanting to live stream their products and sell them to customers during the event. In such a case, the retailer has to host a large event, spend a lot of money on infrastructure, and do a lot of marketing. Hence, live streaming becomes a challenge where consumers in 2023 are completely on the social and E-commerce platforms to be a part of virtual Livestream shopping.
Sustainability of the business 
Physical retail shopping is about to drop significantly in the near future. Retail shop owners feel unsustainability for their business since they are connected with the future of commerce.  It is high time to take your eCommerce Business to the Subsequent Level with the Power of Mobility. An E-commerce app can cater to a large base of retailers with a unique vision and solve the sustainability problem.
How is E-commerce App Development the face of the Retailing Industry in the Future?
E-commerce revenue is growing at a stagnant rate around the world. Asia is the dominating player with $2000+ billion in revenue. Furthermore, America is behind Asia, although it is still half in the number followed by Australia and Africa.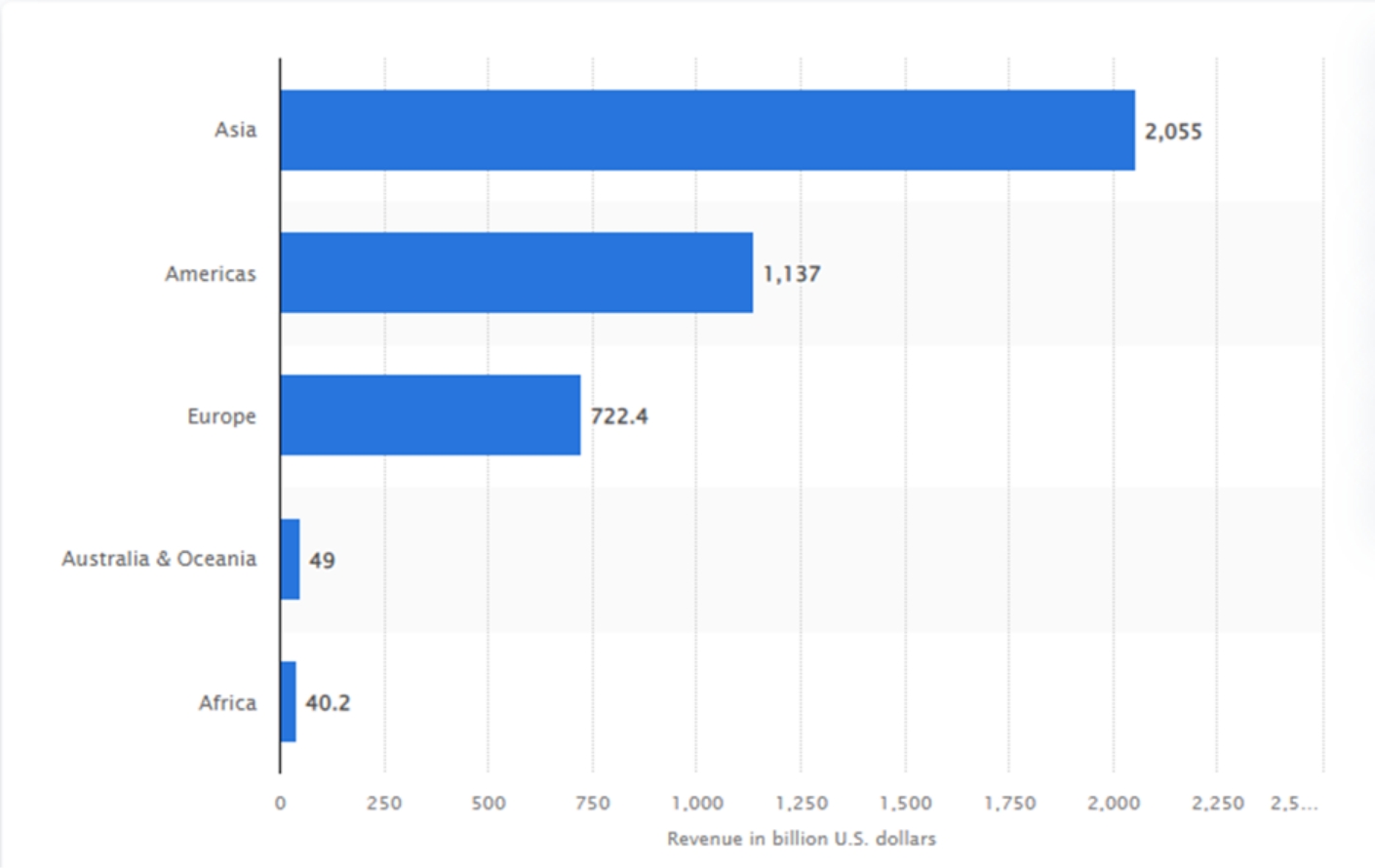 India's E-commerce sector registers a promising opportunity where the country is expected to generate $111.40 by 2025. Similarly, in Europe, 75% of the users have bought goods or services from online platforms. And the gap will keep on reducing in the future.

Undoubtedly, building an E-commerce app and catering to the massive retailer base who have not considered E-commerce platforms is a sustainable idea. Thus, E-commerce is the future of the retail industry.
Two ways you can contribute to the e-Commerce Industry using Digital transformation
You have two ways through which you can contribute to the retail/commerce industry by using technology and marking your contribution and business idea. Since most of the users are switching to mobile and web apps, you shall opt for Digital Transformation using E-commerce app development.
E-commerce marketplace app for retailers: You can make a marketplace for retailers. It will be a multi-vendor app development where you can register multiple retailers letting them sell their products online.
Retailers E-commerce app development: Another form of E-commerce app development can be a retailer-oriented E-commerce app. Instead of building an app where multiple retailers will sell their products, you can build apps specifically for one business.
Both ways are a great idea for solving the problems faced by retailers. Obviously, you just have to perform market research, analyze requirements, approach an E-commerce app development company, and deliver the product. Even if your business is online you must consider building an Ecommerce app to gain maximum growth.
What problems does E-commerce App Development solve for Retailers?
E-commerce solves multiple problems for retailers and traditional commerce. Here are some of the important ones: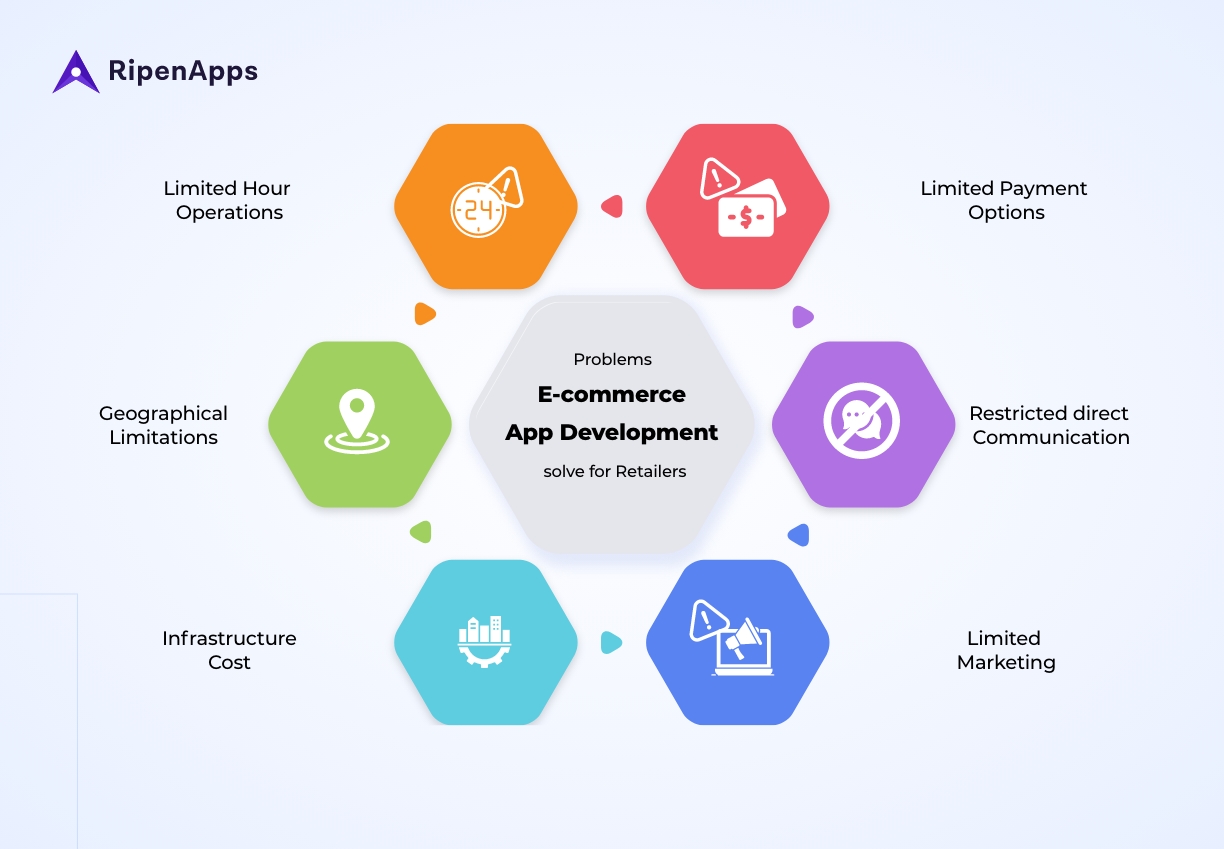 Limited hours of operations: With E-commerce apps, businesses can be active 24×7, selling products and attending to consumer queries.
Geographical limitations: With an E-commerce app, businesses can sell their products without any geographical limitations. Like, Amazon operates worldwide.
Infrastructure cost: Opening a new store requires massive investments. In comparison, it is possible to add new dimensions anytime online without any infrastructure costs.
Limited Payment Options: Online platforms can offer a diverse range of payment options to retailers as well.
Restricted direct communication: The E-commerce app provides an option to let consumers communicate directly with the retailers to solve a query. And this option is available 24x7d, delivering direct communication without any limitations.
Limited marketing: Through online E-commerce apps, retailers can market their products easily. The advantage of SEO is another benefit that retailers gain by using E-commerce apps.
Success Stories of two popular E-commerce Platforms
Amazon and Flipkart are the two largest E-commerce platforms. Amazon operates worldwide. On the other hand, Flipkart operates only in India, but the country is itself the second most populated in the world.
Amazon
Amazon's mission is to serve consumers through online and physical stores. While doing business, the main focus stays on price and convenience to the consumers. Further, the vision of the company states that consumers can find and discover anything they want on the internet. The company has hit $514 billion in net sales worldwide.
Myntra
Myntra is on the mission and vision to deliver a hassle-free and enjoyable shopping experience to consumers. They also want to add the widest range of products to their portal. The company is India's largest fashion and lifestyle E-commerce platform. Myntra is nearly a $600 million company.
Both companies are contributing to building a sustainable business opportunity for retailers who want to shift online.

How to build an E-commerce App?
Building an E-commerce app is a complex process. The features and functionalities demanded by an E-commerce app are massive. Thus, here are the steps to build an E-commerce app, including essential features and cost. 
Steps in E-commerce App Development.
Researching: Analysing the target audience and their behaviour patterns to determine the features.
Setting goal: Answering, "What are you trying to solve" for society and sticking to it.
Determining platform: iOS, Android, or the web can be the three platforms.
Determining tech stack: Front end, back end, development technologies. Consult a E-commerce app development company for a refined understanding.
Defining the feature set of your app: What features are consumers and retailers looking for that are not available in the competitors' offerings?
Creating UI/UX design: Identify the theme of your app and the visuals. Pick the right UI/UX development company to deliver an excellent e-commerce app.
Building MVP: Testing your app idea by building a Minimum viable product and collecting feedback to polish your idea.
Development and deployment: Building your app by putting in the development phase and launching it to your audience
Maintenance and support: Updating your app in terms of bugs, features, and more.
Essential features to add to your E-commerce App
Authorization: A smooth login and sign-up process with a high level of security.
User profile: Option lets consumers and retailers update and maintain their profiles.
Advanced search: Ensure that consumers get the accurate product according to their search.
Payment option: Let your users take advantage of a wide range of payment options.
Smooth checkout: Buying the products from the cart shall be Hussle free for the consumers.
Cost of E-commerce App Development
The cost of Ecommerce app development depends upon your requirements. As you demand more complex features, the budget of your app development increases. Additionally, the location of your E-commerce app development company is also essential to consider while determining the cost of E-commerce app development.
So, it is not possible to comment on the accurate cost of building an E-commerce app. Yet, your project can even reach $80,000, depending upon the time frame and the number of people required for your project.
Partner with RipenApps to build an exceptional E-commerce App
RipenApps have successfully delivered E-commerce solutions with a 90% car floating rate. We are a top E-commerce app development company raising millions of dollars in revenue for our customers through our exceptional products.
We have a dedicated team of experts who are only specialized in E-commerce development technologies.
From seamless payment integrations to customized suggestions for your customers, we have delivered the most complex features. And these complex features follow our budget-friendly, transparent communication and ethical development principles.
Whether you are a startup or an established company looking forward to solving the commerce problems around us, we are there to build and deliver your exceptional E-commerce app.
Have an E-commerce app development project for us? Email us on [email protected], and let's discuss.
FAQs
Q1. How long does it take to build an Ecommerce app?
The time frame of an E-commerce app development project depends upon the requirements. You can build an MVP in 3 months and later build your final product within 7-9 months. On average, it might take nearly a year to build an exceptional E-commerce app.
Q2. What is the cost of building an E-commerce app?
The cost of building an E-commerce app is affected by multiple factors. These are:
Location of your E-commerce app development partner
Size of the team on your project
Requirements and complexities involved
The development cost might cost you from $50,000 to $150,000. 
Q3. What are the steps involved in Ecommerce app development?
There are a number of steps involved in E-commerce app development.
Researching your audience and setting goals
Choosing the right platform and tech stack
Defining features
Creating UI/UX design for your app
Building MVP and collecting feedback
Development and deployment
Maintenance and support Connect with us to discuss your Project.
Contact Us